PokerSnowie review

PokerSnowie is a modern poker program that is intended to improve players' productivity in No Limit Hold'em. This is a kind of poker training simulator based on the optimal game theory or GTO.
This clearly intuitive and amusing software will suit beginners well. It will help you to become a stronger player, increase your level of experience quickly, and avoid mistakes in your game.
At the same time, experienced regulars could also train their poker skills.
The program analyzes and estimates your game as well as gives advice that is considered to be the most optimal and correct according to GTO. Let's take a closer look at this useful poker tool, discuss its advantages and disadvantages, pricing, configuration, and much more.
​
How to work with PokerSnowie?
You can start to work in PokerSnowie in several simple steps:
1. Import the hands
In order to estimate your game process, the program has to analyze a history of your played hands. Click on "Import", select a folder of hands and/or hand history which you want to analyze and start to download them/it.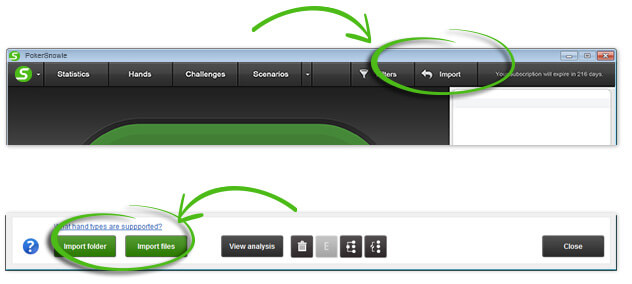 2. Make an analysis
Select the hands which you want to analyze and then click on «View analysis».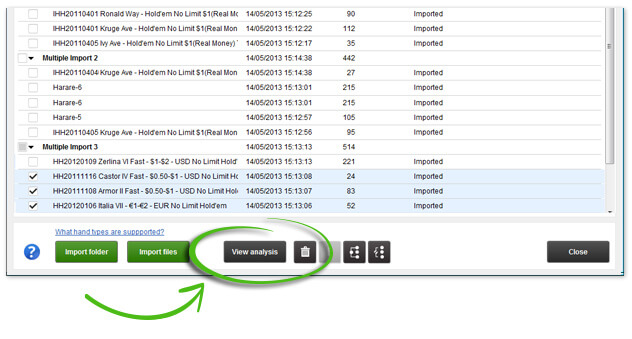 3. Get your rating
PokerSnowie will display you a review of analyzed hands.
You will get the following information:
Errors that you made according to the program.
Your error rate and how you are estimated by PokerSnowie.
How much EV you have lost because of the found errors.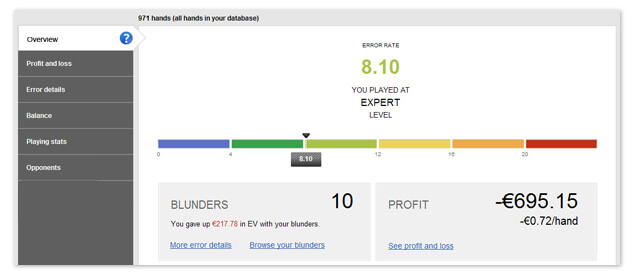 4. Analyze your mistakes
Go through your mistakes by clicking on the link or in the "Hands" menu.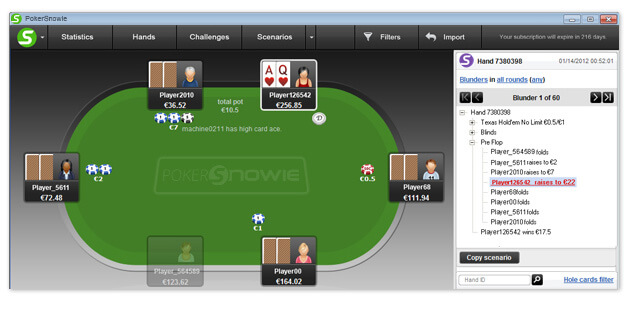 You will be able to filter a view by mistakes, by action, by street or by other available filters.
5. Make a challenge to PokerSnowie
The game versus PokerSnowie is a perfect way of training and improving your playing.
Click on "Challenge", configure your own table, type of the game, level of the bet and buy-in. Just click on real time evaluation in order to get advice when playing.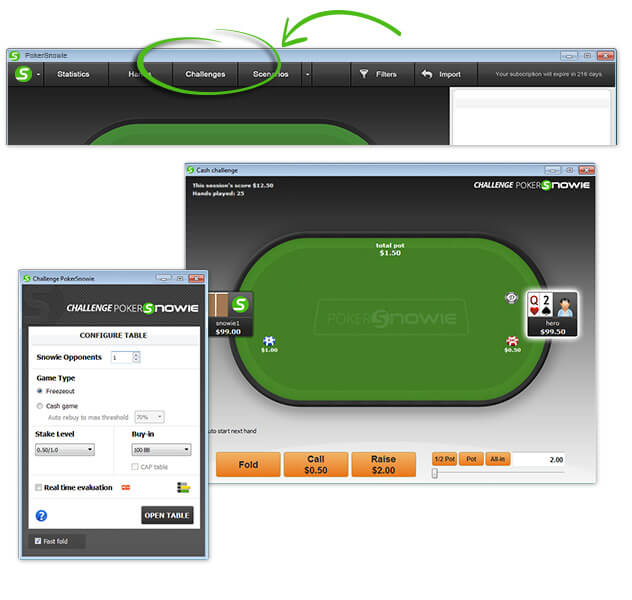 ​6. Try a scenario
A "Scenario" function is great for creating your own situation in poker and for getting PokerSnowie's estimation of the best game, hand ranges and several other factors.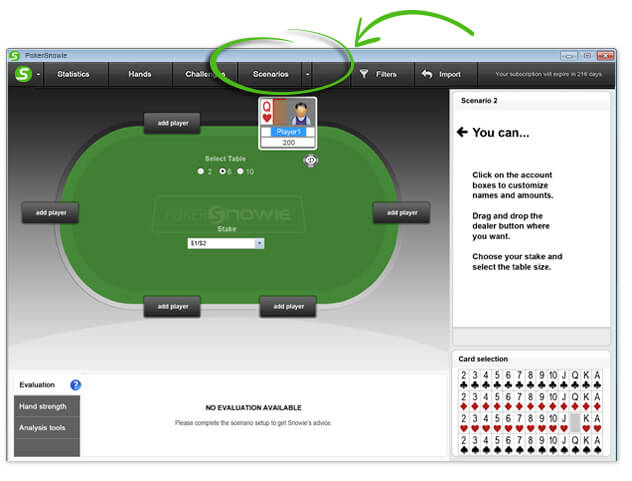 That is all.
The program is easy to use; try it on your own poker hands.
Program configuration
Software creators claim that the program is very easy and intuitively clear in settings and in use, therefore it will not be difficult for you to customize it as you like.
But if PokerSnowie is not so "intuitively clear" as they claim, then short video-instructions of PokerSnowie in the English language will help you to sort out the settings.
Import, analysis and hand viewing:
Options and database management:
Filters, statistics and balance:
Analysis tools (PokerSnowie Preflop Advisor):
Challenges:
Evaluation and hand strength:
Scenarios (PokerSnowie Scenario):
PokerSnowie advantages and disadvantages
Needless to say that Poker Snowie is a powerful software for analyzing poker games but it also has some disadvantages. Let's first take a look at its pros and then proceed to the cons of the program.
What are PokerSnowie upsides?
Artificial intelligence, which allows you to play against itself as if you are at a real table.
Ability to create your own scenarios and get calculationі of how you can play optimally in a specific situation.
Ability to build balanced ranges for the game in certain situations.
Teaches you to show almost perfect game, which is hard to exploit.
Gives poker players a different perspective of the game.
What are PokerSnowie downsides?
It is only optimized for GTO play.
PokerSnowie does not consider reads, players' stats and tendencies, or various spots when «making decisions».
Professional opinion on PokerSnowie
Novice players may spend long time thinking of whether they should use PokerSnowie and how it can help them hone their skills and become strong winning players. That's why we suggest that you listen to poker experts' opinions because these people have spent thousands of hours at the poker table improving their game. So who knows everything about poker programs if not them?
Nathan "BlackRain79" Williams, a successful cash player and coach with 10-year experience, used to think that most poker AI programs were not advanced enough and most likely wouldn't help him develop the skills to crush opponents at the table and win solid money.
The player, however, changed his opinion after testing PokerSnowie, stating that the program may be helpful, especially at low and medium stakes. At the same time, BlackRain79 doesn't advise you to use this tool if you are a complete newbie to the game. It's better to focus on learning poker fundamentals instead.
But, if you are willing to take your game to the next level, then it's worth considering the use of PokerSnowie for your training:
Professional opinionNathan WilliamsSuccessful poker player and coach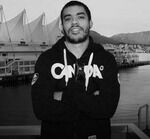 «For those of you who have been around the poker tables for a while and perhaps had some success, I think PokerSnowie could help you make better mathematically sound decisions versus good poker players»​
Poker pro and coach Jonathan Little has been long producing content for poker players, including authoring books, writing articles and making different videos that are available to players of all levels trying to move up the limits. Jonathan also uses PokerSnowie, and from time to time he even shares videos in which is testing his poker skills against PS bot.
The guy has won over $7 050 000 offline as well as $1 120 000 online throughout his poker career, meaning that his opinion is really valuable.
Professional opinionJonathan LittleProfessional poker player and coach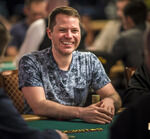 «PokerSnowie is an excellent way to study poker and test your skills. I also love their mobile app, which lets me train in my spare time»​
Operating systems supported by PokerSnowie
PokerSnowie runs on both desktop (Windows, Mac) and mobile devices (Android and iPhone). However, the features available for each operating system are different. The version for Windows contains the full range of functions, while the version for Mac currently doesn't have the Hand Range feature.
As far as mobile devices are considered, there are PokerSnowie apps for Android and iPhone but they have been optimized only for HU and 5-seat games; other features are still under development. You can visit the PokerSnowie official website to take a close look at the differences between all platforms of the program and/or check for the status of the improvements that are to appear.
Software pricing
If you want to improve your game skills and become a really strong player, then you should consider adding PokerSnowie to your collection of poker programs. With regard to the cost, players are offered to choose between two subscription options (annual):
| Plan | Pricing | Period of validity |
| --- | --- | --- |
| PokerSnowie Intermediate | $99 | 1 year |
| PokerSnowie Pro | $229.95 | 1 year |
PokerSnowie Intermediate plan includes:
Challenge PokerSnowie with online-tips
Hands import (+ analysis)
Mistake rate, game balance, and statistics
Analyze of 8 000 hands for real money a month
Analyze of 1 200 scenarios a month
Preflop play advice
PokerSnowie Pro plan includes:
Challenge PokerSnowie with online-tips
Hands import (+analysis)
Mistake rate, game balance, and statistics
Analyze of 120 000 hands for real money a month
Analyze of 3 000 scenarios a month
Hand ranges
Preflop play advice
Recommendations on ranges
Strategy advisor
How to download PokerSnowie for free?

PokerSnowie has a free version (trial) that can be used for 10 days. If you decide to continue using the program after testing its features, then you will need to choose one of the above-mentioned variants of an annual subscription. Take advantage of the PokerSnowie free trial to familiarize yourself with the program interface and features.
Here is what you receive with the 10-day trial version:
Access to PokerSnowie from all supported platforms.
Advanced features, including 1 000 training hands (with online advice).
Analysis of 3 000 NLH cash hands of any limit (full ring, 6 max, HU).
A preliminary review of the features listed below:

Scenarios
Preflop play advice
Recommendations on ranges
Hand Ranges
Strategy Advisor
Download PokerSnowie trial and test it within a 10-day period so that you can decide whether you need such a program or not.
Poker rooms compatible with PokerSnowie
PokerSnowie represents advanced AI software with tons of features to train and hone your poker skills. It has an intuitive interface that will help you to become a really stronger player and quickly take your game to the next level. PokerSnowie is among the latest poker tools that professional players are using these days.
With it, you will get an edge over competent thinking opponents. You can only use this tool outside the game tables since there is a built-in restriction, and you cannot run it simultaneously with the open client of the poker room. Now, PokerSnowie supports both cash games and tournaments. Play money hands are not supported.
​
Let's take a close look at the top poker sites/networks that are compatible with PokerSnowie:
888poker
888poker main features include perfect gaming software, generous promotions and bonuses as well as a huge number of tournaments to play.
If you prefer live poker, then thanks to the 3D-Poker mode, where everyone has to play with the webcam turned on, you can see your opponents and watch their emotions.
PartyPoker
PartyPoker is a reliable poker room offering cash games and tournaments of various formats, convenient software, as well as good rakeback and bonuses.
Bwin Poker
Bwin Poker operates under the same network as PartyPoker, therefore they have a common tournament grid, cash tables, and other poker games. The only difference between these poker rooms is a loyalty program, promos, and software design.
PokerStars
PokerStars is one of the largest poker sites in the world that offers a variety of cash games as well as tournaments running around the clock at all limits (from the lowest to high roller battles). The room has high-quality software so users' activity there is simply colossal.
Full Tilt Poker
Full Tilt Poker is a room combined into a single network with PokerStars. It also offers a great selection of tournaments and real money games at any limits in the most popular disciplines. Full Tilt provides convenient and stable software that is perfect for multi-tabling.
Winamax Poker
Winamax Poker has the largest field of French amateurs and is the most trusted brand in this market. A distinctive feature of Winamax Poker is high-quality software available on all platforms, including Windows, Mac, iOS, Android, and even Windows Phone.
iPoker Network
The iPoker Network is in the top-10 among the world's largest poker sites in terms of traffic. It includes a lot of poker rooms (RedStar Poker, Bet365 Poker, BestPoker, Betfair, Guts Poker, Titan Poker, William Hill), which are united by common software, players' field, and promotions. The network focuses on recreational players from Europe.