PokerSnowie: Software Review

PokerSnowie is a modern poker program that is intended to improve players' productivity in No Limit Texas Holdem. This is a kind of poker training simulator based on the optimal game theory or GTO.
This clearly intuitive and amusing software will suit beginners well. It will help you to become a stronger player, increase your level of experience quickly, and avoid mistakes in your game. At the same time, experienced regulars could also train their poker skills.
The program analyzes and estimates your game as well as gives advice that is considered to be the most optimal and correct according to GTO poker. Let's take a closer look at this useful poker tool, discuss its advantages and disadvantages, pricing, configuration, and much more.
How to Work with PokerSnowie
Is PokerSnowie gto? The program in question is completely focused on your action, and not on finding weaknesses in someone else's gameplay. The software supports both cash games and tournaments (including Sit & Go) in No Limit Holdem.
You can start working with this program in a few simple steps:

Import the hands
In order to estimate your game process, the program has to analyze a history of your played hands. Click on "Import", select a folder of hands and/or hand history which you want to analyze and start to download them/it.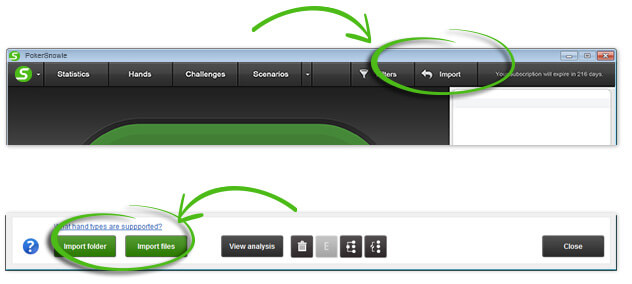 Make an analysis
Select the hands which you want to analyze and then click on «View analysis».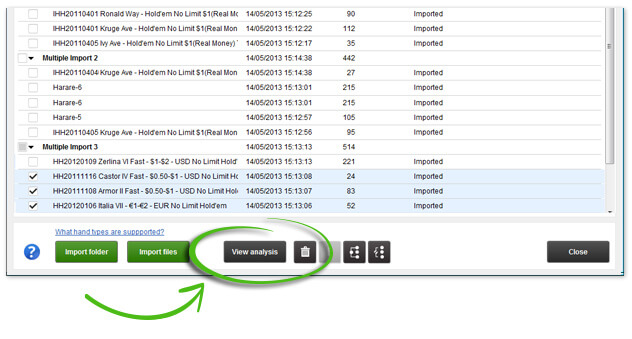 Get your rating
Poker Snowie will display you a review of analyzed hands.
You will get the following information:
Errors that you made according to the program.
Your error rate and how you are estimated by the software.
How much EV you have lost because of the found errors.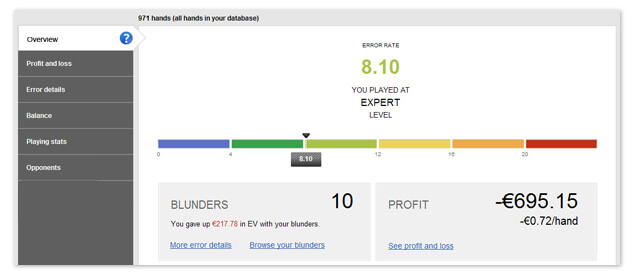 Analyze your mistakes
Go through your mistakes by clicking on the link or in the "Hands" menu.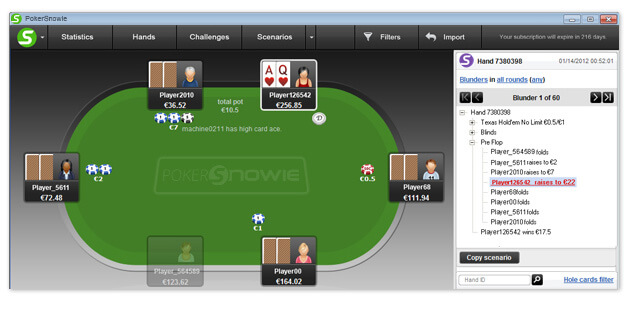 You will be able to filter a view by mistakes, by action, by street or by other available filters.

Make a challenge
The game versus PokerSnowie is a perfect way of training and improving your playing.
Click on "Challenge", configure your own table, type of the game, level of the bet and buy-in. Just click on real time evaluation in order to get advice when playing.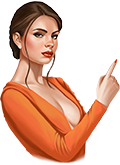 And also you can try a scenario
A "Scenario" function is great for creating your own situation in poker. All you have to do is set the parameters, such as the number of participants (HU, 6-max or 9-max), stakes, etc. Poker Snowie will analyze and suggest the best solutions in the simulated spot.
Program Configuration
Software creators claim that the program is very easy and intuitively clear in settings and in use, therefore it will not be difficult for you to customize it as you like.
But if PokerSnowie is not so "intuitively clear" as they claim, then short video instructions will help you to sort out the settings.
Import, analysis and hand viewing:
Options and database management:
Filters, statistics and balance:
Analysis tools (Preflop Advisor):
Challenges:
Evaluation and hand strength:
Scenarios:
Software's Main Advantages
Poker Snowie is an indispensable assistant for all poker players who want to succeed in the game. One of the fat pluses of the program is that, in addition to a computer (Windows / Mac), you can also easily download it to your smartphone or tablet (Android / iOS) and train anywhere. Other benefits of the software include:
Artificial intelligence, which allows you to play against itself as if you are at a real table.
Ability to create your own scenarios and get calculationі of how you can play optimally in a specific situation.
Ability to build balanced ranges for the game in certain situations.
Teaches you to show almost perfect game, which is hard to exploit.
Gives poker players a different perspective of the game.
But the most realistic picture can be painted by PokerSnowie reviews of professional players, and here is what BlackRain79 says about the simulator:
Nathan "BlackRain79" Williams

Poker player, coach, author of the book "Crushing the Microstakes"

"This is a powerful poker education program that aims to show you how to play mathematically balanced and non-exploitable poker in every possible situation at the table. That is, no matter what decision your opponents make, they cannot beat you.

For real beginners, of course, it is better to hold their horses and learn the basics, but for people with some experience who want to take their game to a new level and learn how to defeat good players, the software will be very useful."

One of the most successful poker players, trainer and author of books on poker Jonathan Little often resorts to the help of the program in question:

Jonathan "Jcardshark" Little

Professional player, coach and author of poker education books

"PokerSnowie is a great way to learn poker and test your skills. I also love their mobile app which allows me to practice in my spare time."

Cons:
Does not take into account the prize distribution factor in tournaments, which can lead to inaccurate estimates (the developer honestly warns about this!).
Also, Poker Snowie is forbidden fruit if your poker client is active. The developer even claims that their product does not start at all when the application of such a room as PokerStars is opened. Or it closes automatically as soon as it detects such activity.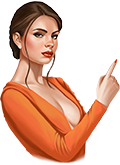 Did you know?
Many poker sites strictly taboo the use of auxiliary programs like Poker Snowie, Poker Tracker 4 and PokerStove simultaneously with the game client and even block accounts for violating the rules.

Pricing Options: Intermediate and Pro
There are two possible plans for buying a poker simulator. Their filling differs in the number of hands and scenarios for analysis, as well as a number of other options.

The Intermediate package includes:
Learning with online tips (hints).
Import and analysis of hands.
Error rate, game balance and statistics.
Download and analyze 8,000 real money hands per month.
Analysis of 1,200 scenarios per month.
Tips for playing preflop.
The Pro package includes:
Challenge with online tips.
Import and analysis of hands.
Error rate, game balance and statistics.
Download and analyze 120,000 real money hands per month.
Analysis of 3,000 scenarios per month.
Hand ranges.
Tips for playing preflop.
Range recommendations.
| Subscription | Price (annual) |
| --- | --- |
| Intermediate | 99$ |
| Pro | 229,95$ |
How to Get PokerSnowie for Free
You can try out the program absolutely free of charge in a 10-day trial (trial) period.

What does the PokerSnowie Free Trial include?
Advanced features including up to 1,000 hands of Challenge with online tips.
Analysis of up to 3,000 hands at any NLH cash game limits (HU, 6 max, full ring).
Preview options such as:

Scenarios.
Tips for playing preflop.
Range recommendations.
Hand ranges.
Strategy advice.
Download the trial version and try out the program for 10 days, after which you can decide whether you need such an assistant or not.
We remind you that this tool should be used only before or after the end of the session in the room. However, we note that there are programs that not only can, but also need to be launched exclusively with the client. This list includes PartyCaption and 888caption, which do not give clues about solutions, but simplify the game itself. For example, they allow you to create hotkeys to perform certain actions or customize the appearance of tables.

FAQ
📌 How does PokerSnowie work?
The tool is designed to analyze the effectiveness of a poker player's actions regarding the GTO strategy, simulate particular situations, and improve poker skills through training against artificial intelligence with any number of virtual opponents.

✨ What is the range of PokerSnowie?
This simulator cover such games as No Limit Texas Holdem. Both cash game and tournament formats (including SNGs) are supported.

💡 Can I use this program while playing in the room?
In many poker rooms it is forbidden to use such tools when the client is open. You should clarify whether the ban on Poker Snowie is valid in the online room where you play, otherwise there is a risk of getting banned.