PokerStars: Detailed Review
Category "B"
these poker rooms compensate for their little disadvantages with the profitable bonuses and weak field


Not available for players from your country
$30 for free at the first deposit
First-time depositors only. Min. deposit £10. Use Bonus Code 'SPINANDGO'. Free Play given as Spin & Go tickets over 6 days. Tickets expire after 24 hours. Withdrawal restricted during bonus period. Terms apply.
ℹ️ Name
PokerStars
🔗 Network

Stars Group

🌐 Website
https://www.pokerstars.com/
🎂 Established
2001
😎 Owner

Flutter Entertainment

🧾 Licences

MGA, UKGC, PGCB, AGCO

📱 Compatible devices

Android, iOS, Mac OS, Windows

⚙️ Software usage

allowed

👨‍👦‍👦 Players online

by day: 35 000, at night: 80 000

💳 Banking options

Visa, MasterCard, Skrill, Neteller, WebMoney, EcoPayz, Bitco

in, Paypal, Ethereum

...more

🚀 Cashout speed

up to 5 days

💸 Rakeback

up to 65%

💲 Supported currencies

USD, EUR, СAD, GDP

🌎 Languages

English, Russian, Bulgarian, Danish, Dutch, French, German,

Greek, Italian, Portuguese, Romanian, Spanish, Swedish

...more

🚧 Cashout limit

$10 000/day

💬 Live chat

available 24/7

🤝 Affiliate program

Stars Affiliate Club
Show more information
Hits & Misses
All types of poker are presented, including rare ones
User friendly interface
Strongest player account protection
Operational support service in various languages
Largest prize pools in tournaments
High player traffic worldwide
Strong player field with lots of regs
Lack of no deposit bonus
Over the years, PokerStars has become a symbol of online poker. A number of recent innovations have slightly spoiled the room's reputation among players but PS is still in the top. The number of users is growing, and large-scale tournament festivals remain being held here.
This poker platform currently belongs to a company called Flutter Entertainment. Stars users can play either on their computer/laptop or through a convenient mobile app.
Every night, tens of thousands of players gather at tables here, both in tournaments and cash games. The poker room has repeatedly won awards as the best Poker Operator of the Year. High-grade software, a weak field of players, and affordable table limits are just a few primary advantages from a robust list of its merits. PS has long held the primacy in player traffic, but in recent years it has been somewhat inferior to the level of GGPoker. On average, 10 500 poker players join cash tables daily, and during rush hours – from 8 pm to 12 am GMT – their number increases to 16 000.
Licensing from trusted regulators leaves no questions over the operator's security & reliability. Its ".com" and ".eu" platforms, for example, operate under Maltese permits, while PokerStars UK skin is regulated by the UKGC.
PokerStars Software at a Glance
Stars have one of the most qualitative and user-friendly software among poker rooms. Visually, the client looks really stylish – its interface is functional and made in an attractive combination of black, gray, and red shades. Dark mode for displaying games offered can be deactivated in the "Settings" section if you fancy the light one.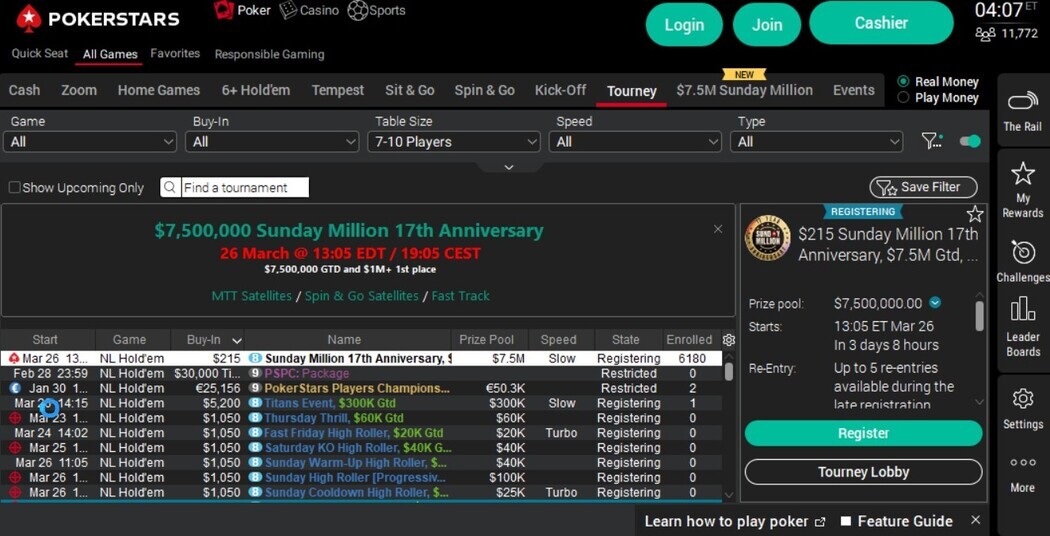 ​
The operator has stopped supporting a flash-based client, therefore playing on the site through a browser is no longer available – you need to download and install their poker app on a computer or mobile device.
Properly structured lobby will allow you to easily navigate the app. Each game format has a separate tab. Below are quick-search filters to select a cash table or tournament according to specified parameters: discipline, stakes/buy-in, number of participants, and gameplay pace. You can narrow your search by using additional filters (currency, ante, tournament type, event start time range, and others).
On the right, there is a vertical menu that includes the following sections:
| | |
| --- | --- |
| The Rail | This is an interactive hub where players can find truly useful information, as, for example, breaking poker news, PS client updates, newsfeed of big wins, links to live streams of popular PokerStars streamers, short videos with crazy bad beats & skilled bluffing (or something like that) and much more. |
| My Rewards | This part displays individual player rewards earned within the PokerStars Rewards program (real cash, StarsCoin, tournament tickets & money, free bets/spins). |
| Challenges | Opening this section one can find special challenges to receive exclusive prizes for successful completion. |
| Leader Boards | The room rewards its best cash players daily and this button takes you behind the scenes of these rankings. Here you can find out your place on the leaderboard, as well as expected prizes. |
| Settings | Users are offered to customize the software for their needs so that poker sessions will be as comfortable as possible. One can adjust the lobby, game table & card deck appearances, upload an avatar, enable/disable sound effects, add hotkeys, activate the auto-buy-in option, as well as edit certain account information. |
| Tools | This button provides access to data on tournaments and cash hands you've played. |
| Help | The section includes game rules for various poker types, the site's Terms of Use, and reminders of responsible gambling (information opens in a browser). |
You can play on PokerStars for real and play money (training mode). To switch between these two modes, simply click on the desired format. Cashier is built-in into the client, so topping up your account and withdrawing winnings is very fast and convenient.
By the way, Stars desktop app supports different languages, which eliminates translation difficulties. Under the rules established, players are allowed to use third-party software in the poker room. Approved tracking programs include Holdem Manager and Poker Tracker 4, which are quite popular among regs. StarsCaption to automate one's gameplay permitted as well.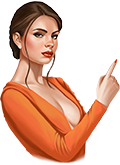 Did you know?
For auxiliary software to operate correctly, it is necessary to select the English-language interface.
Cash Games & Player Traffic
Here players will find a broad range of poker disciplines & formats. When speaking of cash games, there are both micro stakes for newbies and expensive tables for high rollers. By the way, thanks to the "Observe" feature, you can watch famous poker pros playing.
Beyond traditional Hold'em and Omaha, users can also try their hand at less common, but no less exciting, poker variations. Regarding the number of participants, PS offers heads-up (for 2 people), 6-max, 8-max, and 9-max tables.
Game type
Table limits
Holdem
(NL & FL)
NL2 – NL40K
FL4 – FL200K

PL Omaha
PL2 – PL40K
Omaha H/L
(NL, PL & FL)
NL25 – NL5K
PL2 – PL2K
FL4 – FL200K

Omaha 5 card
(PL & FL)
PL25 – PL40K
FL200 – FL20K
PL Omaha 6 card
PL10 – PL10K
PL Courchevel
PL25 – PL5K
FL Stud
FL8 – FL20K
FL Stud H/L
FL8 – FL20K
FL Razz
FL8 – FL20K
5 Card Draw
(NL, PL & FL)
NL25 – NL2K
PL50 – PL200
FL20 – FL6K

2-7 Triple Draw
(PL & FL)

PL50 – PL2K
FL20 – FL200K

NL 2-7 Single Draw
NL25 – NL2K
FL Badugi
FL50 – FL80K
Texas Hold'em
This discipline is presented in two types: no limit (from NL2 to NL40K) and fixed limit (from FL4 to FL 200K). Up to 10 people can play at one table simultaneously. Most games run in dollars, but there are also several options for playing in euros and pounds sterling.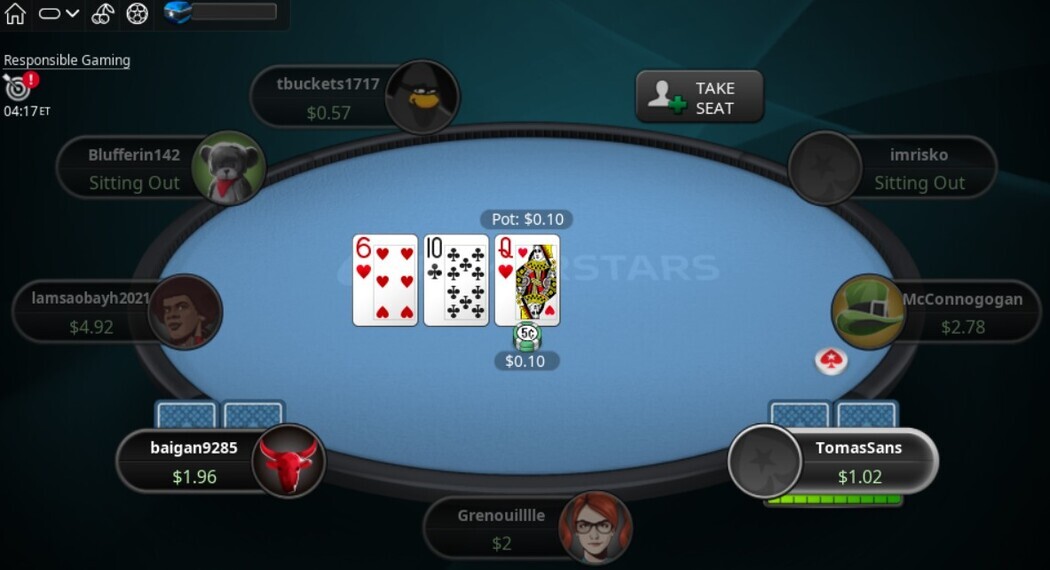 ​
Worldwide traffic: NLH
Table limit

Min buy-in

Number of active tables


Daytime
Night
NL40K
$16 000
1
1
NL20K
$8 000
1
1
NL10K
$4 000
1
1
NL5K
$2 000
1
2
NL2K
$800
2
3
NL1K
$400
3
5
NL500
$200
3
5
NL200
$80
3
5
NL100
$40
5
10
NL50
$20
10
20
NL25
$10
15
30
NL16
$6.40
30
20
NL10
$4
35
50
NL5
$2
45
55
NL2
$0.80
80
100
Omaha
Classic Pot-Limit Omaha or PLO, where the maximum bet is limited by pot size, is in the greatest demand on Poker Stars. There are also more exotic variations, namely hi/lo, 5 and 6-card, and Courchevel.
Player traffic here is much lower than in Hold'em, but one can still find action at all hours of the day. The range of PL Omaha games is vast: from PL2 to PL40K.
​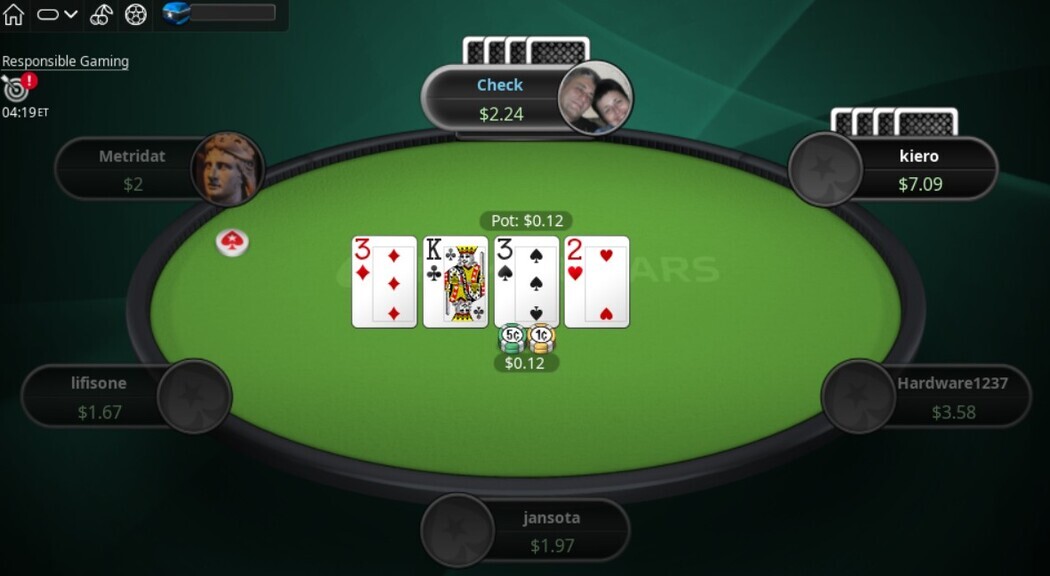 Worldwide traffic: PLO
Table limit

Min buy-in

Number of active tables


Daytime
Night
PL40K
$16 000
1
1
PL20K
$8 000
1
1
PL10K
$4 000
1
2
PL5K
$2 000
1
3
PL2K
$800
1
3
PL1K
$400
1
5
PL500
$200
2
5
PL200
$80
2
5
PL100
$40
5
10
PL50
$20
6
15
PL25
$10
8
15
PL10
$4
10
20
PL5
$2
10
20
PL2
$0.80
15
30
Stud Games
This category features such types as Limit Stud + its Hi/Lo variation, as well as limit Razz (also called Stud Low). Each sub-type is available at FL8 – FL20K stakes.
Worldwide traffic: FL Stud
Table limit

Min buy-in

Number of active tables


Daytime
Night
FL20K
$2 000
0
1
FL6K
$600
0
1
FL2K
$200
0
1
FL1K
$100
0
1
FL600
$600
0
1
FL400
$40
1
2
FL200
$20
1
2
FL100
$10
2
4
FL50
$5
2
5
FL20
$2
2
5
FL8
$0.80
3
8
Draw Poker
The game actually appeared long before Texas Hold'em became popular worldwide and is still admired among poker players.
This poker type has no board, that is, shared cards dealt face up that all players participating in the hand can use to make a combination. But, there is a card exchange round during which you have a chance to replace cards in case they do not suit you. In the Stars lobby, one will find the following draw poker variations: 5 Card Draw, 2-7 Triple Draw, 2-7 Single Draw, and Badugi with different betting structures.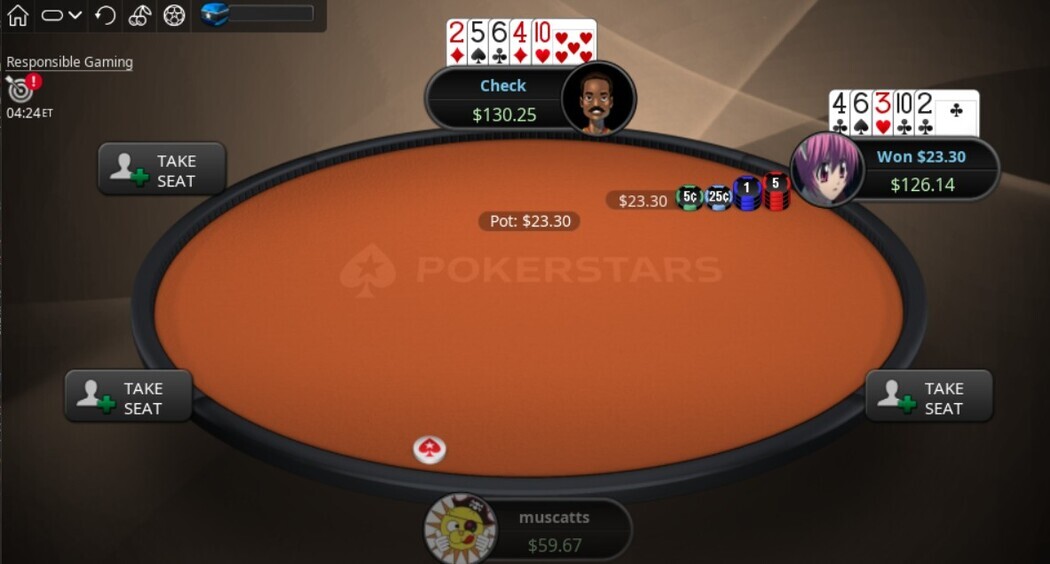 ​
Worldwide traffic: NL 5 Card Draw
Table limit

Min buy-in

Number of active tables


Daytime
Night
NL2K
$400
0
1
NL1K
$200
0
1
NL500
$100
0
1
NL200
$40
1
1
NL100
$20
1
2
NL50
$10
2
3
NL25
$5
2
3
Mixed Games
During one cash game, you can play several poker types at once: 8 Game Mix, HORSE, and NLH/PLO mix.
Tables: 6 and 8 handed. There is almost no action by day here – literally one table fills up at micro stakes. The situation is far better at night, but high rollers still sometimes have to wait for rivals to appear.
6+ Holdem
Placed in a separate tab, this format is exceptional in that only one player occupying button position posts blind. All other participants pay ante. This applies to each hand.
Besides, do not forget that the game is played with a short deck (36 cards used, not 52). Available tables: 6-max.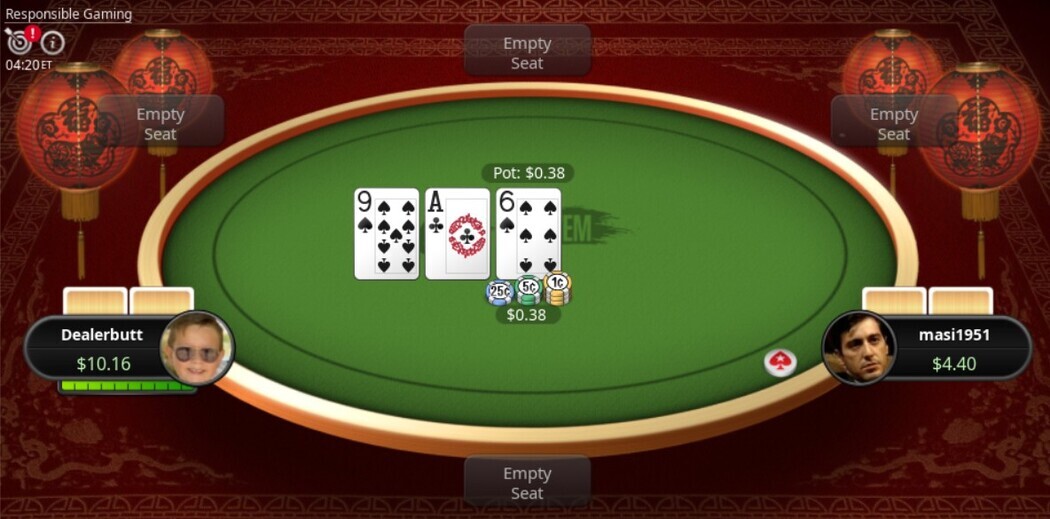 ​
Buy-in
Blind/Ante
(identical)

$2
$0.02
$5
$0.05
$10
$0.10
$25
$025
$50
$050
$100
$1
$200
$2
$500
$5
$1 000
$10
$2 000
$20
$5 000
$50
$10 000
$100
$20 000
$200
Rake Structure
Here rake is taken from each hand where players reveal flop cards. Its percentage never exceeds $5 per game, but in some cases, this number will be $0.30. Rake fee depends on your play limit, type of poker, and the number of participants in the hand.
No-Limit & Pot-Limits Games
Data in the table below is not applicable for micro stakes of the following formats: No Limit/Pot Limit Omaha and Omaha Hi/Lo.



Stakes

Rake Cap


2 people

3-4 people

5+ people

$0.01/$0.02

$0.30

$0.02/$0.05
$0.50
$0.50
$1
$0.05/$0.10 – $0.08/$0.16
$0.50
$1
$1.5
$0.10/$0.25
$0.50
$1
$2
$0.25/$0.50
$0.75
$0.75
$2
$0.50/$1
$1
$1
$2.5
$1/$2
$1.25
$1.25
$2.75
$2/$4
$1.5
$1.5
$3
$2.5/$5
$1.5
$1.5
$3
$3/$6
$1.5
$1.5
$3.50
$5/$10
$1.5
$1.5
$3
$10/$20
$1.75
$1.75
$3
$25/$50
$2.25
$2
$3
$50/$100
$2.50
$3
$5
$100/$200 and above
$3
$5
$5
No-Limit/Pot-Limit Omaha and Omaha Hi/Lo (micro stakes):



Stakes

Rake Cap


2 people

3-4 people

5+ people

$0.01/$0.02

$0.30

$0.02/$0.05
$0.50
$0.50
$1
$0.05/$0.10
$0.50
$1
$1.5
$0.10/$0.25
$0.50
$1
$2
Fixed Limit Games:



Stakes

Rake Cap

2 people

3-4 people

5+ people

$0.02/$0.04

$0.01

$0.04/$0.08 – $0.05/$0.10

$0.04

$0.10/$0.20

$0.10

$0.25/$0.50

$0.16

$0.50/$1

$0.40

$1/$2
$0.50
$0.70
$0.80
$2/$4
$0.50
$0.70
$1.25
$3/$6 – $10/$20
$0.50
$2
$3
$15/$30 – $100/$200
$1
$2
$3
$150/$300 and above
$2
$5
$5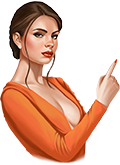 Players take note!
In tournaments, rake is included in the entry fee, that is, buy-in. PS players return part of the commission through the Stars Rewards VIP program.

PokerStars Tournaments
PS regularly hosts hundreds of tourneys varying from freerolls, centrolls, and satellites to special events for high rollers. Variety of MTTs on the schedule will definitely not let anyone get bored. Buy-ins start at $0.11; the most expensive tournament will cost you $25 000.
The vast majority of tournaments is about NL Hold'em, but if you look closely, the grid also has NL/PL Omaha and even NL/P Courchevel, PL Badugi, HORSE, and 8-Game events, and this is an incredible rarity on the online poker market.
Here are some popular daily real money tournaments on PokerStars:
Lineup
Discipline
Peculiarity
(type/speed)

Buy-in range
Guarantees
Hot
NL Holdem
regular, progressive knockout, turbo, hyper

$0.55 – $215
$400 – $15 000
Omania
NL/PL Omaha
regular, progressive knockout
$4.40 – $215
$250 – $6 000
Bounty Builder
NL Holdem
bounty for knocking out players, turbo

$1.10 – $530
$250 – $200 000
Big
NL Holdem
regular
$1.10 – $109
$500 – $20 000
Large Sunday tourneys:
| Tournament | Discipline | Buy-in | GTD |
| --- | --- | --- | --- |
| PokerStars Sunday Million | NL Holdem | $109 | $1 000 000 |
| Sunday Storm | NL Holdem | $11 | $100 000 |
| Sunday Warm-Up | NL Holdem | $109 | $100 000 |
Other regular tournaments in high demand:
| Lineup | Discipline | Buy-in tange | Guarantees |
| --- | --- | --- | --- |
| Monday 6-Max | NL Holdem | $2.20 – $1 050 | $2 500 – $35 000 |
| Super Tuesday | NL Holdem | $22 – $1 050 | $6 000 – $60 000 |
| Thursday Thrill | NL Holdem | $22 – $1 050 | $10 000 – $100 000 |
Online Tournament Series
Stars were the first to launch poker series with multi-million dollar guarantees. Well, the room still doesn't break with that tradition:
Turbo Series​
Winter Series
Micro Millions
WCOOP
SCOOP
This list goes on and on – literally every month Stars organize exciting online festivals. An active series is always easy to spot in the lobby, as PS allocates a separate (temporary) tab for it in the poker client, so you won't miss a single event.
Sit & Go Variations
Sit-n-Go tournaments do not have a specific schedule – they start as soon as the required number of registrations is recorded. We note that tables are filled up in mere minutes. Buy-in range is truly wide: from $0.25 to $1 000.
The choice of disciplines is also impressive. In fact, Sit&Go tournaments are presented in almost all poker formats offered by the operator.
Spin&Go
It's sort of SnG where a prize pool is determined randomly at the start of each game. There are three options to select from: Flash, Omaha, and Max. One can take part in five games of the same type at once.
Table
Type
Discipline
Buy-ins
Maximum prize pool


3-max

Spin&Go Flash
NLH
$2 – $1 000

$1 000 000
Spin&Go Omaha

PLO
$1 – $25
$250 000
8-max
Spin&Go Max
NLH
$1 – $100
$1 000 000
Bonuses and Promotions
PS welcomes new users with a 100% matched deal to reward them with bonus money equal to their first deposit from $10 to $600 (STARS600 code must be entered!). You have 4 months to complete wagering requirements.
There is another welcome bonus option. Newly minted Stars customers are given $30 in real money and tickets to Spin & Go games. Conditions for receiving are simple: top up your account for at least $20 with code THIRTY. The tickets are valid for 21 days (unused ones will be void).
Loyalty program

$30 for free at the first deposit
First-time depositors only. Min. deposit £10. Use Bonus Code 'SPINANDGO'. Free Play given as Spin & Go tickets over 6 days. Tickets expire after 24 hours. Withdrawal restricted during bonus period. Terms apply.
Rakeback and Loyalty Program
Writing our PokerStars review, we've also inspected a reward approach. The operator claims that all PS users are able to return up to 65% of rake paid in cash games and tournaments through special chests and monthly challenges.
Depending on the Stars Rewards level reached, a player can receive from 15% to 25% rakeback in different cool prizes (real & tournament money, tournament tickets, free spins, etc.). The bonus inside each chest is fixed. For every dollar "spent" on rake, you get 100 points.
| Chest level | Points required | Player reward | Rakeback | Chests required to move to another level |
| --- | --- | --- | --- | --- |
| Blue | 333 | $0.50 | 15% | 5 |
| Bronze | 935 | $1.5 | 16% | 5 |
| Silver | 2 850 | $5 | 17.5% | 7 |
| Gold | 10 800 | $20 | 18.5% | 7 |
| Diamond | 37 500 | $75 | 20% | 10 |
| Black | 100 000 | $250 | 25% | – |
Up to 40% extra rakeback Stars give for completing poker tasks (no more than 5 challenges per month). They are individual and will match the game types you play most often. To know your missions, go to the Challenges tab in the client's sidebar.
Poker Stars Official Website
This poker portal is multilingual. Going to https://www.pokerstars.com, you will find detailed information on the poker room, answers to the most common questions users ask, current bonuses & promos, support team contacts, links to download the client to your computer and smartphone/tablet, and much more.
How to determine that you've ended up with the official site of red spades, and not a copy created by fraudsters willing to steal your data? Signs of the original website are as follows:
proprietary branded interface with clickable and operating buttons;
data on licenses & regulatory bodies, as well as links to official social networks, are given in the footer;
you can switch between 20 available languages;
PokerStars login and password you use to run the client are valid when signing in to your account on the site;
pages load quickly on any device.

​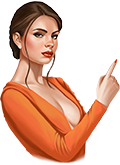 Players to take note!
Stars provide their services worldwide and therefore have several poker platforms. In most cases, players use the ".com" version, but there are certain exceptions. For PokerStars Canada is a welcome market, however, those residing in Ontario must download the PS Ontario client as they can't play on the ".com" skin.
PokerStars US, in turn, represents three separate poker sites – for Pennsylvania, New Jersey, and Michigan residents as the room only operates across these states.
Mobile Version
Lack of PCs is not a cause to opt out of playing on Stars. The room's software is tailored for desktop computers based on Windows and MacOS and mobile devices on iOS and Android.
Visually, the app interface is noticeably different from the desktop version – it's simplified and adapted for portable gadgets. Not all games are available, but most tournaments, inexpensive cash tables, fast poker, and popular Spin&Gos can be played on the go.
Technical Flaws
We mentioned earlier in the review that PokerStars offers reliable and high-quality software. However, players still face specific difficulties, which is normal. If the client does not open or you see an error when launching, make sure that the time zone and date on your device are set correctly, turn off your antivirus, try to run the app as an administrator, or even reinstall it. One of the above tips should work 😇
Deposit and Withdrawal
The minimum deposit amount here is $5-$10, while the maximum depends on the payment system you have chosen. For most popular methods (Skrill, WebMoney, Neteller, Visa cards) deposit limit is fixed at a rate of $1 000 per 24 hours, but you can set individual thresholds per day/week/month.
Mean of payment


Deposit

Available for withdrawal


Min
Max
Visa, MasterCard, Maestro

$5-$10

$1 000/24 hours

+

WebMoney, Neteller, Skrill
+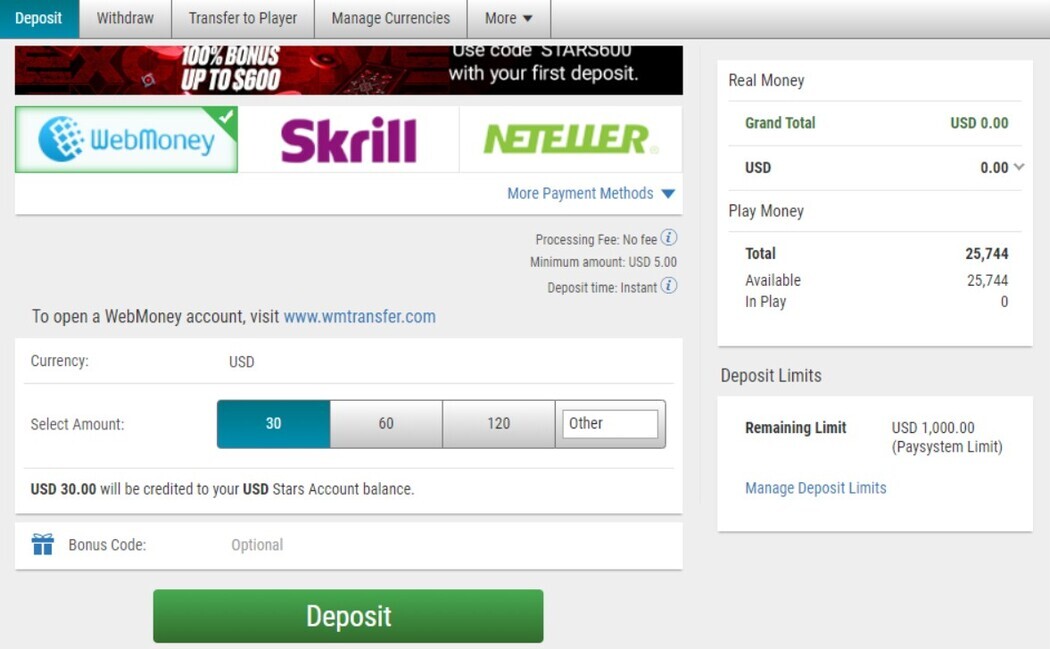 ​
Payment methods differ due to geographic or other factors, so you will find available options to top up your account directly in the Cashier window. The desktop client, by the way, supports a quick deposit feature.
Cashout details
Withdrawals run pretty fast. One can only cash out the amount that is indicated in the column "Available amount for withdrawal ". In most cases, you will not be able to request a withdrawal within 48 hours after depositing – such a delay is a necessary measure to avoid fraud. Transactions are processed by the poker room within 72 hours. The exact time of crediting funds to your personal account depends on the chosen payment system.
| | |
| --- | --- |
| E-wallets | a few minutes |
| Direct and e-bank transfer, PokerStarsPay | up to 5 business days |
| VISA, ecoPayz | up to 10 business days |
Customer Support Service
Answers to common questions are published in the "Help" section. The knowledge base provides information related to registering account, promotions, deposits & withdrawals, tournaments, reward payouts, etc.
If you haven't found solutions to your problems on the FAQ page, then you can contact the support staff via online chat by clicking on the "Contact Us" button on the site or sending an email to [email protected]. Alternatively, you can ask for help or discuss hot issues on PokerStars Twitter – simply write your query in the comments.
Final Thoughts
Despite poker players' complaints regarding Stars reward system and rakeback payouts, this is rightfully one of the best poker rooms in the industry. Player field is not weak here, since the operator allows using many third-party programs, which deters recreational users.
A wide range of disciplines (including truly rare ones), MTTs featuring million-dollar guarantees, reliable software, and high traffic – this is what distinguishes PS from dozens of other online poker platforms. PokerStars reviews from real players, however, will give you the most fundamental and unbiased judgment of the platform.
FAQ
🔎Is PokerStars rigged?
Stars uses a reliable and secure random number generator to deal cards. This takes into account two sources of data: players' actions and quantum uncertainty.
Regular independent audits confirm that the red spades' RNG is functioning properly. GLI (Gaming Laboratories International), a well-known laboratory, verifies PS. Testing is carried out according to numerous parameters. You can check the certificate validity by clicking on the corresponding icon in the room's official website footer.
Thus, the PS software complies with the standards in generating random results ​​when dealing cards.
👌Is PokerStars still operating?
In recent years, several European countries have passed a series of laws that either forced Poker Stars to temporarily leave their markets or made it much more difficult for the room to operate. As a result, player traffic of the former online poker industry leader has fallen, but PS tables still fill up quickly enough.
We also note that in 2022, Stars stopped working with Russian clients after Putin's military invasion of Ukraine.
As for the USA, Stars currently operate only in three states, namely Pennsylvania, Michigan, and New Jersey.
⛔How to cheat at PokerStars?
Stars have a strict security service, whose employees instantly detect cheating attempts. If such activity is recorded on your part, the poker room will most likely freeze your account until the circumstances are clarified. You can be even banned forever, and then all money on your balance will be confiscated.
If you've just started your way in online poker and don't have enough skills to beat your opponents, feel free to visit our Poker School – there is a lot of useful information for both cash players and fans of tournament competitions.
💸 How can I play Poker Stars for free?
Stars client provides a special training mode, where games are played on virtual credits (also called play money). The mode switch is located in the upper right corner of the software.
You can also participate in real games without any personal investment. For example, the room often runs freerolls – tourneys with free entry – where you can win real prizes (cash or tournament tickets to spot a seat in a more expensive event). Participation in some of the free-to-play tournaments may be limited by a password – PokerStars freeroll passwords can be found here on Cardmates.
💁‍♂️How to play PokerStars without download?
In 2016, the operator stopped supporting a browser-based client, so instant play on the site is currently not available.
To play on PS, one needs to download the poker client to a desktop computer or mobile gadget. For this, go either to Stars' official website or ask for a link from the customer support agent.
Stand-alone apps are way greater than browser-based versions. They offer various settings for users to suit their needs, access to all disciplines & formats, support permitted auxiliary programs (only applies to PC client), and much more.
PokerStars Players Reviews
Below are relevant and recent real players' comments regarding the poker room's operation: games offered, cashout speed, customer service quality, and much more. When writing your comment, try to highlight different aspects, focusing on both PS's main advantages that attract you personally and flaws that repel you – thus your comment will be as useful as possible. For convenience, you can also use hashtags.
Will it be a couple of words or a detailed write-up, the choice is yours. We appreciate every review, but it's still better to write a few sentences, rather than posting a short note like "good/terrible poker room". We also remind you that you are free to leave both a lengthy review and a short one.
Share your experience of playing in the given poker room to guide novices and your colleagues in either signing up on PS or searching for another site. Let your reviews help other users understand what to expect from this operator. Perhaps it is your comment that will help a hesitant person make a final decision.
Leave your review about PokerStars