PokerStars: 100% first deposit bonus up to $600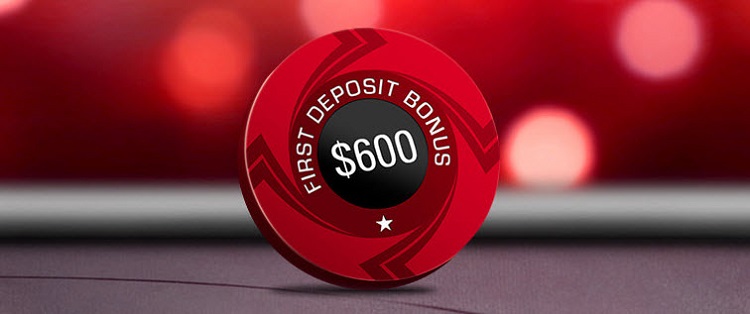 Make your first deposit on PokerStars and get a chance to gain PokerStars bonuses. When depositing, you must indicate the STARS600 bonus code in the Cashier of the game client: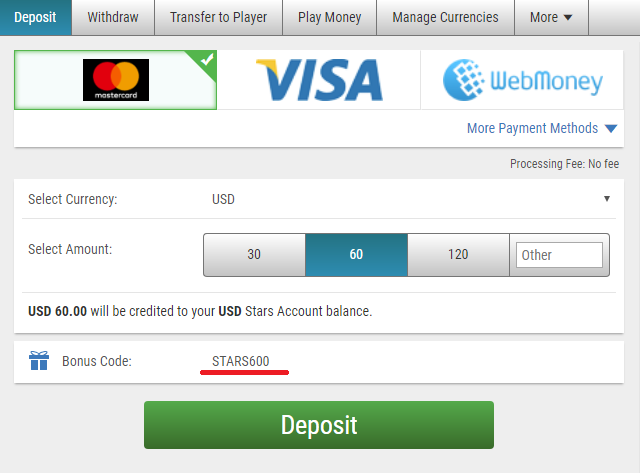 How to get 100 % deposit bonus
Make your first deposit using the star code (you are able to make two more deposits within 60 days to increase the bonus amount).
Play PokerStars cash games and tournaments by earning redemption points.
Get your bonus in increments of $10 for every 180 points earned.
Money is credited to the account marked "BONUS". All transactions can be tracked in the Cashier of the poker room.
100% bonus on different PokerStars platforms
Please note that if you play not on PokerStars.com, but on a different platform of the room, then other bonus codes should be used:
for PokerStars.UK - the STARS400 code is a match
for .EE platform - use EE100
on .DK platform – use DK100
How does the 100% first deposit bonus work?
For each $1 you pay in rake (or tournament fees), you get 5 redemption points. Every time you earn 180 redemption points, $10 is credited to your account. You are given 4 months to earn the required number of points and get the bonus.
Number of days to deposit using the STARS600 star code
You have the opportunity to make two more deposits within 60 days from the date of the first deposit. The maximal bonus amount is equal to $600 or €500, depending on the currency of your game account. If you request a withdrawal in these 60 days, then you will lose the right to receive the bonus within the given promotion.
Making three deposits is not a must for this promotion. You can deposit three times optionally, but even with one deposit, you will receive the full amount of the bonus. In order to check the status of the bonus go to My Stars> Bonuses.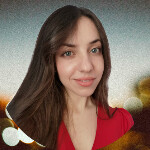 I've been working in the Cardmates team since 2018. Started playing poker the same way most people usually do – socially, with friends and fellow students. I adored those exciting poker nights but never thought my life would be connected with this game, even tangentially.