Blowout at PokerStars: Main Event champion was determined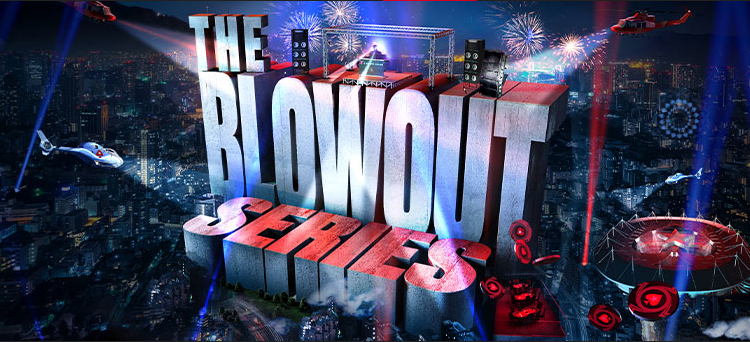 ​
It took less than three hours to determine the winner of the Main Event Blowout at PokerStars. The champion became the second day chip leader – a player with the "arbaarba" nickname, who received a massive payout for the first place.
The event collected 6 922 entries, which allowed to form a prize pool of $6 922 000. The lion's share of the prize money was paid at the final table, where the strongest players vied.
Read also: The winner of Blowout Series High Roller tournament for $5 200 became known
"arbaarba" has won a few major Stars tournaments, including the $55 Big. In the Big Blowout Main Event, the top 3 players made a deal, according to which the prize money was divided as follows:
"fviana" – $771 415
"arbaarba" – $739 976
"thx4urm0n3y" – $646 189
The Brazilian player nicknamed "fviana" received the biggest portion of prize money, as they had the largest number of chips at the time of the deal. Throughout their entire career, "fviana" has won over $5 600,000 in online tournaments with some notable achievements during the SCOOP. Besides, the player won $721 235 in the recent Stadium Series Freezeout Grand Final worth $5 200.
The third finalist involved in the deal was "thx4urm0n3y" from Canada. The player finished this tournament in third place. As already mentioned, the winner of the event was the Lithuanian player "arbaarba", but, he received less money than the runner-up as they agreed to split the prize money.
A poker player with the "Mr. Havener" nickname was the luckiest one. The Brazilian qualified for the $1 050 tournament through a freeroll and finished the Main Event in sixth place. Thus, the player earned $167 360 without investing a single penny.
$1 050 Main Event Blowout Results (Top 20)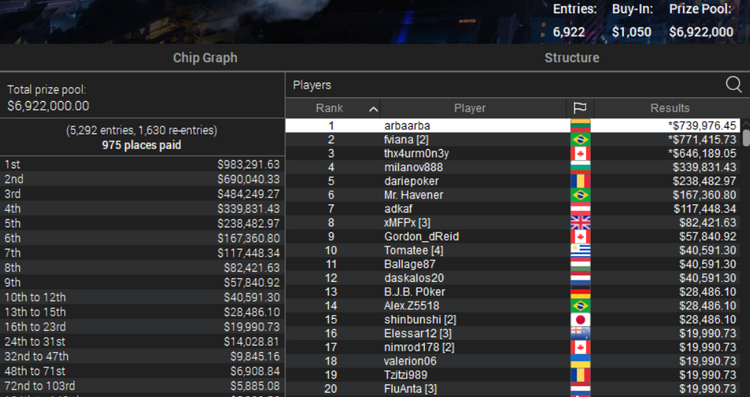 ​