SharkScope review

You probably have heard about Sharkscope. It is a service to store players' tournament achievements from all large online poker rooms.
The website sharkscope.com gives information about all the tournaments where a particular player took part in. You can see the results of your game (or other players' game) by entering a nickname on the site.
The service is engaged in collecting tournament statistics for more than 10 years (since 2006).

Using the service, you can keep track of which tournaments a player is currently playing or registered in. Among indicators are profit, ROI, game history, and much more. Let's take a closer look at this site.

How does the service collect information?

There is a special tool integrated into the site that analyzes completed tournaments (except for private and anonymous games). Monitoring is conducted in the automatic mode. Information comes from all major gaming resources. After that, the data is being processed. Then, the result is presented on the site in an easy-to-understand format.
SharkScope specialists have developed a great automated tool for collecting tournament results. No poker room takes part in this process; furthermore, they are against such actions but are not able to influence the situation. Information regarding the completed poker tournaments is in common use and cannot be removed.
Important! Online casinos do not work with the SharkScope service.
Sharkscope features and capabilities
SharkScope stores all data in its MTT and Sit&Go database. The service provides player statistics, tournament search by iD, a leaderboard for each room, limit and type of poker, where you can evaluate your place relative to the best players.

Player Statistics
The site offers two ways to make searches: basic and advanced. Basic Search provides you with information about a villain, while Advanced Search provides an opportunity to use specific filters to get more precise information on players.
​

Advanced filters are perfect for analyzing your opponent's results (and your results as well). For instance, you can find out how player A is doing in regular tourneys versus PKOs. It's also possible to sort tournament results drawing on stake level and then compare them.
How to use Advanced Filters
It's important to know how to use advanced filters since it will significantly increase your search accuracy and help achieve greater results.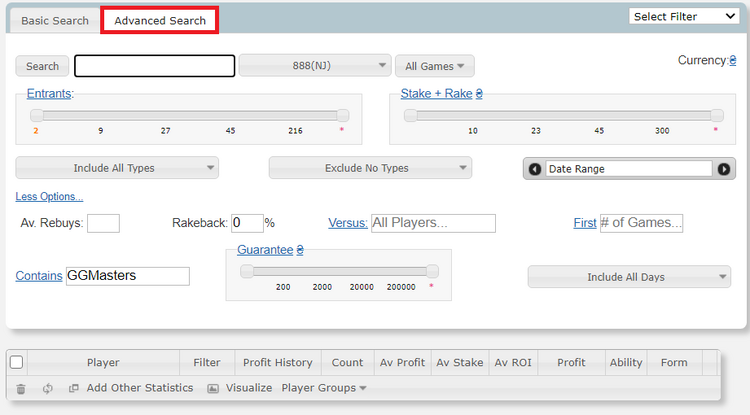 ​
Next to the "Search" field, enter the user's screen name that you want to check. You can also choose a particular network if you don't want to search through all the networks. However, keep in mind that many players use the same screen name for all the poker rooms they play in.
​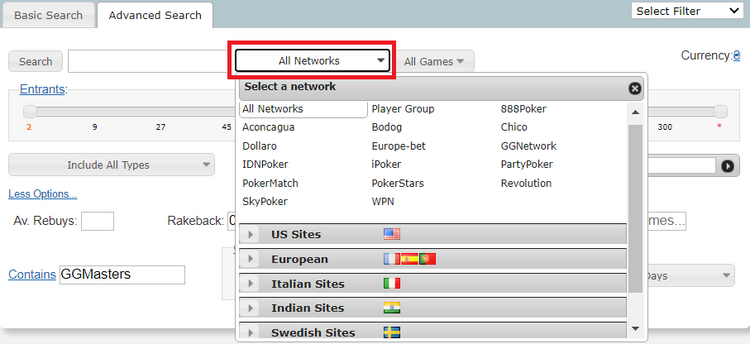 Then, you should select a tournament category: Sit & Go or Scheduled (MTT).

​
In the "Advanced filters tab", players can both select tournaments in terms of type and isolate those tournaments they are not interested in so that SharkScope will display only the results of the tournaments they have specified.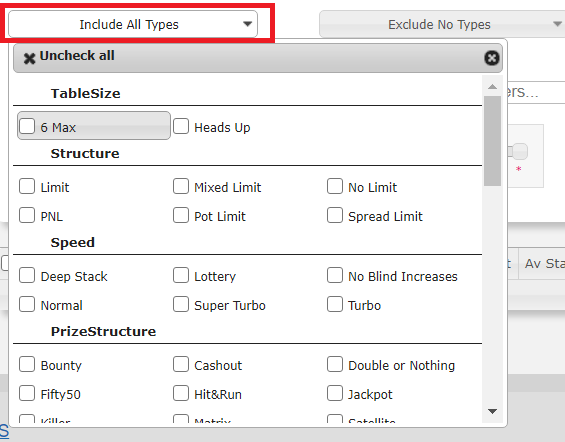 ​
As far as the Data Range filter is offered, players can choose a specific date or period to be displayed.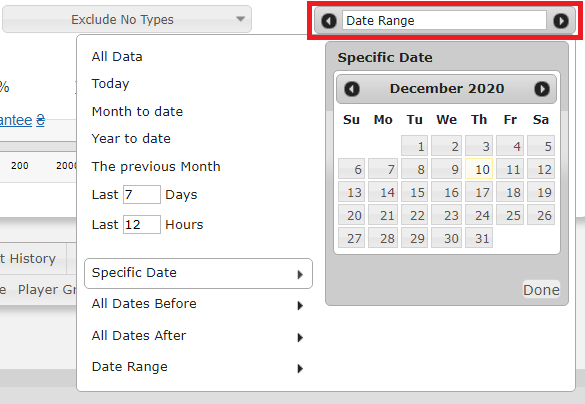 ​
Click on the "More Options" line to get more advanced filters. You can set the amount of rakeback and the number of tourneys you (or other players) have played (Last, First, Best, Worst). For instance, check the last 20 tournaments you took part in on PokerStars.

​
Specify tournament names (for example, GGMasters on GGPoker or Bounty Hunter on PartyPoker) to check results from them as well as sort results per day of the week.

​
Important! Only players who have bought a subscription are able to benefit from the advanced filters mentioned above.
Tournament Search by ID
Just enter the tournament ID next to the "Search" field, and the site will display full statistics on the players who participated in it. It is important to bear in mind that you should not bluff against players with the fish icon because they can easily call your bet.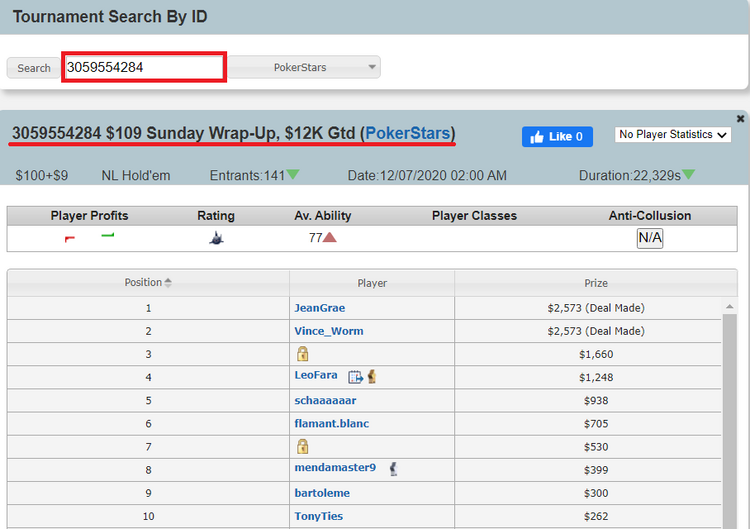 ​
The padlock icon means that the player has chosen to block their statistics while the star icon gives information regarding the player's leaderboard rankings.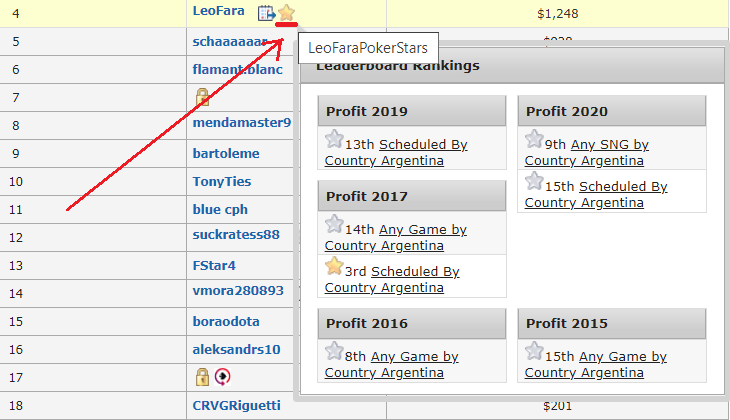 ​
Click on a nickname to see detailed information on the player: graphs, tournaments played, statistics, etc.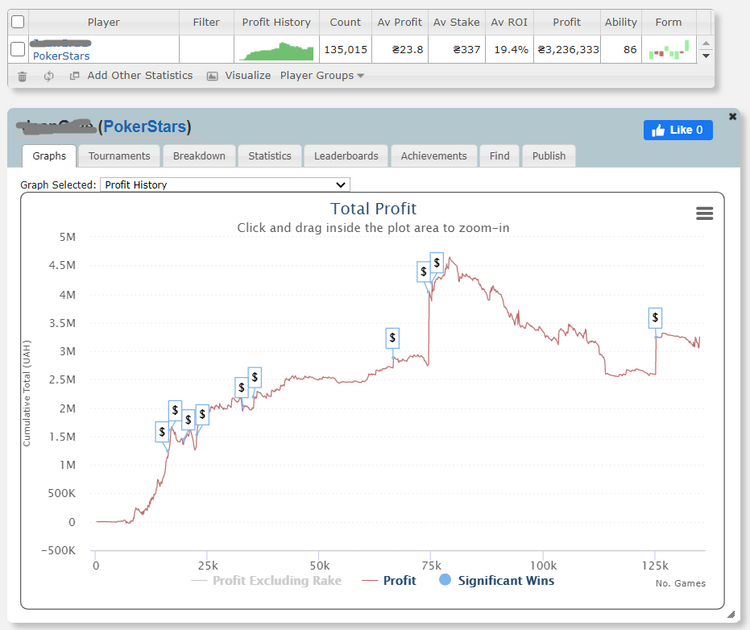 ​
SharkScope Leaderboards
Sharkscope has another useful function referred to as Leaderboards. These leaderboards cover many poker sites, tournament types, and stake levels.
SharkScope leaderboards track poker players with the biggest number of tourneys played and the most profit earned per year. To understand how good certain players are, you can also utilize results from the special leaderboards.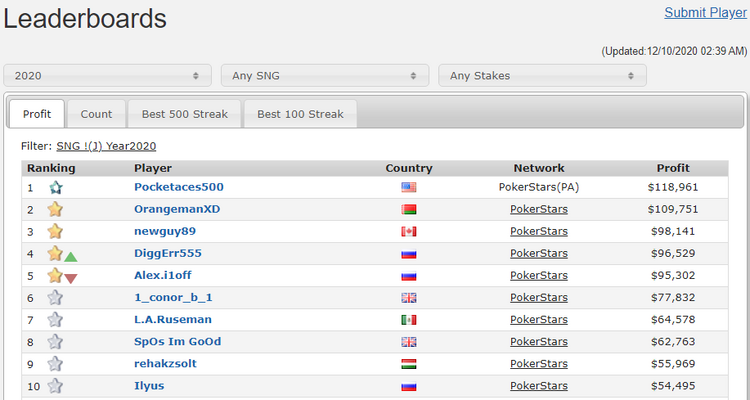 ​
If you are serious about the game and plan to achieve success in tournament poker, we advise you (at least) to get acquainted with the program in order to evaluate its capabilities, advantages, and disadvantages.
What is SharkScope HUD?
SharkScope HUD is an app for PC and MAC that allows players to extract information from the site sharkscope.com during the game.
SharkScope HUD can make tournament players' lives a lot easier. With it, there will be no need to check for opponents' nicknames manually through sharkscope.com, the program will do everything for you. The program will give you an opportunity to receive all the information in one click – just click on the HUD next to a player's screen name and the necessary data will be displayed.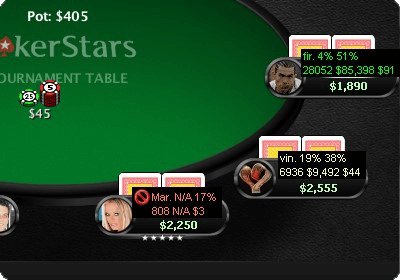 SharkScope HUD users get detailed statistics on the players. In order to use the app, you should buy a subscription plan. During the game, the losing players will be displayed with green color, while the winning ones – with red color (as shown in the picture above).
Paid subscriptions have a unique feature to reset statistics. In this case, no players will see your previous results. So the issue then is if everyone buys a subscription and resets their statistics, then what is the point of SharkScope HUD? However, that does not yet seem to be the case, meaning that the program is still helpful.

The following video explains how to install and use the SharkScope HUD.

​
System requirements

It should be added that Sharkscope HUD has minimum system requirements to run. This is great news for players who have low-powered computers. If you have a modern PC, then you can download all the tools you need to use when playing poker without fear. For example, simultaneous running of the Holdem Manager 2, Poker Tracker 4, and SharkScope HUD will not hamper the processor's work.
Also, you can easily use the program in conjunction with torrents, an active browser with lots of open tabs, and there will be no freezes. A lot of players find that the combination of statistics from PT4 and Sharkscope HUD icons greatly improves understanding of opponents' play. Naturally, you need to switch HUD to the appropriate information display mode in the settings.
Important! Keep in mind that you can get SharkScope HUD only if you have a particular subscription plan on the sharkscope.com website.
SharkScope Pricing

SharkScope is a useful resource for players who can get advantages in the game from statistics. It is possible to use SharkScope for free, but alas, you are given no more than 5 free requests (advanced filters no available) per day. This option will be suitable for cash players who rarely play poker tournaments. Besides, free daily searches are added to your subscription plan.
If this is not enough for you, then you should think about buying a subscription. There are a few subscription plans available on the site. They differ in the number of searches per day, access to the SharkScope HUD, and other additional features.
SharkScope subscription plans:

Bronze (from $6 monthly) – 10 daily (+5 free) searches, advanced search filters, the possibility to reset statistics;
Silver (from $12 monthly) –150 (+5 free) searches, SharkScope HUD and SharkScope Sync tools;
Gold ( from $26 monthly) – 1000 (+5 free) searches, all Bronze and Silver benefits, SharkScope HandTracker, Sit&Go guide.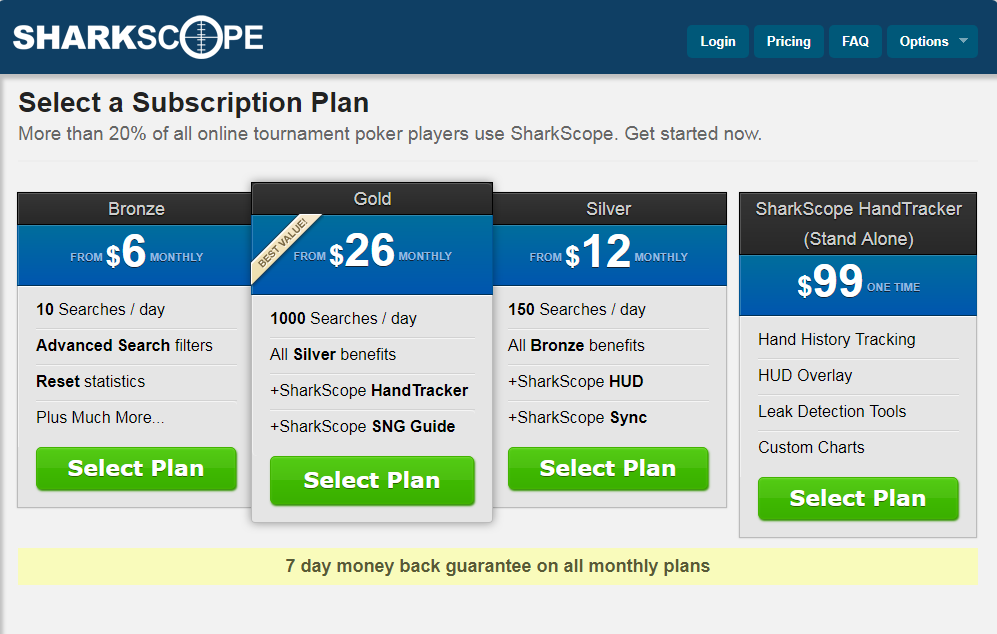 You can also purchase and use a separate SharkScope HandTracker plan worth $99, which does not need to be renewed. It includes Hand History Tracking, HUD, Leak Detection Tools, and Custom Charts.

As soon as you buy a subscription, you will receive a notification by email, and the appropriate number of searches will be activated in your Sharkscope account. If your subscription plan includes HUD, then you need to download it separately.

Important! Your SharkScope subscription can be used simultaneously on a maximum of two devices; otherwise, your account may be blocked for some time or even permanently.

Within 7 days after paying for the subscription, you can return the money if you change your mind about using this service. A monthly subscription starts from the day you purchased it and ends on the same date of the next month.
SharkScope also offers a number of applications with unique features:

Automated search and registration in tournaments.​
Software for multi-tabling.
Applications for displaying statistics on android devices.

The cost of the apps ranges from $1-$79.

Most of the auxiliary apps are developed only for the PokerStars poker client.

SharkScope advantages and disadvantages
Covers most online poker rooms that host tournaments
Supports all types of poker tournaments.
Provides 5 free searches per day.
Gives the information you need to improve your game.
Helps exploit your opponents' weaknesses.
If used correctly, the SharkScope database will increase your profitability and reduce your losses.
A player can block their statistics, making them invisible to other users.
SharkScope HUD perfectly complements the capabilities of PokerTracker and Holdem Manager.
Statistics and charts reveal not only your opponents' playing styles but your playing style as well.
Some results of poker tournaments may occasionally get missed.
The data provided may be sometimes incorrect (very rarely but still possible).
In general, Sharkscope is a useful resource for tournament players that may not be to everyone's liking, but it's worth a try.

Go to SharkScope to receive interesting and useful information about your tournament results (unless, of course, you are a poker king who already knows everything about your achievements) or your opponents' results.