SharkyStrator review
Are you a fan of SNG tournaments on PokerStars? Are you bored of wasting precious time for searching the most suitable tournaments? Then SharkyStrator is what you need!
SharkyStrator is a program for automatic registration in SNG tournaments. It is both a simple and very powerful tool for tournament players.
By installing SharkyStrator, you will no longer waste time searching for perfect tournaments in the Stars lobby. Everything will be automated, both for playing one tournament and for multi-tabling. This program finds a perfect tourney and automatically registers players according to pre-selected parameters. Thus, you can enjoy the game and leave all routine operations to the software.
Important! SharkyStrator is auxiliary software to facilitate registration in Sit & Go tournaments, but it does not collect any statistics on players. This program will not help improve your game.
Does SharkyStrator work now?
Starting March 1, 2019, PokerStars introduced new rules regarding the use of third-party software, providing a complete ban on any programs for effective table selection and auto-seating based on statistics and/or notes regarding specific users at the table.
Seating programs that were banned include tools to automatically seat or notify the user when a player with a particular label joins the table, as well as those scanning the PokerStars lobby and automatically opening poker tables based upon individual users who are landed at them. It was allowed to use only those programs that facilitate seating without taking into account data about opponents.
After Stars banned opponent selection features, SharkyStrator continues to work as a program to simplify players' registration in tournaments without looking for specific players. Every filter for opponent selection has been set as disabled.
SharkyStrator: Functionality of the program
SharkyStrator has a huge selection of filters. Filters are necessary so that the program knows which tourneys to register for. For example, your preferred tournament types and level of buy-ins. Players can also select the number of SNGs they want to grind per one session and the number of simultaneously active tables. Moreover, it's possible to specify the length of the game session so that SharkyStrator will stop registering you for events at the end of it.
Registration by notes
The most useful feature of the program was tracking PokerStars players with colored labels. For instance, you could mark all weak players in yellow or blue (or any other color you wanted). To play with the marked users, you didn't need to manually look for them in the lobby. SharkyStrator used to find weak players by itself and register you for the same tournaments they played.
You can see how it had worked before PokerStars banned this feature:

​
You could even set the program to look for tourneys with a certain number of weak players. Thus, PokerStars users were able to enter only the most profitable tournaments and not waste time searching for fish.

​
In the Priority Filters tab, there was a window with colored slots (as in the picture above) featuring marked players: strong regulars, intermediate players, fish, TAGs, LAGs, calling stations, etc. Earlier, the icon of sunglasses meant unknown players (they were not marked with colors), but now the sunglasses are used as random lobbies. Keep in mind that the registration by notes is not available, as it was prohibited on March 1st, 2019.
Filter priority
The program works great in terms of prioritization: you are able to create several filters in SharkyStrator and then set their priority. Thus, the order in the list of filters will mean their priority. The most important filter will be in the first place, and the rest filters will rank in descending order.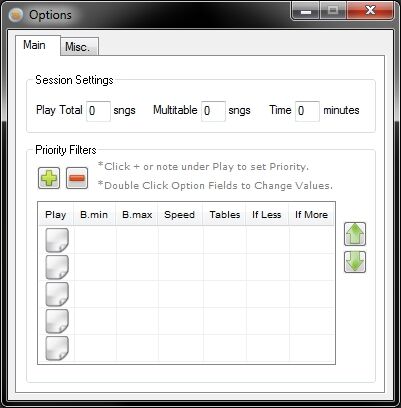 ​
In the Session Settings field, you can specify your game session settings:
Play Total – displays the total number of SNG tournaments per session.
Multitable –displays the number of simultaneously open tables.
Time – displays the duration of your session.
You can change the order of filters by simply rearranging them using the arrows. If you need to use different filters at different times, just create them and then activate the one you want.
To add a new filter, press the icon of the plus. You must be logged into the PokerStars lobby. Select the type of S&G tournaments for which the created filter will be applied.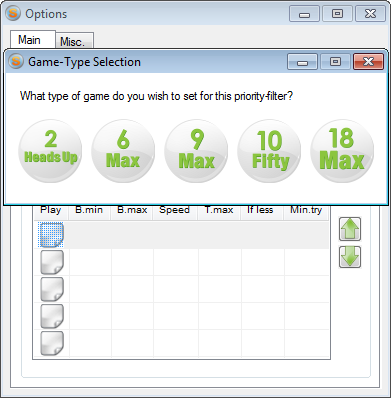 ​
Then, you can specify the following parameters (required to be filled) in the created filter:

B.min – minimum buy-in;
B.max – maximum buy-in;
Speed ​​– preferred speed of SnG tournaments to play;
Tables – maximum number of poker tables in the selected category;
If less – use this parameter only if the number of active tables is less than the specified one;
If more – use this parameter only if the number of active tables is higher than the specified one.
After setting up SharkyStrator, you need to set up a tournament filter on PokerStars.
To do this, open the PokerStars lobby you are interested in, click on the Filter icon (or save your favorite filter) and adjust it according to the SharkyStrator filter settings: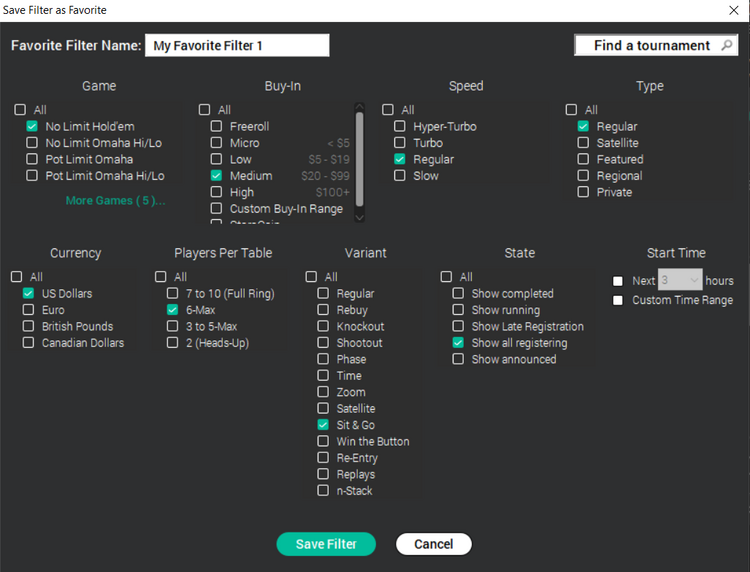 Sound notifications

SharkyStrator notifies players of every new registration with a sound signal. It's a great tool as you no longer have to spend time looking for desired events, but you still have complete control over the number of tournaments to play.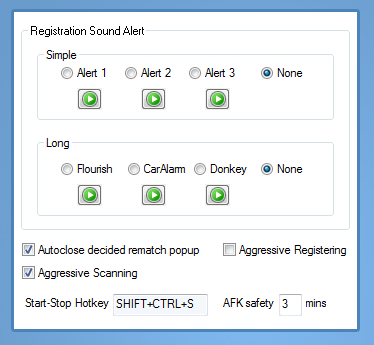 ​
In addition, the software stops registering a player if he/she is not active during a game session. If you are active but face a similar situation, restart SharkyStrator, having previously reset the filters, and then set them up again. If the situation does not change, you should contact the support service through the official website of the program.
Pros and cons of the program
Like any other poker tool, SharkyStrator has its advantages and disadvantages. Let's consider some of them:
Possibility to set the duration of a game session.
It allows selecting the number of tournaments to play simultaneously.
Sound notification at each registration for the tournament.
Possibility to set the total number of tournaments per session.
There are features to choose game speed and affordable buy-ins.
It's only compatible with PokerStars.
Registration by notes is not available.
SharkyStrator installation and settings

If you have Vista or Windows 7, select an Aero theme.
Choose the Black theme for a lobby of PokerStars.
You can set the text in a menu "View" if you select items "Text Size View" - "Game List Font Options"
Set order of displaying the tournaments in the PokerStars lobby in the following way: ID, Game, Limit, Buy-In, Speed, State, Enrolled.
Switch off "Allow registration without showing Buy-In dialog" in the menu "Options - Advanced Multi-Table Options".
Switch off the "Always Decline Rematch Requests" feature. If you need it, then customize "Tools - HU Rematcher".
Disable auto seating scripts with the help of other programs (in case you use some other software).
Attention! For SharkyStrator to work correctly, you must disable the function of automatic registration by other programs, such as TableNinja.
SharkyStrator Pricing
SharkyStrator has an eternal trial valid for limits up to $1.5, meaning that people who play micro limits can use the program for free.
Also, players can purchase a license to the program for 6 months, after that it has to be renewed. There are 5 options for a half-year subscription; their cost depends on the tournaments you play. Price ranges from $35 to $540 ($6 – $90 per month):
| Stakes | Tournament buy-ins | Pricing | Period of validity |
| --- | --- | --- | --- |
| Low Stakes | Up to $15 | $35 | 6 month |
| Mid Stakes | Up to $60 | $80 | 6 month |
| Reg Stakes | Up to $100 | $160 | 6 month |
| High Stakes | Up to $300 | $320 | 6 month |
| Nose Bleed | Up to $5 000 | $540 | 6 month |
The developer also provides a free trial for 7 days. In order to get it, you should register your License. With the trial, you will have free access to the full range of SharkyStrator features.
You can set up all parameters that are suitable for your game, that is, create filters, right after purchasing SharkyStrator. For the program to work correctly, make sure that filters on PokerStars match those on SharkyStrator. The parameters of the filter you have installed should coincide with the parameters you select in the lobby of the SNG tournaments of the poker room.
Poker rooms compatible with SharkyStrator
Nowadays poker rooms block players for using third-party software much more often. They have adopted a policy of supporting recreational players and are becoming increasingly tough regarding any regulars' attempts to quickly find weak players at the cash tables and beat them.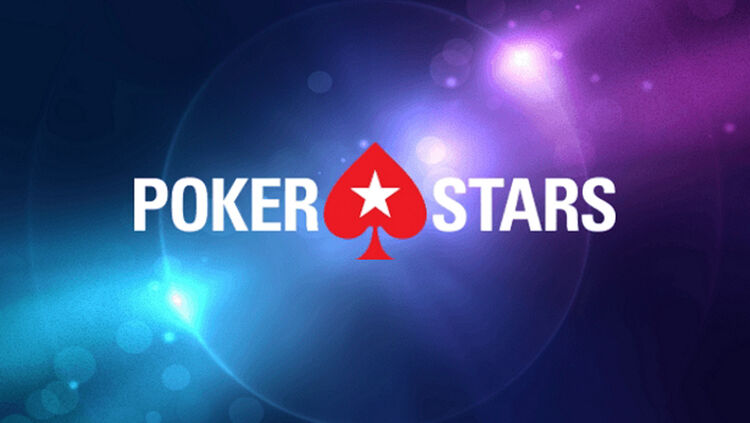 ​
As of now, SharkyStrator is only compatible with PokerStars, which has a large selection of poker tournaments. Stars have put this program on the list of permitted poker tools to use while their client is running as it doesn't help players cheat, but just facilitate their registering in tournaments. This means that you can use SharkyStrator without having to worry about any problems occurring.
If you still have doubts about the legality of using SharkyStrator, it is better to protect yourself and write to PokerStars Support first. This, you will get a written answer about prohibiting or allowing this tool or other poker programs that you would like to use. You can find information on how to contact the PokerStars Support Service quickly and correctly on our website.
Important! When opening the PokerStars gaming platform, make sure to close programs that cannot be launched while the client is active and that the auxiliary software is not running in the background. If certain functions are prohibited by Stars, better disable them or do not use those tools at all.