Smart Table Scanner review

Smart Table Scanner is a simple and easy-to-use poker scanner that will help you to select the tables in the poker rooms quickly and correctly (what is even more important).
In order to win playing poker, you need to collect not only statistics on the opponents, but also to use it correctly.
Table selecting, or in simple words the tables' search, and its selection online in order to have the most profitable and easy game is a very important part of the modern poker.
Based on a soft data, you can determine the fish at the table against which it is more favorable to play. You can seat at those tables where there are the weak players most of all, as it is obvious +EV. But it takes a lot of time to search for the fishes. However, Smart Table Scanner will help you to save your time.
For a relatively small sum ($20-$80 per year), you will simplify the task and be able to spend more time for play rather than for its searching.
Smart Table Scanner functionalities
Smart Table Scanner program is intended for the cash players. With it, you can find the weak players in a poker room at the cash-tables. Everything you need is:
To connect to Holdem Manager database in order to allow the program to use the necessary statistics: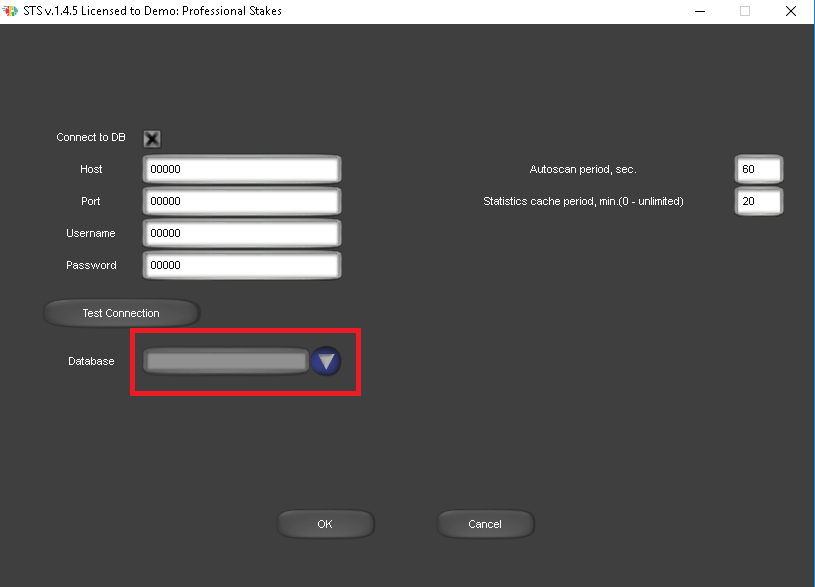 To indicate the necessary statistics terms for the search of weaker players (for example, by choosing those ones whose VPIP is more than 40%, because they play loose and play a wide starting hands range);
Press the button "Scan now"

Smart Table Scanner will carry out the search concerning the specified parameters and open the most favorable tables for you or put you in a Wait List for those tables you want to seat at.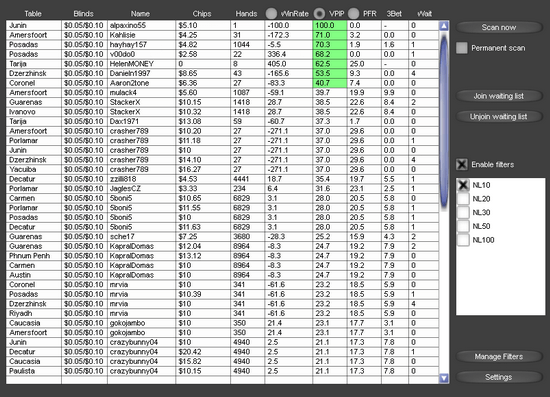 ​As it can be seen in the picture above, the program filters all cash tables and players who are sitting at them according to the data indicated in the table.
System Requirements for the program installation

The following minimal requirements are necessary for the soft correct work:
Windows 7, 8 or 10 (x86 / x64) operating system;
DirectX 9.0c (if you haven't it, you will be offered to install or update it during the installation process);
Video card with 512 Mb memory and it should be compatible with DirectX 9.0c;
2 GB of RAM (random access memory)
Smart Table Scanner doesn't operate on the virtual appliances.
After downloading of setup file, Windows security system can warn you against the app installation, but you should click "Details" and "Do it in any cases".
Smart Table Scanner license cost
You can buy the annual Smart Table Scanner subscription for $20-$80. The license cost depends on the limits you play:
For NL2-NL10 – $20;
For NL16-NL40 – $50;
For NL50 and higher – $80.
The sum is quite approachable for every limit.
All the tariffs include free updates, as well as support on the forum and via Skype.
Smart Table Scanner advantages:
Easy to use;
Automatic searching of fish;
Playing at the tables with weak players.
As for disadvantages, Smart Table Scanner is able to operate only with HUD.
Try Smart Table Scanner for free
If you are in any doubt about whether you need the poker soft such as Smart Table Scanner, then you can try it for free. Just activate the demo version and estimate the poker scanner possibilities in a free version after the soft installation.

Supported poker rooms
Smart Table Scanner poker soft is operating with 888poker and poker rooms of iPoker network. It is stated at the official soft website that PokerStars support will appear in the near future for an extra fee.
If you are playing in the other poker-rooms, don't be upset. At a soft website, you can indicate your e-mail and poker room you are playing in, and you will be informed when Smart Table Scanner will operate at its base.
We offer you to get acquainted with the list of poker rooms that support Smart Table Scanner:
888poker
This poker room has very active game traffic. Its traffic is among the ten most active one on the Internet. Here is a wide selection of poker games, different limits with different numbers of players at the tables.
Titan Poker
Titan Poker is one of the leading poker rooms of IPoker network. You can find here many games, starting from the regular tournaments and cash games to the lottery sit-and-go games and Holdem 6+.
Bet365
Bet365 holds the regular tournaments and pleases its users with different freerolls. Thanks to the freerolls, users are able to earn prizes and build their bankrolls.
Winner Poker
This poker room has gained a great popularity among the players thanks to a big first deposit bonus, as well as an exclusive loyalty program.
Betfair
Betfair offers a wide variety of games at different limits. Its client looks modern and contains all the necessary functions for a convenient play. This poker room can also boast of generous bonuses and large number of promotions.