Spin and Go Strategy

​
This article covers the correct basic strategy for playing Spin and Go (lottery-style prize pool tournaments) and the distinctive features of such games.
We will also examine the GTO approach and tactical nuances for different stack sizes.
Since their introduction on PokerStars in October 2014, Spin&Go's, or simply Spins, have been providing gamblers worldwide with an opportunity to hit life-changing jackpots.
This format attracts both casual users and seasoned professionals alike. The latter group, however, took their time to carefully examine the new discipline.
While getting the highest multiplier at your table is subject to luck, honing your skills and learning specific strategies can lead to stable returns, even without hitting the top multiplier.
Introducing Spin and Go Poker
Spins bear a resemblance to regular Sit & Go, but they are far more attractive to the masses (particularly to hobbyists) due to a constantly changing prize pool.
Hallmarks of the lottery SnG tournaments:
As a rule, three individuals are competing.
Users start playing with a 25 BB stack.
The entire tournament prize pool is awarded to the victor, although there are exceptions.
Those who finished in second and third place receive payouts only if a large multiplier is activated (e.g., x100, x200, x3,000, x10,000). However, their winnings are always significantly smaller than the winner's, usually around 10% of the main reward.
The prize pool becomes known before the game starts, and no deal-making among players is allowed.
The most common multiplier seen in all versions of this format is x2, where you essentially fight for twice buy-in.
How do you play Spin and Go? Each room that offers lottery-style tournaments sets individual rules regarding blind structure, multipliers and format. So, for example, playing Blasts on 888 poker, people automatically go all-in once a fixed time limit completes. And, until December 2019, these games were held in a 4-max format.
Basic Principles of the Game Strategy
Mastering the skill of short-stack play is essential here. One common and substantial mistake inexperienced users make is waiting for premium hands and sticking to a passive playing style during the first blind levels./p>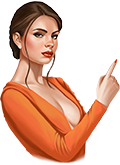 You should understand that there are only 25 big blinds in your stack, and the levels increase every 3 minutes (on average). So, waiting for a strong starting hand might leave you with a very short stack of just 2-3 big blinds. Of course, this doesn't mean you have to open with 100% of your range, but your opening range should be wide enough. This is particularly crucial for the button and steals from the small blind position.
BTN's opening range in Spins
​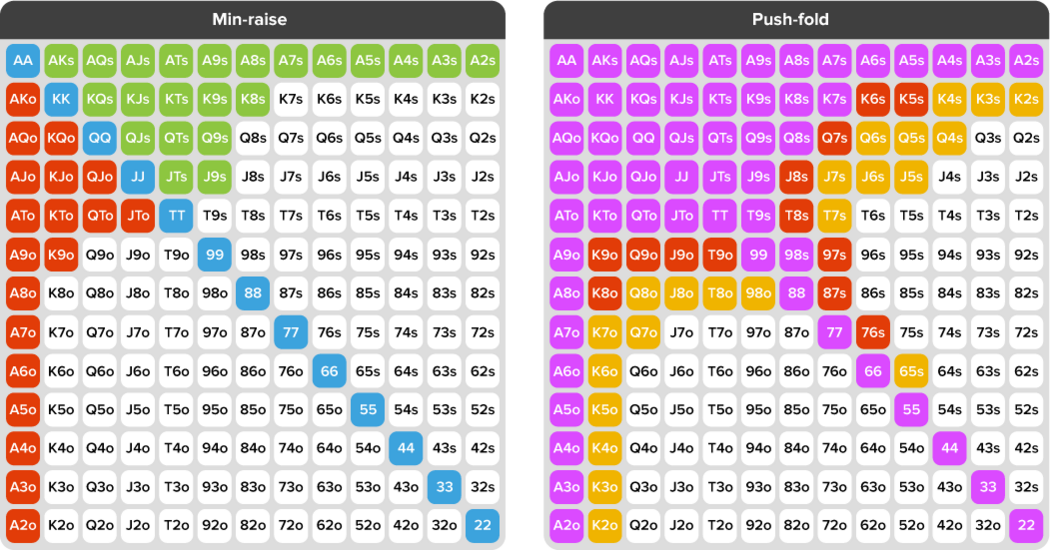 SB's stealing range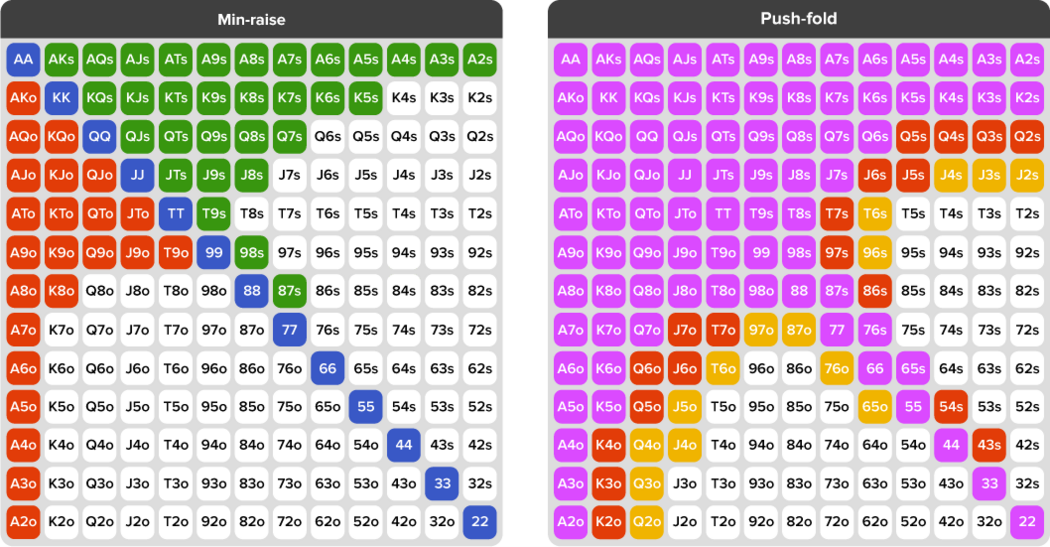 ​
Notably, a prevalent and advantageous tactic when playing from the small blind is limping.
Hand Example
Let's consider a hand example for a better understanding of the topic:
BTN: 25 BB
Hero (SB): 25 BB
BB: 25 BB
Preflop: Hero has 10♦7♣.
BTN folds, Hero calls 0.5 BB, BB – checks.
Flop: 2♠ 9♣ 5 ♥
Hero bets 1.2 BB, and BB folds.
The tactic of limps (or so-called small-ball) is a favoured approach among skilled Spin & Go players. It's also widespread in the heads-up stage of tourneys when participants have very tiny stacks remaining. By implementing this tactic, a player in the small blind (in heads-up – on the button) can see flops at a lower cost. Against passive opponents, they can even profitably bet on any board and immediately claim the pot.
For a better understanding, we suggest that you watch the Spin-and-Go hand history review by Douglas Polk:
​
Playing as per Game Theory Optimal
If you master GTO poker, no other person will be able to outperform you in the long run.
If both participants were to adhere to GTO principles (which is impossible due to the complexity of poker), the only party profiting would be the one who receives rake (a poker room in this hypothetical scenario).
However, it is worth noting that most Spin&Go enthusiasts don't pay enough attention to Game Theory Optimal and often underestimate its strategic value, unlike those playing regular SNG tournaments.
One could argue that they are somewhat old-fashioned, as high-stakes cash grinders have long been using poker software (such as Piosolver) that assists in finding Spin & Go GTO strategies.
If the best Spin & Go player decided to venture into $25/$50 cash games on PokerStars, they would likely face fierce competition. And there would be a line of 20 people eagerly waiting to join their table and challenge them.
The GTO opening range from the button (shown below) represents a reasonable spectrum assuming that we are playing with a 25 BB stack from that position. And there isn't much to discuss in this regard.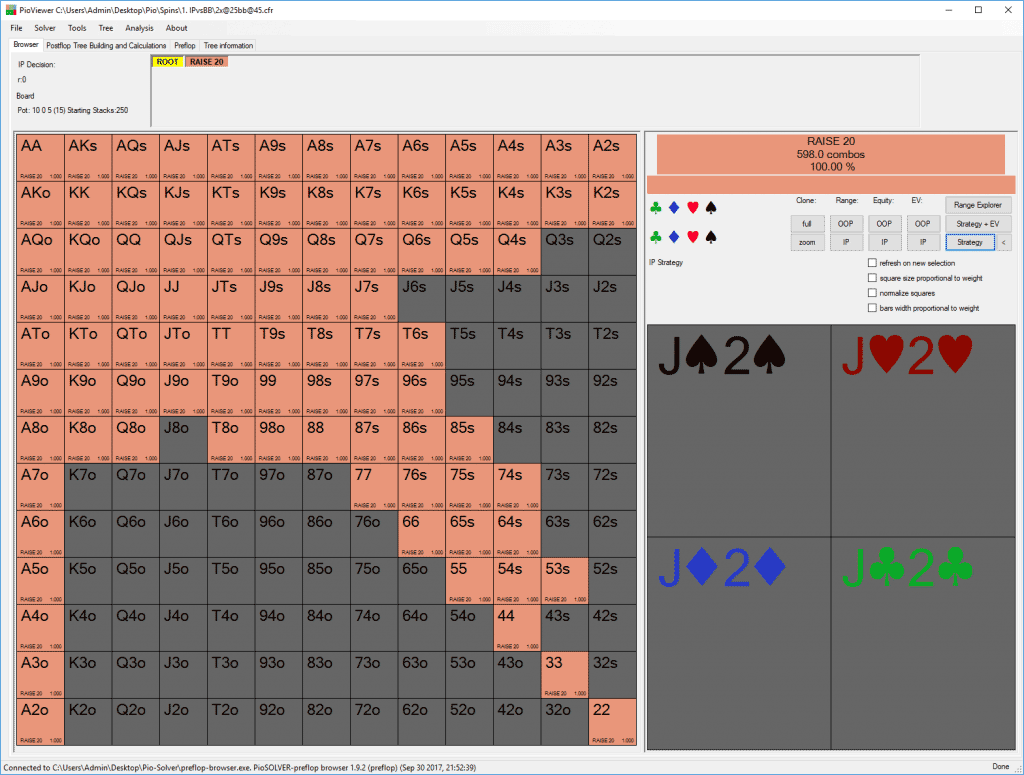 ​
In the screenshot below, you can see how you should behave against 3-betting from the BB (big blind position).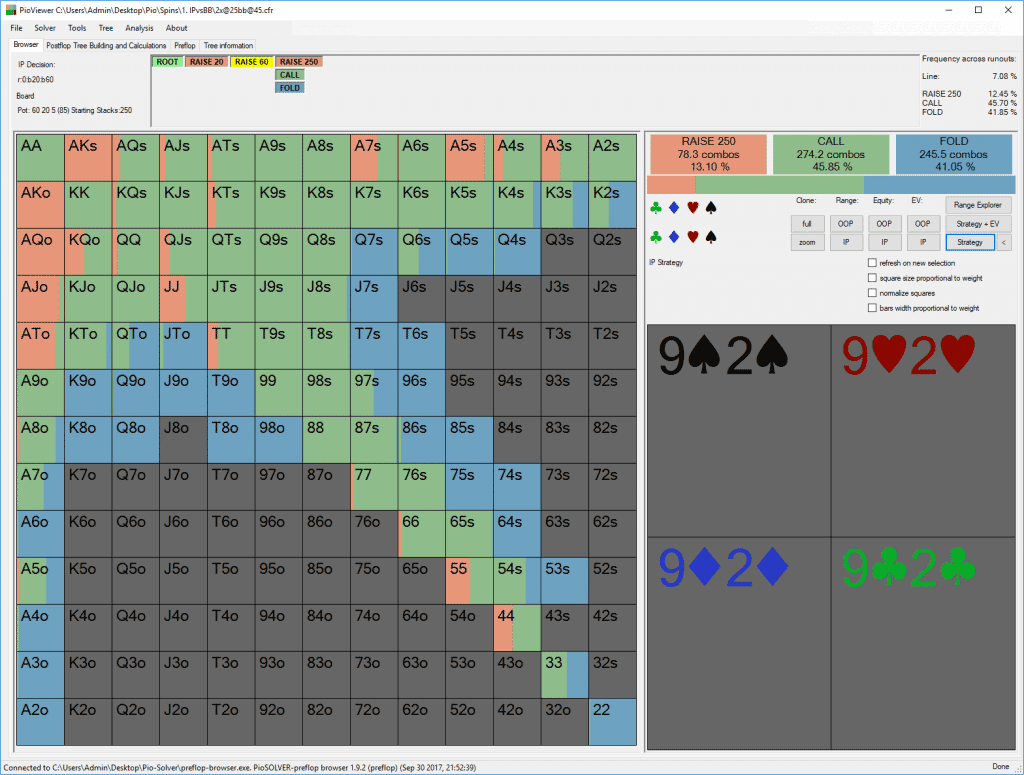 ​
This spectrum differs significantly from yours, primarily because you don't look at the game as regards Game Theory Optimal. Have you ever considered smooth calling in such a situation with hands like 66-AA? Perhaps you've done it with aces or kings, intending to trap your opponent when holding a premium hand. But your possibilities extend beyond that.
Many would agree with the following statement: the majority of players tend to 3-bet from the BB only with nut hands like JJ+ and AQs+, and they rarely bluff, except for the so-called maniacs (in such cases, deviating from GTO strategy is advisable).
So, what's the point in 4-betting with starters like 22-TT or AJs, as many of you likely do?
It doesn't make sense because you're simply isolating yourself against stronger hands, and this is what programs like Piosolver consider when suggesting ranges based on this information.
Let's look at the SB's range in heads up with an 11 BB stack through the GTO-based preflop charts below.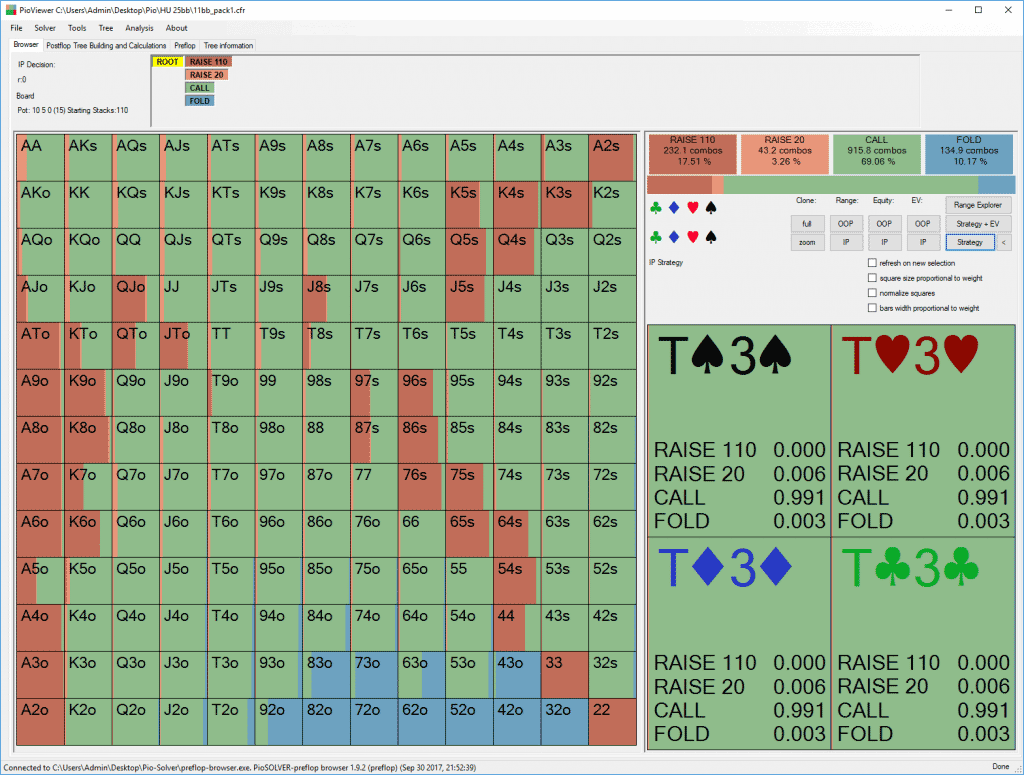 ​
You have probably never thought about playing with such a range, have you? Yet, it is worth considering, as any other strategy can be exploited by your adversaries.
Give this range a try when you have 11 BB in Spins and when playing one-on-one (heads up, HU) from the small blind position. You will see how excellent and comfortable you are in this situation.
Five Proven Tips for Spin&Go Players

Avoid open-raising to 3 big blinds
A raise of 2 BB is enough to force your opponent to fold his/her cards.
Given that you and your rival have relatively short stacks, their decision won't depend on whether you raise 3 or 2 big blinds.
If there is no significant difference, then why pay more? When stealing from the small blind against the big one, you can opt for a 2.5 BB raise to increase your fold equity slightly.

Consider folding more often against tight players
In such tournaments, many people follow a highly conservative playing style and only make re-steals having the top of their range.
It is beneficial to open with nearly 100% of your hands against them and simply take the blinds.
But remember, when they show aggression, you should easily muck everything that doesn't fall within the top 15% of your range. This approach will help you avoid paying off their premium holdings.

Devote time to honing your push-fold game
Once your stack dwindles to 8-9 big blinds, you can no longer rely on raise/fold tactics or play hands postflop. Your choices narrow down to either pushing all in or folding. Fortunately, there are numerous online programs available that can help you learn the correct push-fold strategy.

Having a top pair (even without a kicker) is always
Even a medium pair – 77, 88, 99, TT – with a good kicker is quite a strong hand in Spin&Go. This is where the small-ball approach we mentioned earlier comes into play.
With medium-strength hands, it is advisable to employ a check/call technique more often to catch your opponent's bluffs.
Boards like A T 3 or K 9 4 will suit you perfectly. Your rival is less likely to have hands better than your middle pair on such boards.

Be aggressive when playing with draws
When you have 30% equity or more on the flop (a flush draw with a hit, a flush draw and a gutshot, or a straight draw), you should play with maximum aggression and put all your chips into the pot as quickly as possible.
This tactic will help you to extract maximum value from your equity and is a pivotal factor in achieving success in the discussed discipline.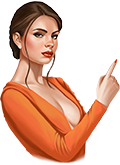 This information may come in handy!
Guide to Proper Bankroll Management
Spin &Go a is highly dispersive discipline, and it requires a substantial approach to bankroll management. To find out how many buy-ins you need for a comfortable game, you have to determine your ROI. You can do it after playing your first thousand tournaments.
Until you accumulate the necessary distance for determining your ROI, your bankroll has to contain at least 200 buy-ins per limit.
You can start with low limits (up to 10$) to understand what advantage you have over adversaries and what adjustments you need to make to your strategy if you don't have an advantage. Also, you can approximately determine your ROI at a limit and understand whether you are able to move to a higher limit. Remember that the higher the limit, the more buy-ins you must have in reserve. This is also related to your ROI:
ROI 1-2% – 400-500 buy-ins.
ROI from 3% up to 5% – 200 buy-ins.
ROI from 5% and higher – 150 buy-ins per limit will be enough for you.
What is a Good ROI in SPINS
Your ROI in MTTs depends on how often you enter the ITM zone. Here, this is equivalent to the number of games you win since only the winner receives a payout in most cases. Also, a lot depends on a rake, which affects your ROI significantly. For instance, you have to win 35.9% of $1 Spins to achieve a near 0% ROI.
Comparing wins and ROI across various stake levels
ROI

Buy-in 1$

Buy-in from 2$ to 10$

Buy-in from 25$


% of won tournaments

-2%
35.1%
34.8%
34.4%
-1%
35.5%
35.1%
34.7%
0%
35.9%
35.5%
35.1%
1%
36.2%
35.8%
35.4%
2%
36.6%
36.2%
35.8%
3%
36.9%
36.5%
36.2%
4%
37.3%
36.9%
36.5%
5%
37.7%
37.3%
36.9%
6%
38.0%
37.6%
37.2%
7%
38.4%
38.0%
37.6%
8%
38.7%
38.3%
37.9%
To achieve a 5% ROI at a limit of 5$, you must win 37.3% of the tournaments you play. The differences in percentages appear negligible. Winning 35% of matches, you will break even at best. But if you victor in 38% of the games, then you are one of the best Spin&Go players in the world.
Best Rooms to Play Spin&Go Tournaments Online
In some poker rooms, user numbers, blind growth, and other factors may vary slightly. Note that the names of these fast-paced games are also different.

PokerStars
100% First Deposit Bonus
Make your first-ever real money deposit using the bonus code 'STARS600', and we will give you a 100% bonus up to $600. To claim the full value of the bonus, you can make up to three qualifying deposits in 60 days.
Alternatively, deposit using code 'THIRTY' and claim $30 of free play.
How the 100% First Deposit Bonus works
Once you've made your deposit, you need to earn redemption points by playing real money games. Unless stated otherwise, you will earn 5 redemption points for every USD $1 you pay in rake or tournament fees (6.5 points per £1, 4 points per CAD $1, or 5.5 points per EUR €1).
Every time you reach 180 redemption points we'll credit your Stars Account with $10 cash. You have four months after each qualifying deposit to earn all the redemption points needed to release your bonus.
You may only take advantage of one of our first deposit offers, but may be eligible for further deposit bonuses open to existing players. You can view any bonuses you have, alongside information on expiry dates, redemption point requirements and more, under the 'My Stars' menu.
Please note that redemption points will not be earned at pot-limit or no-limit tables with blinds of $5/$10 or higher, 8-game tables with stakes of $20/$40 or higher, or other limit games with stakes of $20/$40 or higher.

B

Not available for players from your country

888poker
The following are the terms and conditions of the "£20 Bonus Package Promotion" (the "Promotion") for www.888poker.com (the "Site"). The Promotion is organized by 888 UK Limited.

This Promotion is an ongoing Promotion, currently without an end date, we will provide reasonable notice of when the Promotion is to come to an end (the "Promotion Period").
888poker may cancel, modify or suspend the promotion, and any of the bonuses or benefits offered hereunder, where required for security reasons, to comply with applicable law or regulation, due to abuse or otherwise where the promotion is not capable of being conducted as specified as a result of exceptional circumstances. Other than where necessary to prevent fraud or other similar unlawful behavior, any such modification, suspension or cancellation will not apply to you if you have already opted into the promotion, made a deposit in expectation of receipt of a bonus or other benefits offered, and/or commenced play in relation to the promotion, bonus or special offer prior to the date of the communication of the modification, suspension or cancellation.
No-one under the age of 18 may participate in the Promotion and the Promotion is only available to eligible members located in the UK.
You may be asked at any stage to provide us with a proof of age and/or identity.
You may only enter this Promotion once.
For security and verification purposes, we reserve the right to limit participation in this Promotion to: (i) one per household; (ii) one per computer terminal; or (iii) one per mobile device.
During their engagement period and for a period of 24 months thereafter, none of our officers, directors, employees, consultants or agents or any other company within our group of companies or our suppliers, vendors or white label partners are permitted to participate in the Promotion, nor is any supplier or vendor. This restriction also applies to relatives of such persons and for this purpose 'relative' means any of a spouse, partner, parent, child or sibling.
If you have a pending message on the Site's cashier regarding your recent gaming activity, we reserve the right to revoke your eligibility to participate and/or continue to participate in this promotion. In such event, any bonus and/or other benefit which you have received and/or are eligible to receive under this promotion, shall be forfeited by you.
The Promotion is a new registration offer with the Site and completely replaces any similar registration offer with the Site.
All bonuses and promotional offers, and any winnings generated through the wagering of either of the aforesaid, will be cancelled at withdrawal if any of the applicable conditions have not been met in full.
You hereby agree to these terms and conditions which govern the Promotion, along with the "User Agreement" which includes but is not limited to the "Bonus Policy".
Withdrawing funds your deposit balance (otherwise known as "Transaction Balance" in our Withdrawal Policy) is available for withdrawal at any time. General withdrawal terms apply, for further info see our Withdrawal Policy.
In order to meet the applicable wagering requirement, no real money shall be deemed to contribute (in full or in part) to the wagering requirement, unless otherwise specified by us.
Available funds will always be used before Restricted Funds (to include Money transferred) and the balance of both will be displayed in your My Account
Promotion

You may only participate in the Promotion, if you have not previously registered with the Site. If you benefit from this Promotion you will not be eligible to benefit from any other first deposit bonus or first deposit offer with the Site. If you have benefited from another first deposit offer with the Site you are not eligible to benefit from this Promotion.
You may not combine this registration offer with any other type of registration offer provided by the Site.
In order to be eligible and receive the Tournament Tickets (as defined below) granted under the Promotion, during the Promotion Period: (i) you must either download the 888poker client on PC or mobile application or click 'Instant Play' on the English non-download version of the Site; (ii) open a new user account with the Site; and (iii) verify his/her e-mail address by clicking on a link within the e-mail body or by SMS to the phone number entered within 14 days of the Site sending the email to you, otherwise the bonus offer will expire and you shall forfeit the bonus offer.".
Under the terms of this Promotion, eligible players will be entitled to receive £20 worth bonus (granted in USD at equivalent value of USD 25 in accordance with the Exchange Rate as defined in the User Agreement referenced above) that will be given as Tournament Tickets, according to the following allocation: 50 tickets of $0.1buy-in and 20 tickets of $1 buy-in.
Once claimed, Tournament Tickets will be granted in batches as follows:
First batch worth $5 (10 tickets of $0.1buy-in and 4 tickets of $1buy in) will be granted following your fulfilment of point 3 above.
Second batch worth $10 (20 tickets of $0.1buy-in and 8 tickets of $1buy in) will be granted 3 days after the bonus was claimed.
Third batch worth $10 (20 tickets of $0.1buy-in and 8 tickets of $1buy in) will be granted 7 days after the bonus was claimed.
If you don't use the Tournament Tickets granted under the Promotion within 24 hours of being credited to your account, such Tournament Tickets shall expire and you shall forfeit each of such Tournament Tickets.
Tournament Tickets
A Tournament Ticket possesses a fixed value and may only be used in tournaments that have a buy-in equal to that of the value of the Tournament Ticket. For the avoidance of doubt, Tournament Tickets may not be used as a buy-in for a tournament where the buy-in is less than the value of a Tournament Ticket.
A Tournament Ticket can't be used by a player to re-buy chips or to add chips to his/her stack during a tournament.
Tournament Tickets may not be: (i) exchanged or converted into cash; (ii) joined together to create a higher value ticket; or (iii) transferred by a player to another player.
For further terms and conditions in relation to the use of Tournament Tickets, please see our Bonus Policy.

A

Available for players from your country

Partypoker
For sender corporate and licence details please visit our Imprint page.
The promotion will run from 11:00 on 15 June to 23:59 (CET) on 31 December 2022 (the "Promotional Period"). This offer is not available in conjunction with any other offer. By taking part in this promotion, you hereby agree to these Specific Promotional Terms and Conditions and to our General Terms and Conditions. In order to participate in this promotion, an Eligible Player (as defined below) must place an Eligible Deposit (as defined below) during the Promotional Period.
Players must:
be aged 18 or over;
be a new player on www.partypoker.com.
(an "Eligible Player")
An Eligible Deposit is a real money deposit that complies with the following requirements:
it is made within the Promotional period;
it is a minimum of $10 USD made in one transaction (split deposits will not qualify).
(an "Eligible Deposit")
Mechanics
If an Eligible Player makes an Eligible Deposit (as defined above) during the Promotional Period, we shall credit them with a pending bonus equal to 100% of their Eligible Deposit up to a maximum of $600 USD ("the Deposit Bonus"); plus up to $30 USD in tickets. The Deposit Bonus shall be credited to the Eligible Player's account automatically on a successful Eligible Deposit.
Bonus type: 'release restricted': the Deposit Bonus funds are pending and shall be visible in the account section, but shall not be available to play with until the loyalty point requirements (as set out below) are met and the bonus funds are released. The pending Deposit Bonus shall be released to a player in increments of 10% of the Deposit Bonus amount as a player accumulates 10% of the Total Loyalty Points (as defined below). The tickets bonus will be credited up to 6 days as part of the up to $30 USD.
100% up to $600 USD Terms and Conditions
To release the full Deposit Bonus amount the player must accumulate 4x the Deposit Bonus amount in loyalty points ("Total Loyalty Points"). The Total Loyalty Points must be accumulated within 90 days from the date of the Eligible Deposit (the "Time Limit"). Each time the player accumulates 10% of the Total Loyalty Points required, they will receive a 10% increment of the Deposit Bonus.
For example:
Player A makes an Eligible Deposit of $20 USD and receives a pending Deposit Bonus of $20 USD. To release the full Deposit Bonus amount ($20 USD), Player A is required to accumulate 4 x $20 USD in loyalty points = 80 (Total Loyalty Points) within 90 days from the date of the Eligible Deposit. As Player A accumulates 10% of the Total Loyalty Points requirement (i.e. 8 loyalty points), 10% of the Deposit Bonus ($2 USD) is released 
A player accumulates 1 point for every $1 USD (or currency equivalent) rake on poker. Loyalty points may only be accumulated on poker. The player shall lose any increments of the Deposit Bonus that are not released within the Time Limit. Each increment of the Deposit Bonus that is released shall be credited as cash to the Eligible Player's account automatically once the player reaches the loyalty point requirement.
Up to $30 USD in tickets Terms and Conditions
When an Eligible Player places an Eligible Deposit on the Website on any day during the Promotional Period, their account will be credited with a bundle of their choice up to $30 USD worth of free play tickets over a six-day period as follows:
Option 1: $10 USD Free Play

Day 1 = 2x $1 USD SPINS tickets + 1x $5.50 USD MTT ticket
Day 2 = 4x $0.25 USD SPINS ticket
Day 4 = 1x $3.30 USD MTT ticket
Day 6 = 4x $0.25 USD SPINS tickets
Option 2: $30 USD Free Play

Day 1 = 1x $5.50 USD MTT ticket
Day 2 = 2x $1 USD SPINS ticket
Day 3 = 1x $5.5 USD MTT ticket
Day 4 = 1x $5 USD SPINS ticket
Day 5 = 3x $2.20 USD MTT tickets
Day 6 = 2x $3 USD SPINS tickets + 1x $3.30 USD MTT ticket.
SPINS & MTT Tickets Terms and Conditions
Tickets awarded as part of this promotion:
will be credited to an Eligible Player's account automatically each day over a six-day period from the date the Eligible Deposit is made;
will allow entry into SPINS and/or Multi-Table Tournaments. Details will be specified on the tickets themselves, details of which can be found in the "My Tickets" section of the Eligible Player's Website account;
will expire after 7 days from issue;
cannot be sold or transferred to other players; and
are not refundable and cannot be exchanged for cash.
General
Where a sum of money is noted in this promotion ("Promotional Amount"), and there is a requirement for such Promotional Amount to be converted from the advertised currency into your account currency, then this will be subject to the exchange rates offered by us at the time of conversion. You can keep track of your bonuses in the bonus section of your account. You may withdraw your cash funds at any time before the Total Loyalty Points have been generated, this will mean you forfeit any increments of the Deposit Bonus that have not been credited to your account yet. Where the company suspects that a winning player is guilty of fraudulent activity, the company reserves the right to suspend or remove that player from the Promotion, and/or suspend that player's account and/or suspend the Promotion pending further investigation. We reserve the right to alter, discontinue or terminate the promotion in accordance with the terms of our Standard Promotional Terms and Conditions.
A

Available for players from your country
Welcome offer
Welcome bonus 100% up to 600$
FAQ
👑 What is a Spin and Go?
These are three-player tournaments; they will be perfect for people who don't have much time and enjoy playing dynamic games. The prize pool amount is determined randomly; therefore, Spin&Go's are often called lottery poker tournaments. Thus, you can double your buy-in or win 10 000 times more than the buy-in. For example, by investing $5, you can wrap up $50 000.
💸 Is Spin and Go profitable?
Here, you have the potential to win impressive sums of money, but it's crucial to prioritise winning each match rather than fixating on the specific prize pool. Developing a clear strategy, playing a lot, and consistently working on your game will transform you into a winning shark.
🏆 How do you win at Spin and Gos?
Forget about playing tight. If you sit and wait for a superior hand, the blinds will swiftly deplete your stack within a few rounds. The hyper-turbo structure demands aggressive behaviour, especially considering that the winner typically takes everything (you won't victor by playing passively and folding).
You should also understand when it's advantageous to move all in, even if your cards aren't particularly strong. Success in this game boils down to making profitable decisions over the long run. The more of them you make, the greater your chances of accumulating chips and winning big money.
You gave this material a grade 5 from 5: