Splashy Hours at Run It Once Poker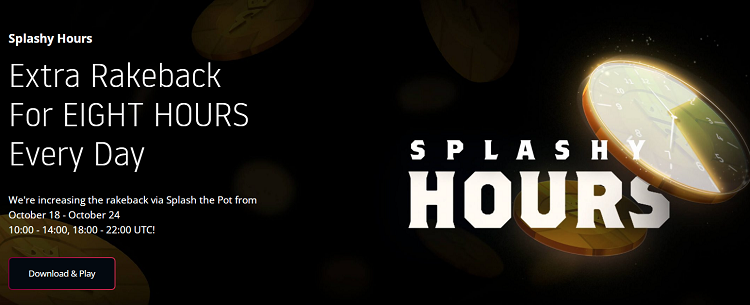 ​
Super Splash Week is back at RIO Poker! Players of the poker room Run It Once have the opportunity to receive an additional increased rakeback every day.
Read also: Leaderboards at RIO Poker
Starting Monday 18th October, there will be two separate 4-hour Splashy Hours. During happy hours, rakeback is increased by using Splash The Pot.
During the first two hours, rakeback increases to 60%, and then to 45% during the third and fourth hours. This is in addition to the rewards earned through the standard Legends program.
| Rakeback | Hours |
| --- | --- |
| 60% | 10:00-12:00 |
| 60% | 18:00-20:00 |
| 45% | 12:00-14:00 |
| 45% | 20:00-22:00 |
The four-hour Splashy Hours started on Monday and will run until Sunday. Please note that the tournament table can be found in the SNG section in the lobby.
During Splashy Hours, there will be more rakeback at each table. All players are eligible for this promotion. Join any table at any time and you will immediately see the extra rakeback coming up at the tables.
Players who win the extra rakeback will be rewarded instantly! The mechanics will be the same as in the standard Splash the Pot promotion, except that participants in the promotion will receive 45% rakeback on the tables.
Please note that only 45% rakeback is paid on certain limits each day. The weekly schedule can be seen above. Good luck to everyone!