"The Biggest Bluff" by Maria Konnikova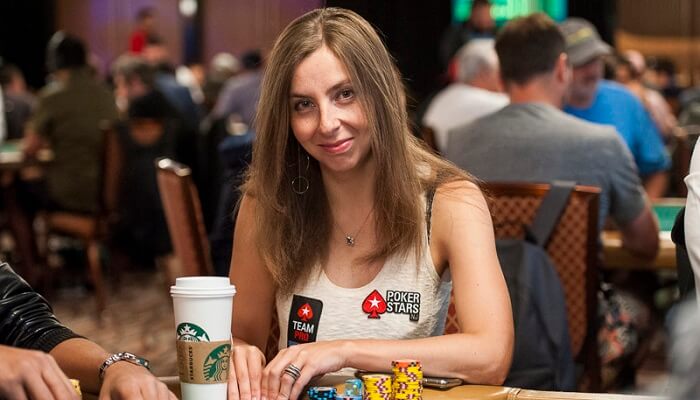 ​
The famous American writer of Russian origin, Maria Konnikova, immersed herself in the poker world for more than 2 years in order to write the book. One of the most famous and successful poker players, as well as member of the Poker Hall of Fame, Erik Seidel, became the mentor for Maria.
As a journalist for the New York Times and the author of such bestsellers as "How to Think Like Sherlock Holmes" and "The Psychology of Distrusting", Maria took the examination of materials for the new book very seriously. Before that, she had never played poker. However, in 2017 Konnikova entered the poker world under Seidel's guidance and pretty soon people started talking about her.
At the beginning of 2018, Konnikova won the tournament at PokerStars Caribbean Adventure series and earned $84 600. In total, the writer earned more than $311 000 in poker tournaments for 2 years. The girl even signed a sponsorship contract with PokerStars. There were rumors that she could retrain from the author to a poker player, but the desire to write books prevailed and Konnikova returned to her favorite job.
Thanks to that, her book "The Biggest Bluff: How I Learned to Pay Attention, Master Myself, and Win" was released in 2020.
She wrote about it on Instagram: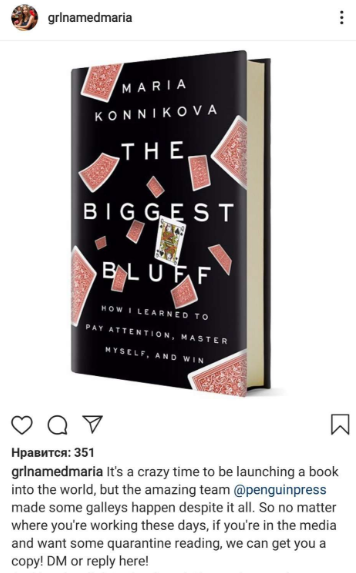 ​
Read also: Maria Konnikova helps the British bank to fight against fraudsters
The official release is planned for June 2020 (on sale since 23.06.2020), but the book is already available for pre-order on Amazon. Its price in hardcover format is $28. However, you can buy it for $15 in the electronic version on Kindle.
Some descriptions of book:
Konnikova encountered many personal failures, and the thoughts about role of chance led her to the game theory giant, who showed her poker as the best master class that helped to distinguish the things, which were within the control and beyond it.
Under Seidel's guidance, Konnikova had a lot of epiphanies concerning the life. Thanks to poker, she realized how to read both the opponents and herself as well, how to determine things, which pushed her into emotional state and prevented from making the right decisions. Poker helped her to learn the valuable lessons.