The blue seal #10.9 Session = DAY2 $1MGTD in 7Hours! PART2
Today is the day! DAY2 in 1M$ GTD. Probably the biggest online event played ever, and this is huuuge !!!!
History:
1. My last online event played with the biggest buyin was a satellite on Unibet, a qualification for a 2K Package for a live 1.1K event held in Bucharest, Romania. Was a real experience!
2. My was biggest won (with 4 numbers) was on the same poker room, now few months.Was ~1300$.
3. My record into an online poker event was 3312$, now some years ago....it's the time to defeat that!
Analysis:
1. The tournament is looking in this way right now: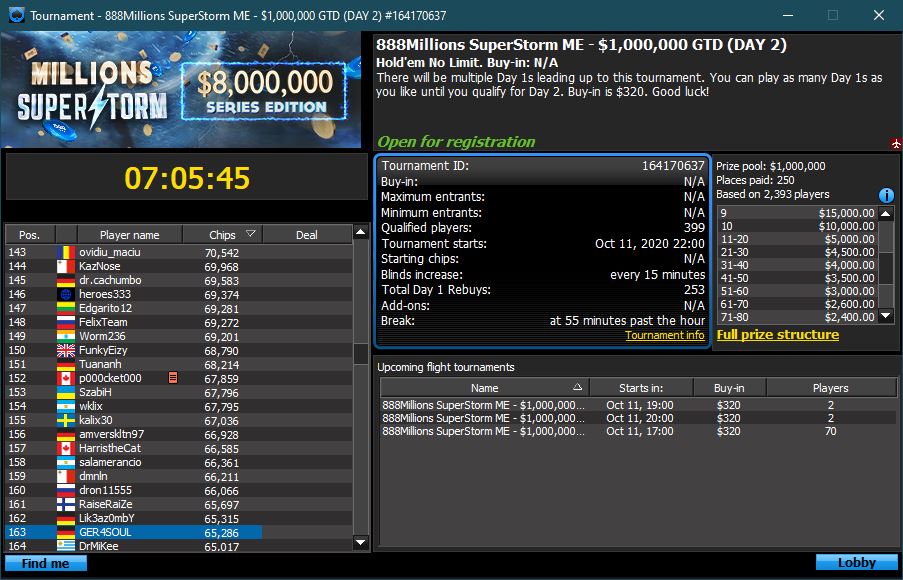 To have 300 paid places, means that must register minimum 2501 players in the Main Event satellites. Untill now are 2461. That means more 40, which it's not so hard. That will means a minimum ITM of 600$.
2. My stack is 65k (on blinds 1k/2k 15min), on 163 place. Out stack is preety good in this event! Really important is to have some sitouts ( but i guess nobody will forget to play it lol) or some small stakes from where we can increase our stack. The blinds on 15 minutes will let us to analyse all the others and make the best decisions.

3. I decided to start streaming after we are in the paid places. It's not so interractive playing only premium hands and some best spots. So, if the event starting at 22PM, the stream will start probably after 11PM or later... PS: I will video this event , but this will be not live. Later, after the results, i will make a video and hand it up on my youtube channell.

4. With a simple ITM, my challenge will be on 6%, and that will be a good starting bankroll! Ist place is a dream comes true. To defeat my record winnings into a single tournament, i must win minimum 50th place with 3500$.
Having in considerations that now we are on 163/399 remains from ~3000.
Motto of the day:
Playing the best, winning the first!
Overall rating of this post: