The experiment has begun
So the experiment has begun.
The first discipline I took to myself was a Single-Table turbo Sit N Go for 9 people. Incredibly, after hard thinking I realized that I had never played these tournaments in my career. The closest adjacent is either $ 12 MSNG for 180 people or even earlier, $ 1 SNGs at the usual speed. They were so long ago that I'm not even completely sure that they really were.
Over the past 3.5 years, I hasn't played SNG at all. In MTT I played very little and definitely into the red. Badugi would be an even more radical experiment, no doubt, but I'm good where
As I wrote in the previous post, I took 3 days to test the limit. I planned to play 100 tournaments in order not to multi-table, but also to play at least some distance for orientation.
GAME IMPRESSIONS
So, first, it's an awesome occupancy rate. At any time of the day or night, tournaments start like a machine gun, so there is no waiting time. Unusual.
The second thing, of course, was the lack of HUD's. For completeness of emotions, it was a very interesting decision to abandon software for the duration of the experiment. Besides, I played with the Stars settings and was surprised to find some very convenient options and even changed the mode.
Third, this is the format of the game. For some reason, in these strange tournaments, the stack is not auto-rebuying. I didn't go into the settings and figure out why this happens, but the news is radical. However, in the process, I noticed that the rivals also didn't buy more. A cache is such a cache.
Fourth, these are, in fact, rivals. These guys are dangerous. Naturally, not everybody but most of them are purposefully determined to throw you with their chips) A lot of funny examples can be given, but I didn't fix the hands without a tracker :-) Doubts that despite the terrifying rake of 13.6% I will be in plus, quickly disappeared and by the end of the distance they practically evaporated.
RESULTS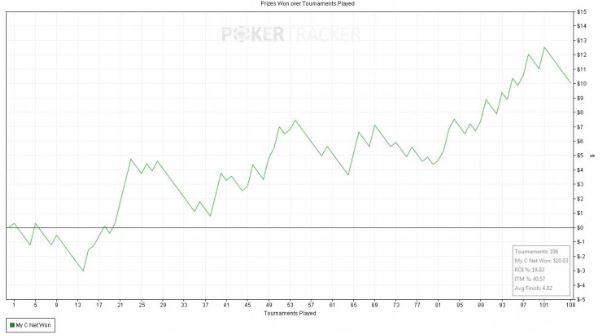 Of course, I was uplevel. I don't think that a ROI of 19% with such a rake is achievable. For chips and BB there is a bust in the range.In general, the subjective feeling is that everything went smoothly.
Placement: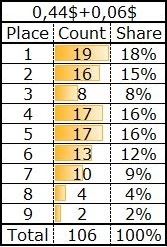 I don't know what statistics I need to look at in SNG and what's interesting for readers, so I'll post the default ones from the tracker: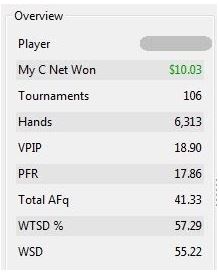 Next stop: $ 1.32 + 0.18. The plan is the same: 3 days, 100 tournaments

Overall rating of this post: