The poker girl same room!
I will fantasy a little bit, i hope that my wife will not see this post ever :)!
Now lots of years ( of corse, before i met my wife!), when i was playing a lot of live poker, i live an interesting experience that i cannot forget.
I was in the second year from college, student at veterinary medicine. I worked a lot to buy my first laptop, planning to make millions of dollars from online poker. In this time i was playing almost daily. I lie, i played daily, and a lot! The money were always in my pocket, because i was student and that is equal with no money, right? so i must always win! Tournaments are always good for that, even if you loose a buch of hours for few bucks!
One day, later, a college from my room came from home. Later, one girl, friend of his, made her entrance into my room. I played poker further, but all my senses were at she: hearing how he talking, how she smiles. After one hour, i knew that i like her and i want to meet her. Money are not the problem anymore, right?
But something inside me said "NO" and i did nothing...
We just become friends, and we were speaking about normal things.
She decided one time, that whould be awesome to play poker in my room, and she will come with some friends, other girls. Was awesome, she kick my a** that day, and after that i didn't see she again. LOL, sound weard!

After years, i saw she into an online poker stream channell on twitch into a big event from Bucharest, organised by 888Poker. I verified her name on Thehendonmob website and i saw some nice results ( more than 200k$ per total). She became a professional poker player, or she was before? Who never knows..
Like a girl, she doesn't said nothing, she just DID IT!
I have a photo with sh, from a friend that he was playing a nice event with she at the table.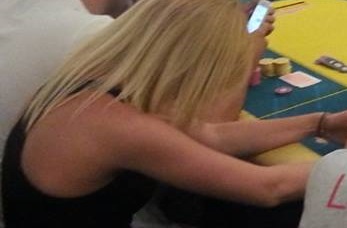 Read also
AFTER MY BITCOIN SLEEP! Session #9 = Haotic!
Hey guys! Session #9! This was the most spectacular from all previous!!! Why? WAS SPONTANEOUS!I will start with this. It's a new format cash table, that included ante. After loosin...