Three card poker rules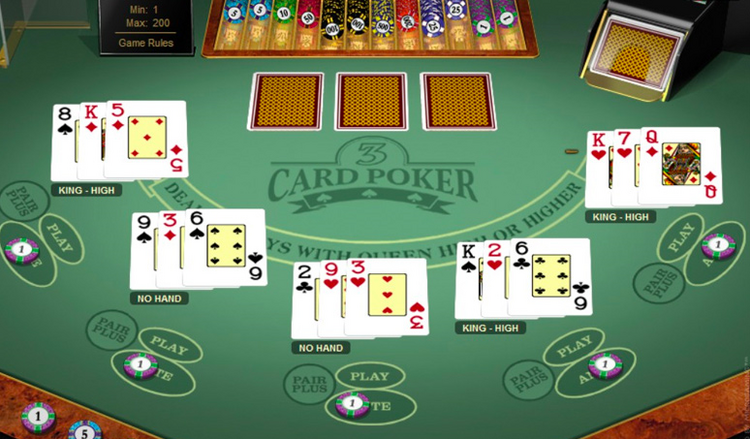 Three Card Poker is an exciting but relatively new form of poker. Derek Webb, a poker player from Britain and former Prime Table Games proprietor invented it in 1994. Nowadays, you can find this game in many ground-based and online casinos.
When reading the 3 card poker rules, it might seem that they are difficult to understand, but this is a big misconception. It doesn't take much effort to figure out how to play three card poker.
As a rule, there is a limited number of boxes (seats), so only a maximum of 6 people can play at one table. It must be also mentioned that a participant can play at several boxes simultaneously if they are the only active player at the table. Bets at every box may differ from each other.
Hand Ranking
Pursuant to the three card poker rules, you have a shot at hitting such poker combinations as:
| Combination | Description |
| --- | --- |
| High card | No hand collected. The highest card is taken into account. |
| Pair | Two cards of the same denomination (for example, 22, 99, KK, etc) + any other card. |
| Flush | Three different cards that are of the same suit, for example, 3♥ 9♥ K♥. |
| Straight | Three consecutive cards of any suit, for example, 9♦10♣J♥. |
| Three of a kind | Three cards of the same denomination, for example, 444, 888, QQQ, etc. |
| Straight flush | Three consecutive cards that are of the same suit, for example, Q♠K♠A♠. |
Important! In 3 Card Poker, straights are more powerful than flushes, while three of a kind comes over straight and flush. Ace is regarded as the lowest card to finish an A-2-3 straight.
How to play Three Card Poker
In order to play 3 card poker, it's required to use a regular deck of 52 playing cards – it is shuffled once each game is finished. Here, a player vies with a dealer.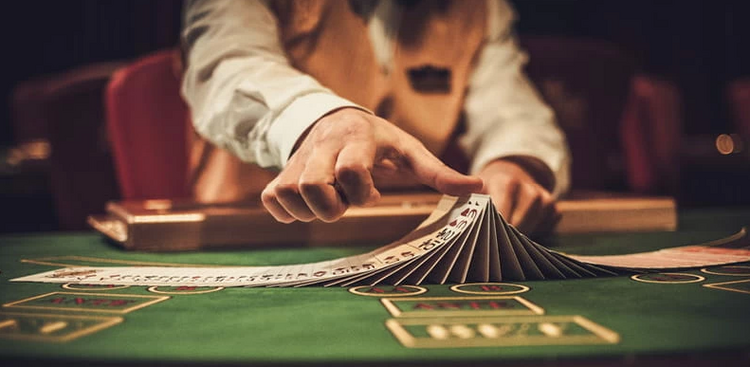 ​
In fact, three card poker combines two "games" or it would be more correct to say two bets – Ante and Pair Plus. Everyone can choose how to act: bet Ante only or seize the opportunity of placing two bets in parallel – it is totally up to you.
Ante game
Let's first consider how the "Ante" game progresses:
A participant posts ante to run the game. Here, ante works the same way as in traditional poker games – this is the "price" (or "joining fee") of the game.
Following that action, the participant receives 3 cards face up, while the dealer lies his three cards face down. It's impossible to exchange the cards if you are not satisfied with them; there are no community cards either.
Once the player has estimated his cards, he must decide whether to continue to vie or muck the cards. If the player considers his hand to be strong enough to fight, he has to bet the same amount as the ante posted. In the second case, the participant loses the initial ante bet.
If the player continues playing the game, then the dealer "unlocks" his cards and compares them with the player's cards. The comparison is carried out by seniority of hands (listed above).
Important! Bear in mind that the dealer is bound to have a queen or higher to be eligible to qualify, otherwise, he automatically fails the game.
Ante Payouts
The "Ante" game involves standard payouts and bonus awards. Standard payouts are issued depending on your cards and dealer's cards, as they are compared to determine the winner. They are paid according to the following scheme:
Dealer has not qualified for the game.
This means that the dealer did not get a suitable hand to be eligible to enter the action. In this situation, the ante bet is paid 1:1, while the play bet is refunded in full.
Dealer has qualified, but his hand lost to the player's one.
This scenario means that the dealer's cards are suitable to enter the game, but they are less powerful than your holding. In this case, the bet and ante are granted to be paid 1:1.
Dealer has qualified for the game and won it.
This outcome means that you lose both of your bets because the dealer managed to make a proper hand and it turned out to be stronger than yours.
Dealer has qualified, but there is a tie result.
This means that the dealer and you have identical hands in terms of ranking, so there is no winner. In this case, you receive your ante bet and play bet back.
Bonus payouts (or the so-called Ante Bonus), on the other hand, do not predicate upon the dealer's holding at all. This bonus is awarded on top of standard winning if the player hits any of the following hands:
| Combination | Bonus payouts |
| --- | --- |
| Straight | 1 to 1 |
| Three of a kind | 4 to 1 |
| Straight flush | 5 to 1 |
Pair Plus game
In this "game", a player must be dealt a pair (any pair) or better (that is to say any hand stronger than a pair) to win. In fact, "Pair Plus" is a sort of a prop bet that the player will be dealt at least a pair (or a stronger combination). In this case, the dealer's cards are not taken into account, and they can't affect the result of the "Pair +" game.
Pair+ Payouts
Your winning amount depends entirely on the hand you have collected:
| Combination | Pair Plus payouts |
| --- | --- |
| Pair | 1 to 1 |
| Flush | 4 to 1 |
| Straight | 5 to 1 |
| Three of a kind | 30 to 1 |
| Straight flush | 40 to 1 |
If you are dealt any of the suitable combinations, then the bonus is issued in conformity with the scheme described above. If your combination is worse than a pair, then the casino takes away your Pair Plus bet, and the new game begins.
Usually, the Pair Plus and Ante bets are identical, but their sizes may differ from casino to casino, so it is better to clarify all nuances with the casino employee before joining the table.
Important! A player is able to make ante and pair plus bets in two ways: separately or simultaneously. That is, he can choose what game to play – Ante or Pair Plus, or play both games in parallel.
Three card Poker Hands Examples
Let's consider a few hand examples to gain a clearer idea of the game as well as possible betting options.

Example #1

​
​Picture A. To start the game, you should post an Ante bet and\or a Pair + bet. As mentioned above, this decision is totally up to you.
Picture B. You decide to place both bets, each worth $10. The next step is getting your 3-card hand.

​
Picture C. As seen from the above, your cards are K-Q-4, which gives you a King-high. This is a pretty weak combination to continue the game, but you decide to make a play bet of $10 relying on luck. Besides, you lose your pair plus bet, as King-high is not among the qualifying combinations.
Picture D. This is the showdown time. The dealer reveals his cards (8-6-4) and fails to qualify for the action. As a result, your winning amounts to $30.
You have invested $30: $10 – ante bet, $10 – pair+ bet, and $10 – play bet. Since the dealer automatically lost the game, you were paid even money on your ante bet ($10+$10) plus your play bet in full ($10). If your pair+ bet had worked, you could have received more money. This game turned out to be break-even for you.

Example #2

​
Picture A. Just as in the first example, you have two options to choose from: place an Ante bet only or add a Pair Plus bet in the hope to win more money.
Picture B. You decide to place both bets (each worth $10), as you expect to get good cards that will be strong enough to take a Pair Plus payout on top of standard winning.

​
Picture C. You were lucky to get three cards of the same suit (diamonds), which means that you have a flush. This combination gives you pretty good chances of beating the dealer, therefore, you continue to play, making a $10 bet.
Picture D.​ The dealer shows his cards (10-4-3) and fails to enter the game. This means that your ante bet will be paid 1:1, while the play bet will be refunded in full. By the way, your $10 pair plus bet worked so you will also receive a payout of $50 (4 to 1).
Your total winning is $80. Having invested $30 ($10 ante bet + $10 pair plus bet + $10 play bet), you made a profit of $50.
Conclusion
Three card poker is perhaps one of the most elementary forms of poker. In order to win, you need to outplay the dealer by receiving a better combination that includes 3 cards.
High payout rate makes 3 card poker a juicy card game that is very popular among those who prefer to play non-traditional poker games. Yet, don't forget to specify all the details of the game in a particular casino before you join the table, as the rules and bonus awards may diverge.​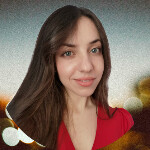 I've been working in the Cardmates team since 2018. Started playing poker the same way most people usually do – socially, with friends and fellow students. I adored those exciting poker nights but never thought my life would be connected with this game, even tangentially.