Top 10 poker movies everyone should watch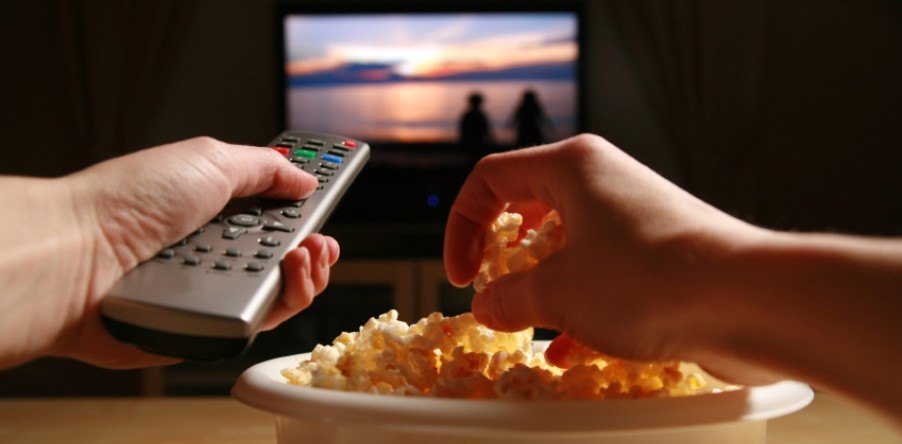 ​
Poker is becoming more and more popular with every passing year, and people have taken an increasing interest in poker films.
Poker movies are as unpredictable and exciting as the gameplay itself. Bluffing, scheming, money, trophies – all this occurs not only at the game tables but also in the protagonists' lives.
It goes without saying that feature films on poker represent great directorial productions and are different from eminent poker professionals' books or articles that can help you significantly improve your game skills. However, many of such movies about poker can be safely considered both entertaining and useful films.
Read also: Typical poker in movies
We offer to your attention the top 10 best poker movies, the plots of which are directly or indirectly linked to this legendary game.
1. The Cincinnati Kid (1965)
«The Cincinnati Kid» movie is dedicated to poker from the first to the last minute. It's a true story about one of the best stud players in New Orlean during the Great Depression.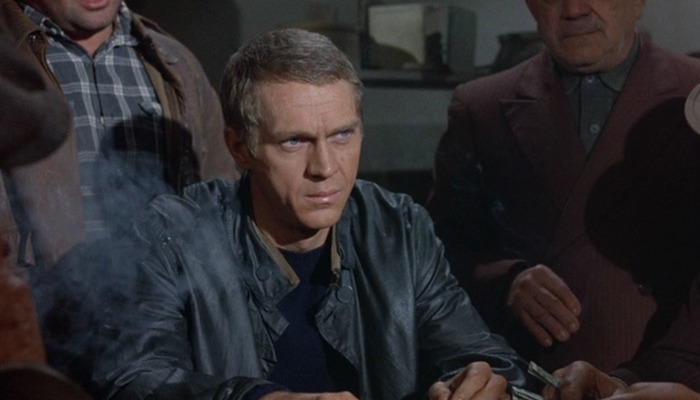 ​
Eric Stoner (Steve McQueen), better known as "The Cincinnati Kid", wants to achieve success and gain respect among poker players. One day, he finds out from the card dealer nicknamed Shooter that the legendary player Lancey "The Man" Howard is coming to town, and, to prove his superiority to everybody, The Kid challenges the old pro and arranges a game.
It's pointless to describe the game, as you have to watch it. But, we must warn you right away that you might not manage to break away from the film.
2. Maverick (1994)
The «Maverick» film is considered one of the top poker films and casinos for good reason. This is a dynamic western that recounts the professional card player Bret Maverick, played by famous Hollywood actor Mel Gibson.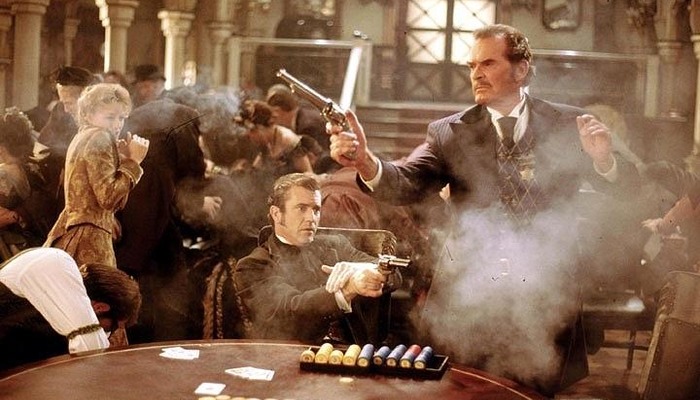 ​
Bret dreams of making a fortune in a major poker tourney, but the man lacks an impressive amount of money, namely $25 000, required for participation in the championship. Maverick is going to get the specified sum by collecting debts from old friends.
He arrives in the town of Crystal River, where he meets Annabelle Bransford (Jodie Foster), a century's greatest con woman. A bandit nicknamed "Angel" (James Garner) joins their company, and they then start a challenging journey to the poker competition.
This movie is well suited for a light evening; fans of westerns and country music will see many cameos with their favorite Hollywood stars.
3. Rounders (1998)
«Rounders» is also one of the most famous poker movies, which was highly praised by poker fans. A dynamic plot perfectly conveys all the excitement from which one's heart is beating madly. Many poker players call this particular film the best about gambling, and cannot find other similar movies like Rounders.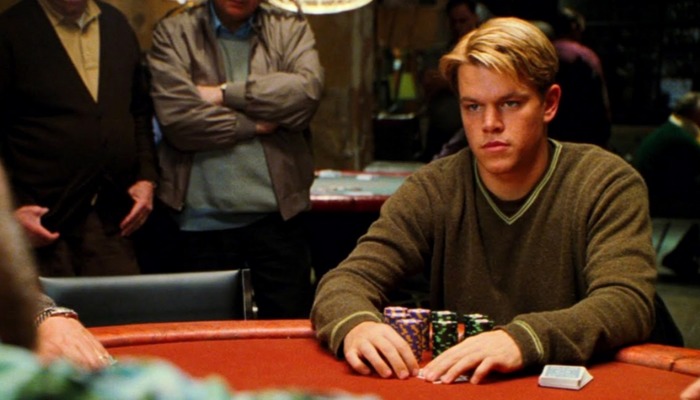 ​
Matt Damon brilliantly played the role of Mike McDermott, a law student and professional poker player who dreams of winning the World Series of Poker more than anything else in the world.
Having lost a large amount of money to one of the crime leaders nicknamed Teddy "KGB" (John Malkovich), the guy decides to quit playing cards, but his plans are fated to come to naught.
Everything changes when "Worm" (Edward Norton), Michael's school friend to whom he owes a great deal, gets out of prison. To help his bosom friend get out of a difficult situation, Mike must once again sit at the table with green felt.
The film contains lots of episodes, in which people place chips in the pot in two separate actions. Based on the game rules, the first action is considered a bet if you don't bet verbally. It's also worth noting that Johnny Chan, a two-time World Series of Poker Main Event champion, starred as himself in this movie.
4. Lock, Stock And Two Smoking Barrels (1998)
This crime comedy film, which was written and directed by Guy Ritchie, tells us little about the poker game itself, but it is an important engine for plot development.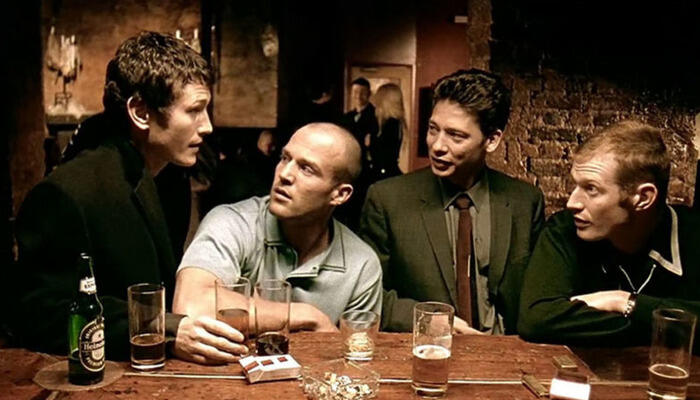 ​
The «Lock, Stock And Two Smoking Barrels» movie is a stunning film with a well-chosen cast. It has everything to be a film one can watch over and over again: gangster theme that was popular at the end of the 20th century, absence of censorship and interesting plot twists replete with dark humor. Viewers highly appreciate the story of four friends who became even closer to each other after a major card loss.
Eddie (Nick Moran) and three of his buddies decided to make some extra money using Eddie's ability to play poker, but they didn't take into account the fact that crime bosses never do anything without a reason. As a result of the game, which takes place in the very center of a boxing ring, the friends owe Harry "Hatchet" Lonsdale half a million pounds, and there is a reason why people call him "Hatchet".
Poker game rarely appears on the screen, but it is at the heart of the movie, which rightfully gives the «Lock, Stock And Two Smoking Barrels» film a place on the list of the best poker movies.
5. Shade (2002)
When one is too zealous in accumulating capital by stepping on others to get ahead, then sooner or later he\she will make enemies, and woe betides those, whose enemies decide to work together.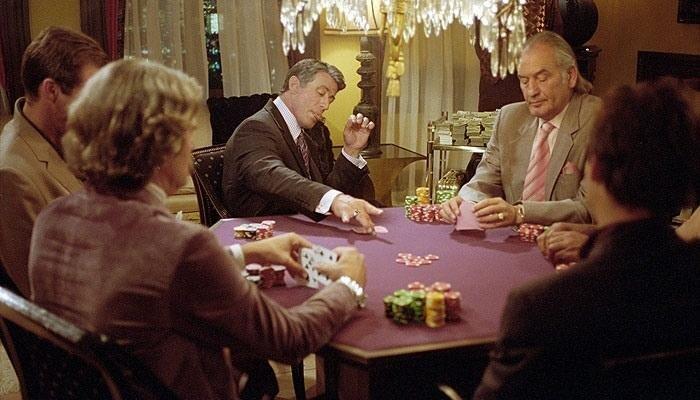 ​
A trio of professional con artists teams up to win big by beating the legendary Dean "The Dean" Stevens (Sylvester Stallone) in a poker game. To do this, one will need a card sharp, a card virtuoso, a con beauty, and a master of shenanigans. A lot is at stake: $2 000 000 and the players' lives.
Charlie Miller is a master at all sorts of shenanigans. Vernon is a real virtuoso when he holds a deck of playing cards in his hands. Larry Jennings is an experienced card sharp. Will Stevens be able to expose them and discover the con? You will find out it by watching this crime thriller on poker till the end.
6. High Roller: The Stu Ungar Story (2003)
It's a biographical drama about a real person named Stu Ungar. The guy is considered a poker legend, as he achieved impressive results, and his total winnings from official games exceeded $3 000 000.
​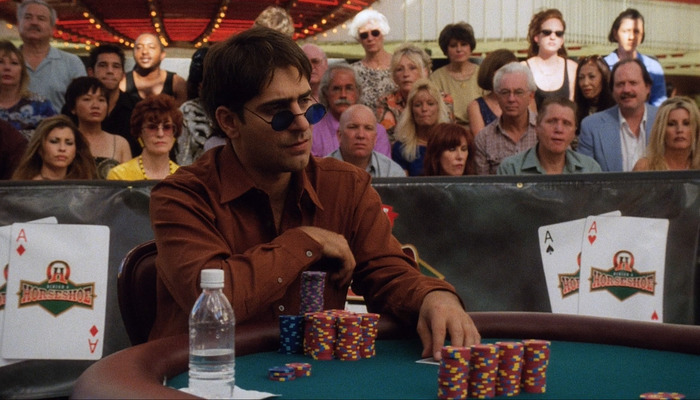 In due time, Stu Ungar was a poker superstar, and this film starring Michael Imperioli perfectly describes the poker pro's life. Stu won the WSOP Main Event three times, and he easily read his opponents while playing as aggressively as possible.
However, personal tragedies are always hidden behind the success and Stu's life is proof of this. Drugs and financial difficulties took their toll. In 1998, he was found dead in a cheap Las Vegas hotel: a drug-related heart disease resulted in death.
7. Casino Royale (2006)
In this part, James Bond will need to find the criminal who organized a major poker tournament in one of the most popular Montenegro's casinos.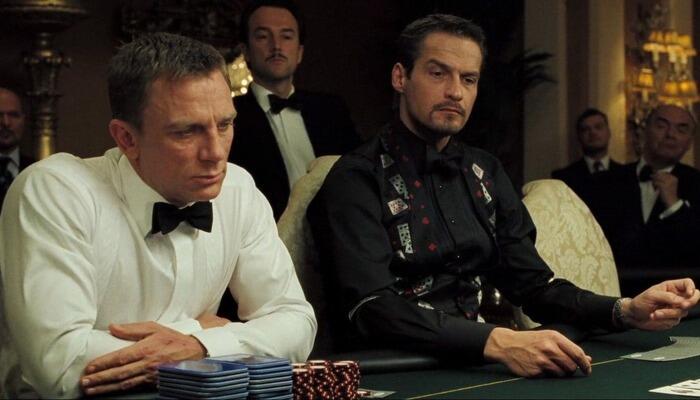 ​
Le Chiffre (Mads Mikkelsen), a wealthy banker and accomplice of terrorist organizations, is among the players. If he loses, MI6 will be able to make the criminal cooperate with the authorities and reveal his clients. James will have to join a table full of real poker sharks and show that he is good not only in fights and shootouts. An impressive amount of money and people's lives are at stake.
Intense game, exciting special effects, fights, expensive car-chases will not allow you to relax throughout the entire movie. This part of "Bond villains" is one of the three most profitable films about agent 007.
8. Lucky You (2007)
The «Lucky You» tells viewers about a talented and promising poker player Huck Cheever (played by Eric Bana), who eagers to play at the World Series of Poker but is $10K short to pay a buy-in.
​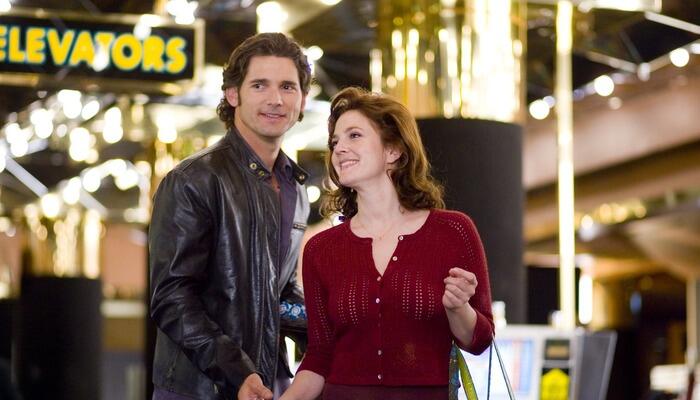 The guy makes every effort to collect the required amount, but he has terrible luck. In such a difficult period of his life, Huck meets a charming singer Billy (Drew Berrymore), and immediately falls in love with her, however, neither female tenderness nor mutual feelings prevented Cheever from robbing his beloved for the sake of the tournament.
Having reached the final of the tourney, the player faces the most dangerous rival at the table – his teacher and father in blood, who left the family long ago.
This movie shows how gambling addiction can turn nice people into mean villains. It will be interesting to watch the «Lucky You» as such famous poker professionals as Barry Greenstein, Sam Farha, Erick Lindgren, and Ted Forrest appeared in cameo roles in the film.
9. The Deal (2008)
«The Deal» is another motivational sports drama. An old professional poker player, who quit from card business long ago, takes up training "dark horse" – a young and talented player who conquers the Olympus of online tournaments.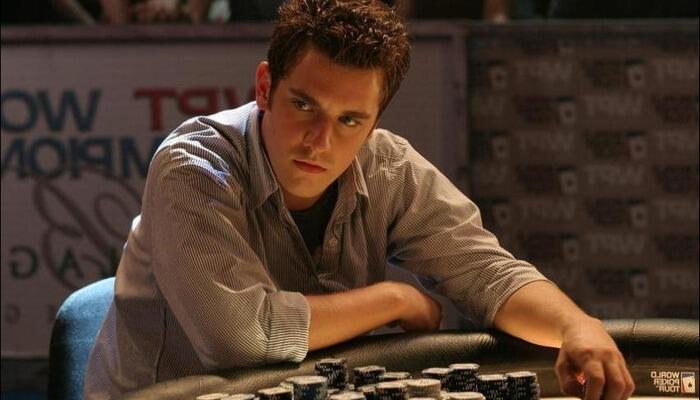 ​
He teaches the boy features of live game at the table and prepares him for the upcoming tournament, without noticing how strong his student becomes. Along the way, both enter a final table of the prestigious poker tournaments and become main rivals.
The film scenario was written based on Richard Jessup's novel. It features many poker professionals. For example, a model and actress Shannon Elizabeth played one of the starring roles in the movie. The girl is also known as a professional poker player: she won a World Series of Poker tournament in 2005.
10. All In: The Poker Movie (2009)
This film may not generate the same buzz as «Rounders» or «Casino Royale», but it does provide an opportunity to get eyes on the poker game rapid growth in the 2000s.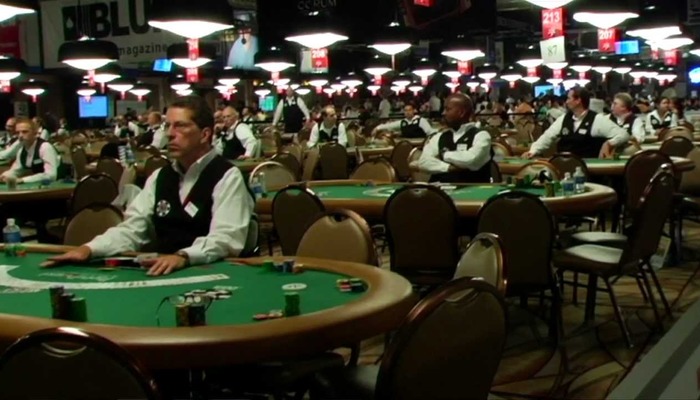 ​
The «All In: The Poker Movie» was shot in a documentary genre, and director Doug Tirola did a tremendous job in order to show how quickly gambling developed in the 2000s as precisely as possible.
The movie is very exciting as it reveals poker history during the boom that began after Chris Moneymaker's historic victory in the 2003 WSOP Main Event. It contains many interviews given by eminent players, including Phil Hellmuth, Chris Ferguson, Daniel Negreanu, Antonio Esfandiari, Howard Lederer, and others.
It's far from a full list, as new poker films both fiction and documentaries appear every year. Take pleasure in viewing these exciting movies!