Tournament Shark review

​Tournament Shark is a poker program for tournament players, which is also called a tournament HUD from Poker Pro Labs. It is intended for stronger regulars; however beginners and players who have just moved to tournament poker from cash can also try using it.
A big advantage of this soft is a fact that it doesn't fill a lot of space on the computer since the program takes hands history from the internet-resource of Poker pro Lab but not from the overloaded database that may contain several GB. Tournament Shark supports all types of tournaments: MTT, SNG, HU.
What is Tournament Shark?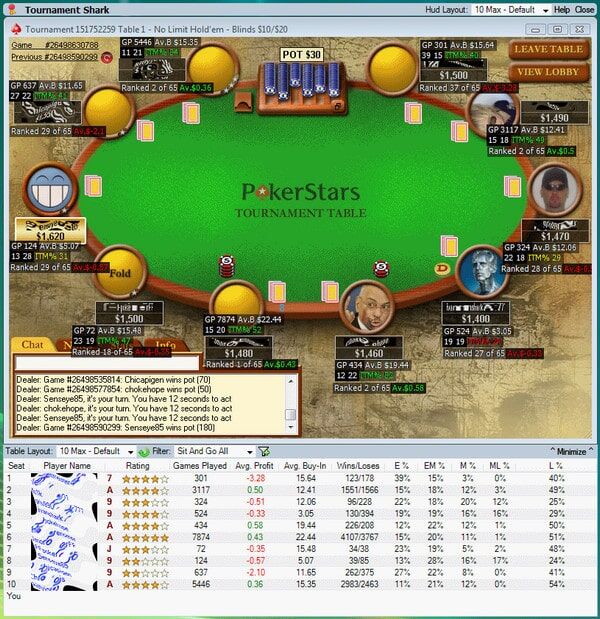 ​
There are three main points of the program that players can use:
HUD for tournament players is a set of statistical indicators for every player, which is collected on the basis of the previous games, prize places, ROI, preferred buy-ins and so on. You can select the displayed stats yourself and set up the HUD as it is comfortable for you.
A large base of tournament data – Poker Pro Labs database has collected the hands history of all online-tournaments in popular poker-rooms played in the last couple of years, is statistics on more than 30 000 000 poker players based on results of more than 900 000 000 tournaments. It gives an opportunity to see the statistics of different tournament players and also it indicates that the stats, displayed in HUD, are based on detailed information that has been collected for years.
Players' rating. Besides the collecting statistics, Tournament Shark also calculates the efficiency of every poker player, ranks and assigns a status according to the seniority of cards in poker (from 2 to Ace). Even without understanding the stats, you can see that a player with Ace rank is strong in tournaments and the one with "2" rank is either weak or beginner.
How to use the program?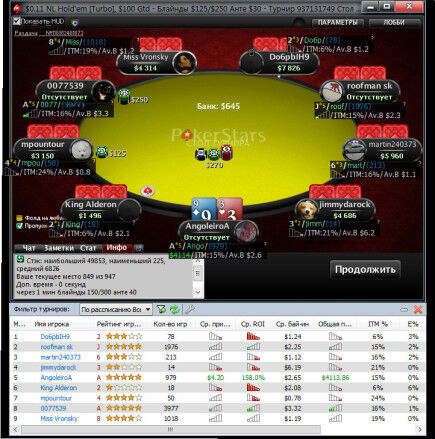 ​
The software is very easy to use. Just start the installed program and minimize it when you don't use it. Tournament Shark will continue to work in the background and when you start a new tournament in any of supported poker-room, it will open automatically and will connect to your new tables.
Please pay attention, in order to see the data you have to log in on PokerProLabs.com.
You can use Tournament Shark at any number of tables simultaneously.
Since the program data is stored on a special "cloud", you can use it on any computer.
You can easily change the language of the Tournament Shark. All you need to do is to click on the button "Language" in the upper bar of the program and select a needed one from the list (if it is available). Then reboot the application.
What information does the Tournament Shark display at the table?

The application displays the following data for every player at the table:
Seat at the table
Player's name or rather – his nickname
Rating
A number of played games
Average profit
Average buy-in
Winnings / Loses
The positions on which a player finishes the tournament (as a percentage in columns)

​Poker players know almost all these indicators and it makes no sense to explain them.
We should pay special attention maybe just to decryption on how the value of positions, where the player finishes in the tournament, is determined:
E% (% of Early finishes) a percentage of finishing the game in early positions (90-100% for MTT, 80-100% for SNG).
EM% (% of Early-Middle finishes) a percentage of finishing the game in early-middle positions (70-90% for МТТ, 60-80% for SNG).
M% (% of Middle finishes) a percentage of finishing the game in middle positions (30-70% for МТТ, 40-60% for SNG).
LM% (% of Late-Middle finishes) a percentage of finishing the game in late-middle positions (10-30% for МТТ, 20-40% for SNG).
L% (% of Late finishes) a percentage of finishing the game in late positions (0-10% for МТТ, 0-20% for SNG).
The player's rating is a general level of game on totality of data, the higher the card, the more profitable the opponent's game;
Number of games (GP) is a total number of games played;
Average profit (AV.P) is an average income from each played tournament;
Average ROI (AV.ROI) is the percentage of the player's ROI (ROI - return of investment);
Average buy-in (AV.BI) is an average cost of participation in the tournament;
ITM (In The Money) means how often the player enters the prize zone in percentage terms;
It is very difficult to analyze all the parameters, especially when playing several tables. Furthermore, it will be enough to know the following characteristics about the player: the number of games, average ROI, average buy-in.
For example, if you have taken the 12th place out of 100 players in the MTT tournament, then your position is 12% in percentage terms. It is in the range of 10% -30% which means that you have finished in the Late-Middle position. If you have taken the 22nd place out of 200 players, then your position is 11% in the percentage terms and you have also finished in the Late-Middle position (10% -30%).
The application indicates the percentage of frequency a player ends the game in a particular position. If there are more than 50% in E% column – it means that the player is out of the tournament at the early stage in most cases, and if he has a large percentage in LM% and L% columns - then he is a stronger player who often gets into prizes.
Cost of the program
The longer period you buy the application for, the cheaper it turns out to be for you (calculated per month of use).
1 month – $19 99
Half a year – $49 99
Year – $69 99
2 years – $99 99
You can use Tournament Shark for free. A limited version will be available for you after registering and installing the program; using it you can make up to 50 searches a day.
Players' opinion:
Mostly, the players' opinion concerning "Tournament Shark" is positive. They consider it a good choice for those who want to see the maximum information about each opponent. Also, it is useful for those who don't have enough space on PC to store the history of all their games.
If you want to visually get acquainted with given program, watch a short video:
​
Tournament Shark advantages
The opponents' statistics will allow you to distinguish fish from the players with a stable income. You will be able to take the chips from fish and avoid the stronger opponents without good card or favorable conditions.
Tournament Shark automatically connects to your gaming tables. You don't need any manual search.
Tournament Shark well operates in SNGs and MTT tournaments. In fact, the accurate information about opponents will pay for itself in a very short period of time, and after that you will have a period of net profit!
Poker rooms compatible with Tournament Shark
PokerStars
According to PokerStars' rules concerning the use of auxiliary tools to optimize the gaming process, Tournament Shark is not prohibited in this poker room.
PartyPoker
Tournament Shark is also compatible with PartyPoker, as this poker room takes care of its users. PartyPoker was launched in 2001 and it occupies a leading position in the poker market. For today, more than thirty million users have registered in it.
888poker
888poker allows the use of a sufficient number of tools, including Tournament Shark. This poker room has a good reputation and it was repeatedly awarded with prizes among the world poker operators.
Full Tilt Poker
You will find here a wide variety of cash games and tournaments, including Spin&Go and Fast Zoom poker, in which you are able to apply Tournament Shark.
Winamax Poker
Winamax Poker also allows the stat tracking programs, including Tournament Shark.
It is also worth mentioning the poker rooms of iPoker network (Bet365, Betfair, WilliamHill, TitanPoker).