Untitled blog (cash nl50-nl100). Introduction.
For moderators: I know that you don't encourage translations of posts from the Russian version of the site but this is my post-greeting. It will be very similar to my post from the Russian version of the site. Further, all posts will be unique.
Hi. My name is Alexander. I'm newish here, so I just started to understand the rules on this resource.
I got a sight of a challenge for bloggers. I thought it might be a good motivation to start writing again. I say "again" because I used to actively blog on another resource but I gave it up long ago. I hope that I will warn up to write and continue to write something further, not only within the framework of the Challenge.
So, let's begin...
At the moment I play nl50 at Stars and 888.
Last month: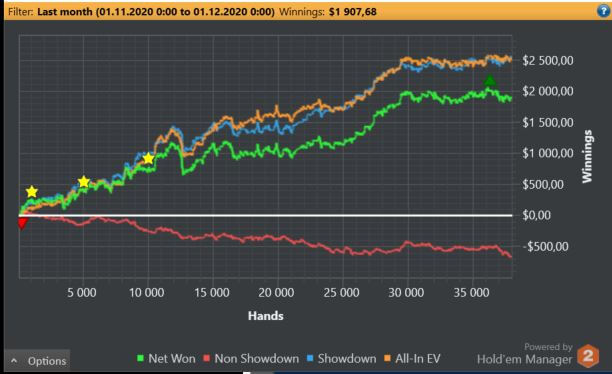 In general, I have been playing higher in the last year, but due to bankroll problems I have to go down constantly.
Here are the results that I have in my database: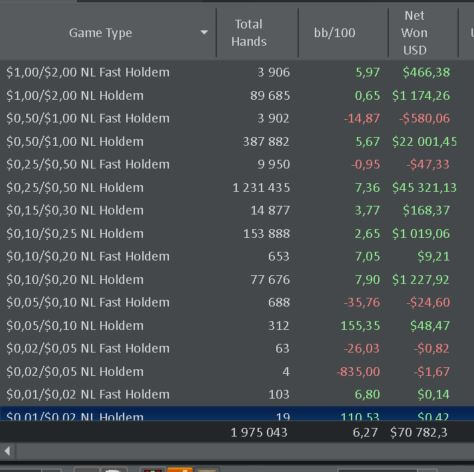 At the moment, the main goal for me is to return first to 100 and then another shot of 200 of which there were 2 over the past years probably 5 pieces.
I think that I'm enough brainy to profit at these limits, but due to near-poker problems I cannot really belay at 200 and often fly down from nl100.
I see the main problems: 1) high expenses, often unnecessary, impulsive spending. 2) a little tune As a result, I am where I am now. It depresses me from time to time. With the help of this blog, I will try to solve at least the problem of a little trick. It seems that if people are watching you, then the feeling of responsibility for your actions grows. I hope that I will stop being lazy.
For the first post, I will outline the goals for this month:
1) 6 hours skating rinks per day
2) 2 hours of theory per week
3) Play no more than 6 tables
4) Right amount sleep
5) Take care of your health at least a little (food / sports / recreation)
6) Write a report on this blog every day
To tell you the truth, grinding every day for 6 hours is a feat for me today. But I'm already tired of the constantly non-stationary BR and my chances of ambitions.
Wish me luck...