Vanessa Kade wins $1 500 000 for 1st place in the Sunday Million Anniversary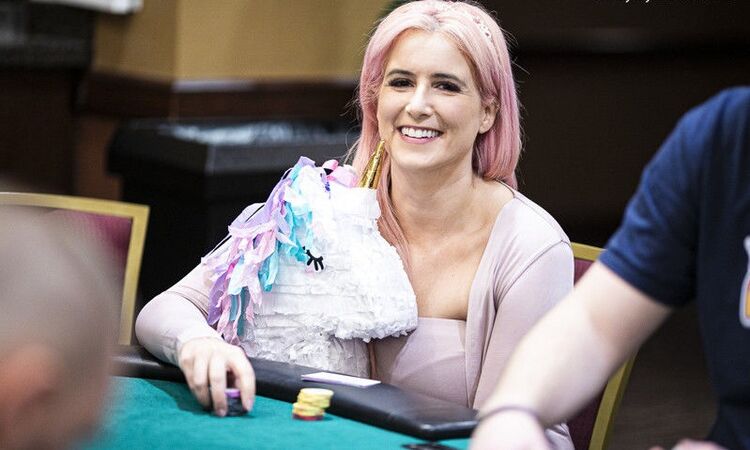 The $215 Sunday Million 15th Anniversary has ended at PokerStars. The event collected 69 876 entries, and all these participants competed for their share of a $13 970 000 prize pool. The tournament started on March 21st, meaning that the poker players fought for the right to receive large prize money for three days.
Vanessa Kade sends regards to Dan Bilzerian
In December, a scandal sparked between Dan Bilzerian and Vanessa Kade. Vanessa called Dan a sexist, and the King of Instagram, in turn, advised the girl to shut her mouth and verbally insulted her.
After that, Kade began to criticize the GGPoker policies so the poker room cancelled the contract with Vanessa Kade. The girl quickly found a new room, becoming an Americas Cardroom ambassador.
What is the entire story for? The point is that Vanessa (Niffller – her nickname on PokerStars) managed to win the Anniversary Sunday Million last night. Kade made it to the final table: she was seventh out of nine finalists in the chip count at the beginning of the final table, having only about 20 big blinds, while "ikkedus" was clearly leading the race.
Read also: Poker player turns $2 into $80K in Sunday Million at PokerStars
However, this player could not hold his lead and was one of the first players to leave the final table: ikkedus finished his participation in seventh place. Kade started to gain momentum and ended up in second place in the chip count after her AQ beat A7s of her opponent.
Three of the four remaining finalists were ready to make a deal but did not receive any response from the Bulgarian player "PanchoVetin", so the game continued despite the fact that the average cost of the chop was about $900 000. Vanessa then made a breakthrough and knocked out the last three players herself.
The heads-up against the Poland player "Talibenes" lasted only two hands, and Kade had a terrific edge in terms of the stack over Ladniak, whose stack equaled to 15 big blinds only. Vanessa won the last hand, holding K-9, and became the tournament champion.

​
For the victory, Vanessa Kade received $1 514 000, which is her career's largest prize money. It is worth noting that the runner-up also received a million dollars. It's just the third time in the last 11 years that the Sunday Million Anniversary ended with a clear winner, that is without making a deal, and Kade's payout was the largest ever awarded at this event.
Sunday Million 15th Anniversary Results
​Vanessa"Niffller" Kade (Canada) – $1 514 000
Pawel "Talibenes" Ladniak (Poland) – $1 035 000
"PanchoVetin" (Bulgaria) – $707 000
"Transylvanian" (Romania) – $483 000
"peu3ep" (Russia) – $330 000
"malinga" (Norway) – $225 000
"ikkedus" (Netherlands) – $154 000
"kefirchik106" (Russia) – $105 000
"Vvlankov" (Russia) – $72 000
Sunday Million 15th Anniversary Final Table
​