Pokerstars Account Frozen: Reasons and Solutions
​
Room PokerStars has been very popular among players for many years. Many people play on this site regularly and consider it their favorite. Therefore, if you suddenly find your PokerStars account frozen or restricted, this can be a serious problem.
That's why in this article we will talk about the main reasons for this situation and possible ways to solve it.
Main Reasons for PokerStars Account Frozen
If you saw the message "Your PokerStars account is blocked" or something like that, it means that the following information can be useful for you. These are the main possible causes for this issue:

Connection with fraudulent or suspicious accounts
This is the most common answer to the question "Why is my PokerStars account restricted?". Here is an example letter from PokerStars:
"During the standard inspection of your account, an unusual manner of your play grabbed our attention, therefore we decided to examine your account and games you have played in details. At this stage we would like to get explanations that could help us to conduct further investigation. First of all, please explain in detail your attitude to the following players: "Nickname"."
So the poker room wants to know whether you transferred money or got money from other accounts that have some problems or it wants to clarify suspicions in chip dumping.


Multi-accounting (several accounts)
Creation of several accounts with the aim to get an advantage is strictly punished by PokerStars. Of course you can write to support, but a refund is a maximum thing you can count on. Ban won't be canceled almost 100% of the time.
But if you are not guilty, write to support about this block. Give all the arguments, data, scans, correspondence.


The usage of prohibited soft
There is a list of prohibited software at PokerStars site. If you used one of these programs, your account ban is entirely appropriate and reasonable.

The fundamental two rules concerning the prohibited soft at PokerStars:

A) It prohibits any programs which allow sharing information about cards and create similar common databases or any other programs that encourage collective team play against the opponents (cahoots).

B) It prohibits all tools and services which use common databases about the players and played hands and also personal results of the players.


The usage of the bots (prompters)
Similar to the previous point: if the security service found out that you were using a helper bot, in this case you are not able to avoid the ban. There can be mistakes in this "bot" definition because such checking is carried out by artificial intelligence besides the people.
There are cases when professional players got letters where they were blamed for using the bots or PokerStars just politely asked to give the facts about their innocence. Sometimes the players justified themselves after writing the letters to support, records of their play for camera and ban was canceled.
Recently this practice is more frequent. If you got a similar letter and you are not really guilty – don't panic. Explain the entire situation to a specialist of the support service and it is likely that the ban will be canceled.


Being under the legal age
Unfortunately, if you are under the age of 18, there is no sense trying to do something about the ban.

If you don't want to get your PokerStars account frozen or banned, take into account the above-mentioned possible reasons for blocking. You should remember that multi-accounting, prohibited software, playing under the age of 18 – all these are the direct path to blocking your account. PokerStars security doesn't ignore suspicious actions.
How to Delete an Account Yourself
Some players are wondering how to delete PokerStars account in order to stop playing in this room. Here's what is needed to be done:
Log in to the client
Open Help tab
Click on My account and on Closing your account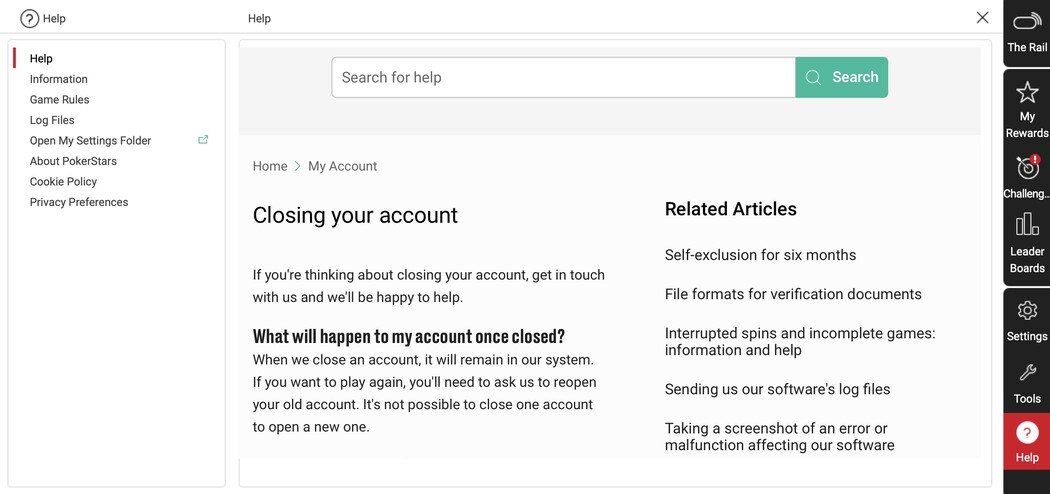 ​
You will see several channels to contact the support to ask it for an account's closure. All your information will remain in the system. So if at any moment you want to reopen your account, it will be possible.


PokerStars
100% First Deposit Bonus
Make your first-ever real money deposit using the bonus code 'STARS600', and we will give you a 100% bonus up to $600. To claim the full value of the bonus, you can make up to three qualifying deposits in 60 days.
Alternatively, deposit using code 'THIRTY' and claim $30 of free play.
How the 100% First Deposit Bonus works
Once you've made your deposit, you need to earn redemption points by playing real money games. Unless stated otherwise, you will earn 5 redemption points for every USD $1 you pay in rake or tournament fees (6.5 points per £1, 4 points per CAD $1, or 5.5 points per EUR €1).
Every time you reach 180 redemption points we'll credit your Stars Account with $10 cash. You have four months after each qualifying deposit to earn all the redemption points needed to release your bonus.
You may only take advantage of one of our first deposit offers, but may be eligible for further deposit bonuses open to existing players. You can view any bonuses you have, alongside information on expiry dates, redemption point requirements and more, under the 'My Stars' menu.
Please note that redemption points will not be earned at pot-limit or no-limit tables with blinds of $5/$10 or higher, 8-game tables with stakes of $20/$40 or higher, or other limit games with stakes of $20/$40 or higher.

B

Not available for players from your country
FAQ
💡 Why is my account frozen on PokerStars?
There are several common reasons for a player's account to be suspended, frozen, or restricted by the site's security team. This may be multi-accounting (that is, the creation of several profiles by one player), the use of prohibited programs, fraudulent activities or association with other offenders. It can also be a violation of the legal age for starting the game in the room. All these reasons are described in more detail in our article.

🎯 Does PokerStars delete old accounts?
PokerStars has an option for users to close their existing accounts. To do this, you need to contact the support service and explain to them the reason for this action. After that, access to the games will be closed. However, the account will not be completely deleted, information about it is still stored in the system. It is also possible to resume it and reopen access to all functions. In general, information about the user and all his transactions is stored after the account is closed for five years.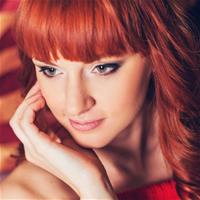 Editor, translator. Part of Cardmates team since 2015. Started playing poker and other card games in high school, played a lot with friends and relatives. While studying at the university, I explored online games on various websites.