Where to play poker online with friends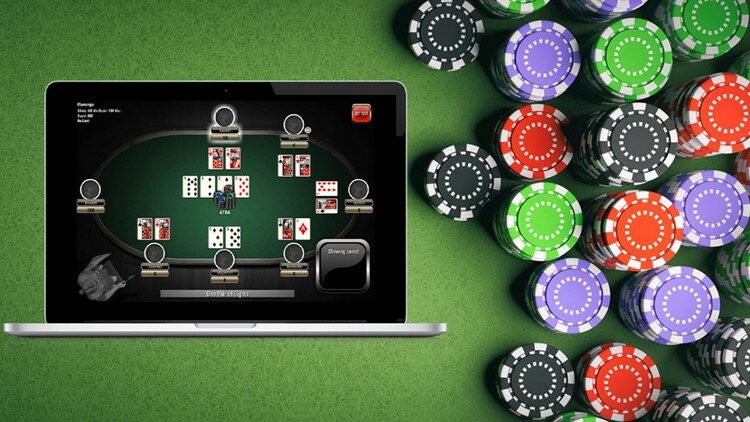 Many people who are just starting to discover the world of poker may mistakenly think that only professionals can play it. Large live poker series like the WSOP or expensive cash games on High Stakes Poker make them believe it's impossible to arrange a poker game with mates.
But, you can easily play poker at home. For that, you should only have a poker chip set, a comfortable table and a desire to organize the poker evening so that all guests can enjoy themselves, regardless of the result.
If you just want to chill out with friends and play something different from Texas Hold'em, but no less fun, then you can try the Irish Poker Drinking Game. The game is super fun, but be ready to have the worst hangover.
However, the reality is that we don't always have an opportunity to get together with friends at the poker table, as people, for example, may live in different cities or even countries.
In this case, you can play poker online with friends, colleagues or family on sites that allow you to create private games. You just need to register on a suitable online poker portal and have a stable Internet connection.
If you don't know how to play online poker with your mates and where to do that, read on – we'll tell you!
Best Rooms to play poker online with friends
These days, there are many online rooms where you can play poker with friends on both fake and real money. It's possible to create both tournaments and cash games of various disciplines.
But, be careful, as some of them may have flows: low-quality software, unlicensed RNG, problems with verification and withdrawal of funds. If you want to have fun with your friends, then register in poker rooms with a good track record.

​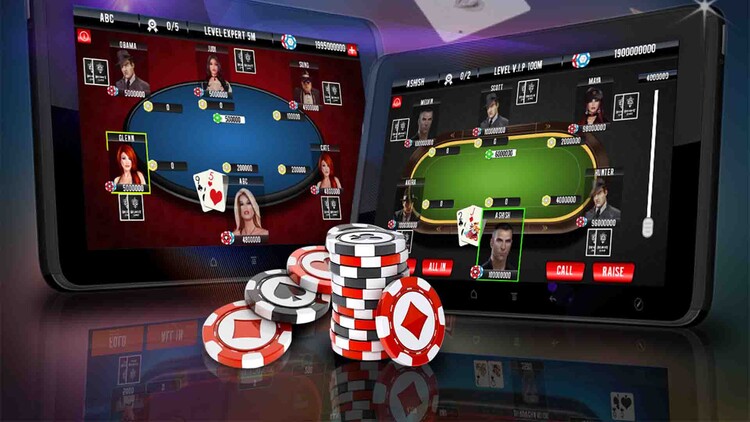 To start playing, you just need to create a profile and download a poker client. On some websites, the game is also available through the browser.

Poker rooms, by the way, do not prohibit friends from playing together from the same IP address. In addition, it is not mandatory to play exclusively with acquaintances or friends in a private club. Many players create poker clubs given different criteria, for example, joint interests, region of residence, etc.
Home Games on PokerStars
PokerStars is an online gambling giant that will not disappoint you either with the software quality or choice of disciplines.
There is a special section in the PokerStars lobby – Home Games – where you can create poker tables to play against your friends, family or other invited players absolutely free of charge. This requires the following:
Login to the poker client or register with PokerStars if you don't have an account yet.
Go to the "Home Games" tab. It can be found in the menu bar to the right.​
​Select "Create a Poker Club". If you want to join an already existing club, press "Join a Poker Club".​
Share an invitation code with your friends.
The range of games is huge, so you should agree on the discipline and game format in advance, as well as determine the buy-in value. In the settings, you can also set limits, parameters of blinds' growth, tournament\cash game starting time, and so on.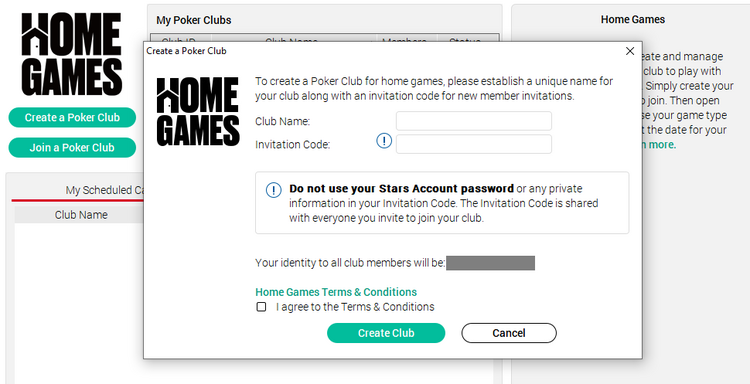 ​
Starting a Poker Club, the creator acts as a general manager. Thus, they are eligible to:
Invite players they would like to see in the club. To invite a friend, you just need to give them the club's name and a special code.
Manage home games and exclude participants.
Assign aides to assist in organizing tournaments and cash games.
We draw your attention to the fact that this option is only available to registered users. Also, please note that one PokerStars player can create no more than 2 clubs, and join only 10 existing clubs.
To join the game, all participants need to be online at the right time and login with the (unique) invitation code.
Private Games on 888poker
Online poker with friends is feasible on 888Poker. This operator is known for excellent support service and lucrative bonus program.
Each user willing to play poker with friends must have an account in the poker room, but there is no urgent need to download the client – you can easily play through the browser version. The principle is the same: one player creates a table and the others join it.
Here are instructions on how to do that:
Login to 888poker, or create an account first if you haven't yet registered it.
In the lobby, click on your avatar and then on "Play with Friends".
​
A new window will open and will let you create your own game\tournament with the desired characteristics, or join an existing one.​
With the "Join a game" tab, you can join your friend's "room". To do this, he\she must send you the room's name and password.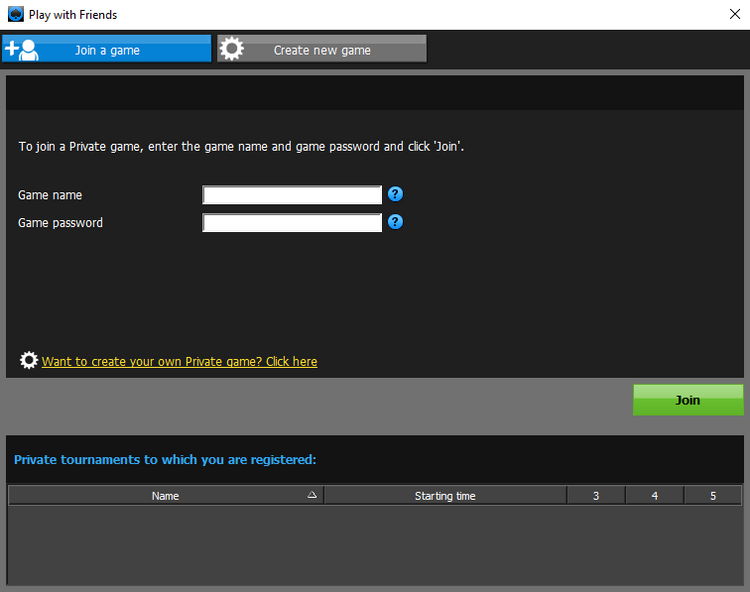 ​
The "Create new game" tab allows a poker player to create a cash table or a tournament. It is necessary to enter the following data: room's name, password, starting date and time, number of seats, buy-in size, prizes and save these parameters by clicking on "Create".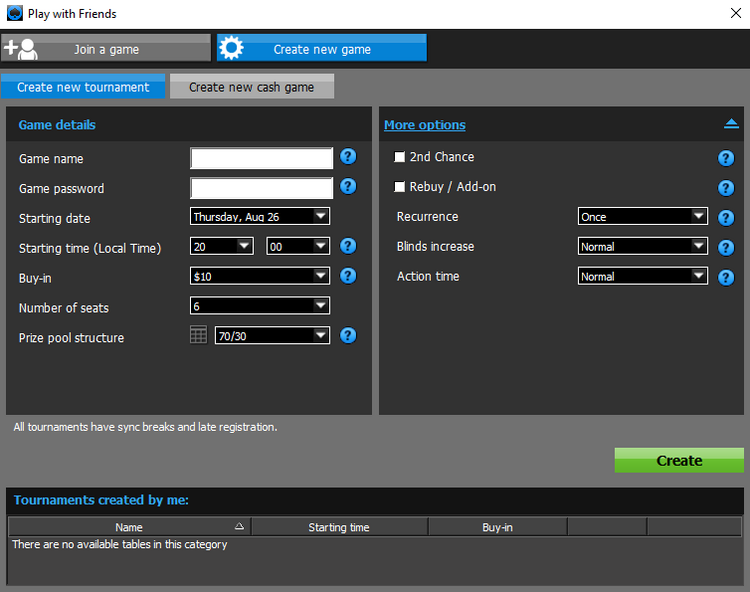 ​
After that, you should send your room's name and password to your friends. For that, specify your e-mail in the next window so that an email will be sent with a link to the room.
Club Games on PartyPoker
PartyPoker also offers to play virtual poker with friends without leaving home. This poker room has a multi-million customer audience.
Using this platform, you can arrange a home tournament or run a cash game with opponents you have played live with before. To get started, all players must download the game client and register an account in the poker room.
The tab you should use to create online poker tables to play with friends is called "Club Games" and can be found in the client's main lobby. By opening it, a user sees a list of tables in the clubs that they have membership to.
The user also has two options here: to start their own club or join an existing one. Decide on the suitable option and click on "Create Club" or "Join Club", accordingly.
If you want to create your own club to play poker online with mates on partypoker, you should do as written below:
Login to the poker client.
Find the "Club Games" tab and open it.
​
Click on "Create Club".
​
Enter the club's name, password and description.
​
Then, the system will notify you that the poker club has been successfully created and that you can invite friends to join it. With that end in view, you need to open the club's lobby and select the invitation button in the top-right corner.
To start your tournament or cash table, go to the "Game Admin" tab and choose the proffered game format. One is allowed to create no more than 5 private games.
You can set different parameters: discipline, number of seats, stakes, min and max buy-in, game speed, etc.
In case you want to join your friend's club, choose "Join Club" instead of "Create Club". Then, enter the club's ID, password, agree the user conditions and send a request to join.
After the host accepts your request, all club's tables will become available. The number of clubs to join per one player is unlimited.
By the way, this feature is also available on mobile devices. However, you can only join clubs and open available tables. To create your own club, you should use a desktop client.
Private Clubs by GG Network
GG Network, an Asian poker network that has one of the best software in the industry, offers an opportunity to host games with mates worldwide.
Actually, this feature is not available on the network's platforms (GGPoker, Natural8, GGpokerok, and others) but you can try it by downloading a dedicated application, namely ClubGG.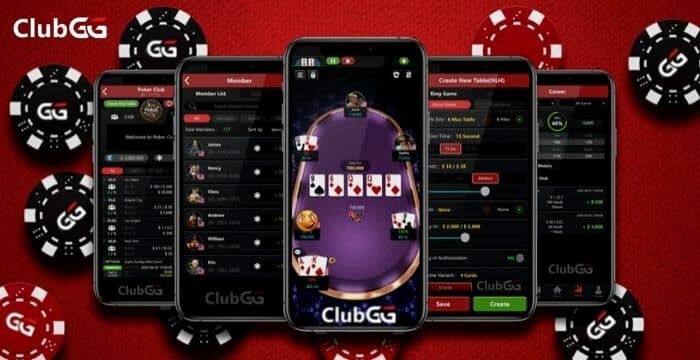 ​
It's not possible to make deposits to your ClubGG account or wager real money. The app, however, allows users to play online poker home games using an in-game currency – diamonds.
To note, the ClubGG app perfectly runs on both Android and iOS devices and is thus available for download in the Google Play and App Store, respectively.
Creating a poker club at ClubGG is an easy thing to do. So, to arrange games for your friends and\or family, read the instructions below:
Download the application and enter your login data.
In the main lobby, click on "Create Club".
Indicate your club's name and select an avatar. Then, click on "Create".​
Once the app confirms the creation of your club and shows its ID (and other details), press "Join".
That's it. To join the club, your mates should send a request using the ID. However, to start playing, you also need to create tables of the certain game format. For that end, press "Create New Table" in the upper-left corner.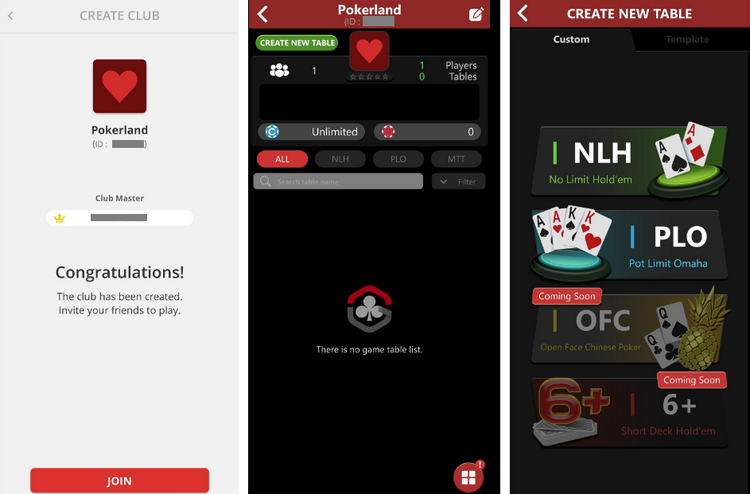 ​
Specify the new table details, that is, table name, buy-in, number of participants, blinds, action time, and other parameters depending on the game format... and Bob's your uncle.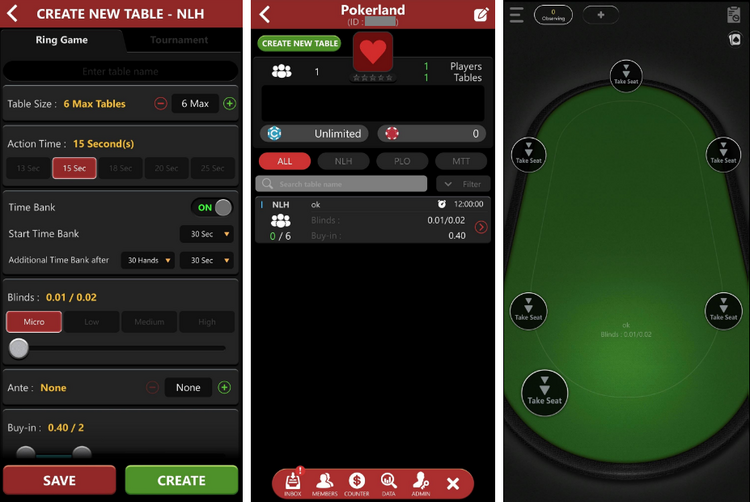 ​
Just a few clicks, and you will be able to play poker with friends online. It's just amazing, isn't it?!
Final Thoughts
Poker rooms allow you to play poker with real people from different parts of the world. But sometimes one may want to play poker with their best friends, family or even workmates.
Modern online platforms like GGPoker, PartyPoker, PokerStars, and 888poker offer the most comfortable and safe conditions for organizing poker games with your buddies. You can arrange both cash tables and tourneys without fear of dishonesty on the part of the participants.
By inviting friends to join the game, you will not only have fun, but also avoid colliding with poker pros.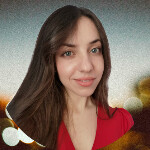 I've been working in the Cardmates team since 2018. Started playing poker the same way most people usually do – socially, with friends and fellow students. I adored those exciting poker nights but never thought my life would be connected with this game, even tangentially.