Will WSOP 2020 be held on schedule? Community opinion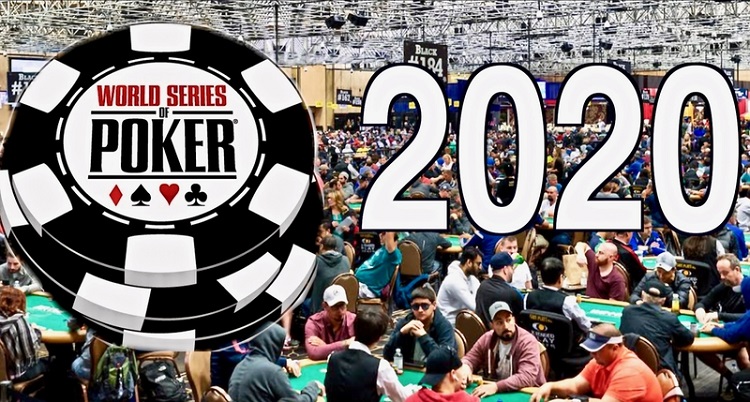 ​
Lots of events across the globe have been canceled or rescheduled due to the coronavirus epidemic. It has affected the Olympic Games, football championships, as well as large poker series.
Many poker players are concerned about whether the World Series of Poker will take place this year since the launch of the festival has been scheduled for the end of May but, owing to the spread of the COVID-19, it's still questionable. Some poker pros have even made bets on canceling the series because of the coronavirus.
Read also: It is unlikely that all casinos in Las Vegas will be opened in early May
Things are heating up in the poker community, as the representatives of the series have not yet given a definite answer to this question, stating that there is no need to make a decision right now. Everything is changing by leaps and bounds, therefore, they constantly monitor the situation to make the final decision.
Recently, the Main Event WSOP 2018 champion John Cynn has provoked a discussion on Twitter by asking why people want the WSOP organizers to immediately decide whether the series will be held or rescheduled: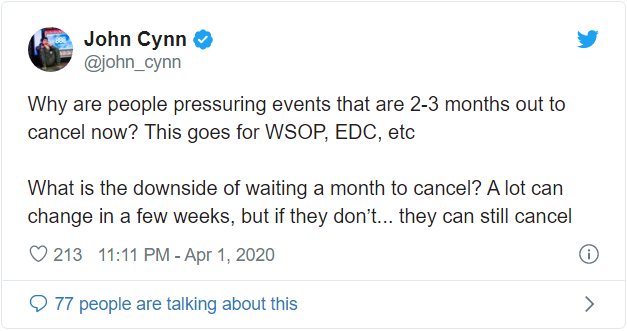 ​
Another poker player and author of «Reading poker tells», Zachary Elwood, has shared the players' comments regarding their participation in the WSOP 2020 (on his Twitter page):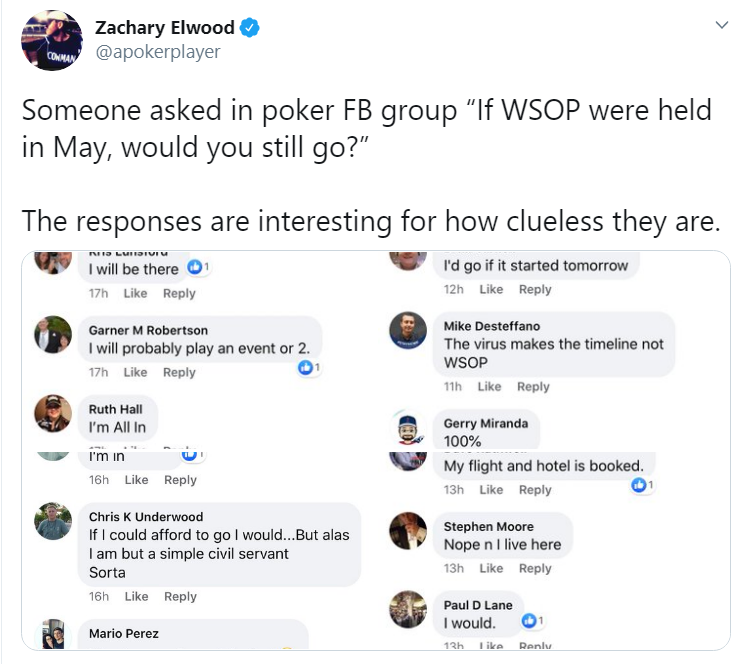 ​
Most answers are positive, that is, people will come to the series if it runs on schedule. This surprised Zachary, and he considered such decisions as clueless.
Elwood's position is clear, as the US currently takes the first place in terms of the infected people, and it is unknown how things will develop at the end of May.
Earlier, poker professional Daniel Negreanu also expressed doubts as to hosting the World Series of Poker in 2020:

​
Speaking to PokerNews' journalists, Daniel also said that he doesn't see the need to launch the WSOP this summer, because the organizers can do little to protect the participants from the spread of germs.
At the same time, the poker player encouraged the US authorities to legalize online poker for the coronavirus period. Almost all types of gambling are prohibited in the country, and Negreanu believes that this is a good time to revise the law.
It was planned that this year the 51st World Series of Poker would be held from May 26 to July 15 at the Rio Casino in Las Vegas. This is one of the world's most prestigious series of poker tournaments, which attracts a huge number of participants, from amateurs to experienced professionals.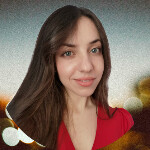 I've been working in the Cardmates team since 2018. Started playing poker the same way most people usually do – socially, with friends and fellow students. I adored those exciting poker nights but never thought my life would be connected with this game, even tangentially.