Withdrawal of funds on 888 poker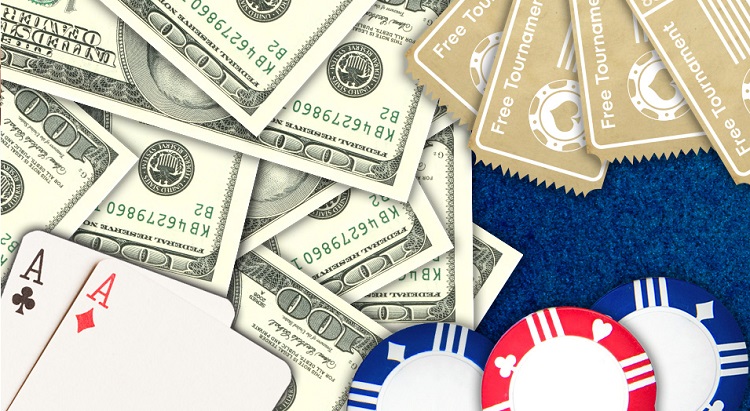 A question how to withdraw money from 888 poker still remains relevant and we will try to give the most qualitative answer to Cardmates readers in our article.
How to withdraw money from the poker room
The withdrawal on 888poker occurs through the Cashier of the poker room. You can find it in the menu line on the top of the lobby and also on the right under the balance: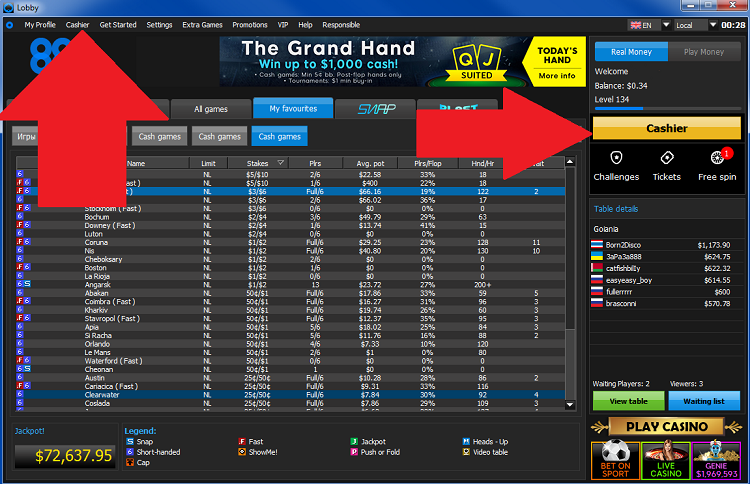 ​
The cashier opens in the browser. On the right, you need to select the menu "Withdrawal of money".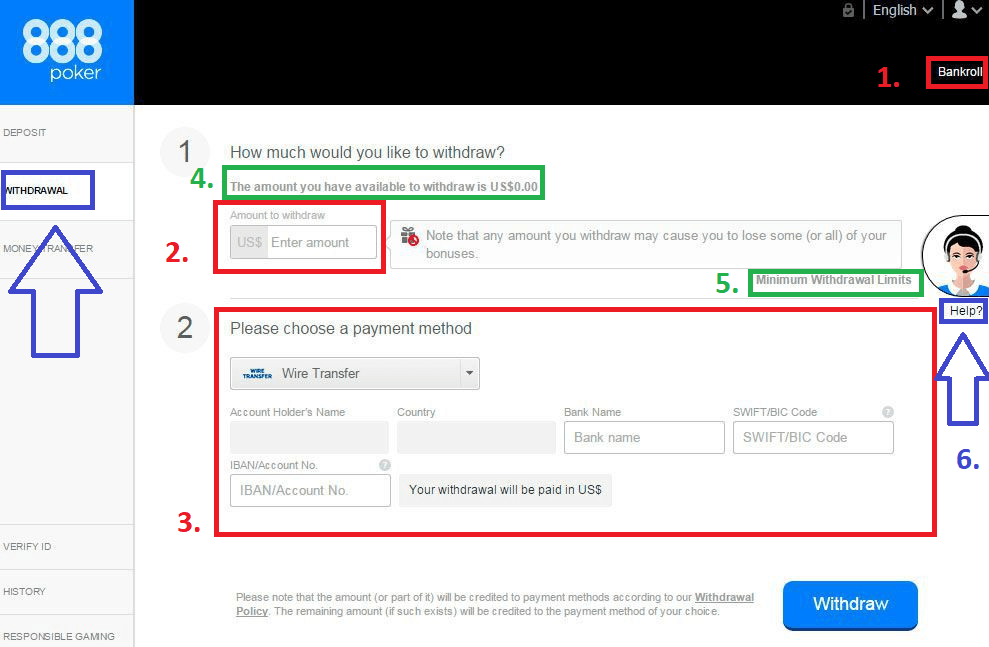 In an opened window you can see the current balance on the 888 account (1), the fields for writing cashout amount (2), selection of the desired payment system (3) and tips of the minimum (5) and available (4) withdrawal sums on 888. Also there is a window for reference (6).
Pay attention that available amount for withdrawal may differ from the bankroll on 888poker. What does it mean? There can be bonus money on your playing bankroll, which is not available for withdrawal before you clear it up or do other required conditions. This money is on your account as a balance but you can't withdraw it from the poker room.
In the "Withdrawal amount" field input a number that doesn't exceed the one that is specified in the "Available withdrawal amount" field. Make sure that it is within the defined limits.
Step-by-step instruction for withdrawing money from 888poker:
Open the Cashier;
Select "Withdrawal of Money";
Input a desired amount of cashout;
Choose a payment system from the list of available ones (how to add a new one – read further in this article);
Fill in the required data about the payout system;
Select the desired currency;
Press "Withdrawal of money".
That's it all – your request has been sent for processing.
You can request 888poker cashout in the poker-room client, through the mobile application and also in a browser version of the poker room.
Available methods of cashout
888 poker co-operates with many famous payout systems, therefore different methods of payment transactions with the room are available to players. You can replenish an account and withdraw money through a bank transfer, make a deposit and cashout on a bank card, use e-wallets like WebMoney, Skrill, NETTELLER, etc.
The deposit is available from the cards and wallets of Diners Club, Nordea, Giropay, INSTADEBIT, Paysafecard, AstroPay Card, Todito Cash, Yandex.Money, Visa QIWI Wallet, but not the 888 withdrawal of funds.
How to add a new method of withdrawal?
Originally, only bank transfer was available on 888 (minimum 25$). That means if you have made your first deposit in a way that is not available for withdrawal and also if you have managed to win big with 888 no-deposit bonus or freerolls - you can withdraw money only with the help of an international bank transfer. However, if you make a deposit - you will open new cashout methods that can be used.
In order to add a new method of cashout in the poker room, you need to make a deposit from the desired payment system or a bank card.
Be careful, not all of the deposit methods are available methods for cashout. You can replenish an account from some cards, but you cannot withdraw the money on them.
Also notice the fact that on 888poker, money is sent to that account (or accounts), which was used for depositing.
It may happen that you haven't made the transactions in the account for a long time and when you entered the Cashier – you found out that methods of withdrawal from 888poker, which were previously available, had been gone. There is nothing wrong with that. They can disappear for one of two reasons: either you haven't used a payment system for a long time and it has been removed or the poker-room has stopped a co-operation with this company. Therefore, we recommend you to clarify first whether it is possible to withdraw to a needed payment system at all. After that just make a deposit from this system in order it appeared in the methods of withdrawal.
How to withdraw 888 poker money to the bank card
One of the most common requests in the network is "how to withdraw money from 888poker to a bank card". Therefore, we will assign the answer to this question with the separate item.
It will be useful for those players who don't use e-payment systems like WebMoney or Skrill or who want to transfer money into cash as quickly as possible.
First of all, you need to clarify whether it is possible to make a deposit/withdrawal from this card. In most cases, the players use Visa or MasterCard cards.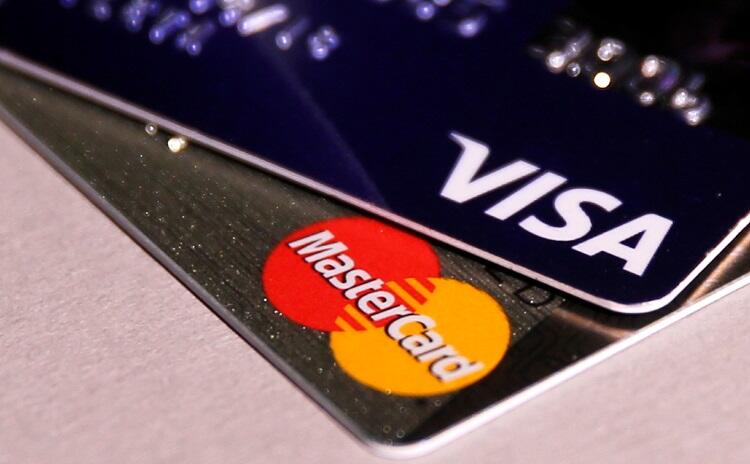 ​
The withdrawal of money from 888 poker to Visa has some certain specifics, for example:
Withdrawal to a Visa card is available not in all countries (a full list of them you can find on 888 site).
Not all of the Visa cards can be used for making a cashout. You need to clarify this question in the bank and/or in the poker room.
It takes up to 8 working days to withdraw money from 888 to Visa (3 of which the room processes a request and 5 - the bank does it).
You can transfer not less than 10$ at a time (or an equivalent amount in another currency), however, withdrawal limits can also be determined by the bank that has issued a card.
In order to add a bank card to the list of available methods of withdrawal, you need to make a deposit from it first.
Similarly, 888 poker withdraws funds to MasterCard but data processing takes a little longer (up to 10 working days) with a Maestro debit card.
A bit about the other popular payment systems:
It is also worth mentioning Visa QIWI Wallet in this section. The withdrawal of money from 888poker to QIWI is available only with the help of a virtual card, which you can purchase through the QIWI Wallet service, QIWI terminal or from Beeline balance. The operation of this card with 888poker doesn't differ from the usual Visa card.
888 poker withdrawal to WebMoney, Skrill and NETELLER
The most popular e-wallets in the network co-operate with 888. The minimum deposit amount to make from them is 10$. The processing of withdrawal requests takes no more than 5 days (in the case of WebMoney - no more than 7 working days). However, as practice shows, in most cases, the withdrawal from 888poker to e-payment systems occurs in a few minutes.
Many players from different countries prefer to use e-wallets since they consider it to be more reliable than bank cards.
This method is well-suited for those players who use the money, which has been won in poker, on the Internet by making purchases, paying bills, etc. But if you want to withdraw cash from 888poker, then it's more profitable to use a bank card. Thus, you will avoid a redundant conversion and fee by sending money from 888 to WebMoney first (Skrill, Neteller or other available payment systems online), and then from it to the card in order to eventually withdraw money from the ATM or bank branch.
The policy of money withdrawal on 888 poker
We will try to explain how 888 money withdrawal policy works in simple words.
Every time you replenish an account from a certain payment system, you get a so-called "positive balance of transactions" on it. Its amount is equal to a made deposit. When you request a withdrawal, first of all, the system sends money automatically to those payment systems which have "a positive balance" and the amount is equal to this balance. You can determine where to send the rest of money yourself.
Example:
You make a deposit of 10$ from Visa, later replenish your account by 10$ from Skrill, then again deposit 10$ from Visa and after that replenish your account with the help of WebMoney by the same 10$. As a result, you get a total transaction balance of 40$:
20$ on Visa card;
10$ on Skrill;
10$ on WebMoney.
By winning a couple of tens of dollars, you decide to make a withdrawal of 100$. With all your desire, you cannot withdraw the whole amount to one of the payment systems or in any other accessible way. First of all, you need to "pay off" the balance of transactions, which means that 20$ from your 100$ go automatically to Visa card, 10$ go to Skrill and another 10$ go to WebMoney but you can send the rest 60$ wherever you want.
Some features of withdrawal policy from 888:
Payments to the same card or wallet during one day can be pooled into one;
Withdrawing the funds can annul some bonuses, it is obligatorily to clarify this issue before sending the request;
888 bonus money can be withdrawn only if you have cleared it up according to all requirements of the bonus policy of the room;
In some cases, you will need to pass a procedure of identity confirming with the need to send a number of documents and also to apply with the request to sign a list of the past deposits;
If you haven't made transactions from any of payment systems or bank card for a year - it may disappear from the list of available. In order to add it again, you will need to make a deposit from it.
Terms of withdrawal
The support of the room assures that requests for withdrawal of money are processed as quickly as possible from its side. The terms of the withdrawal of funds from 888poker from the time of request to getting money on an account depends on many factors. Most of all it is influenced by a selected payment system and a player's status. However, the second factor is important only for casino players since only "Golden" VIP casino players get privileges as short processing time.
The waiting period of processing or approving the request doesn't depend on the chosen method of cashout and it always takes up to 3 working days.
During this period, you can cancel the withdrawal and return money to the account if you want. Then the request will be assigned with a "Processed" status and you will not be able to cancel it from that moment.
After confirmation, the paying is processed by a payment system in the following terms:
Skrill, NETELLER, PayPal, iDebit - 1-2 working days
EntroPay card - 2-3 working days
WebMoney - 2-4 working days
Visa bank card - up to 5 working days
An international money transfer - 4-7 working days
Maestro debit card - up to 7 working days
Don't forget to add 3 working days to these terms for the initial processing of the request by the poker room.
The withdrawal of money from 888 poker takes up to 10 working days, however, you may notice that sometimes the term is significantly shorter and money can be sent to you on the same day the cashout was requested.
The period of money withdrawal can be extended if you need to pass a procedure of identity confirming and also when the technical problems happen because of the poker room or the payment system that you have chosen.
You will be notified about the processing of a request and transfer of money to the account by an e-mail.
If money hasn't come within the stipulated term - we recommend you to contact the support service.
Limits of withdrawal of funds
During the withdrawal of money from 888 poker a minimum amount that you can request is 10$, but not in every of payment systems.
The minimum withdrawal from 888poker is determined by methods that you have chosen:
The minimum withdrawal for Webmoney, Skrill, Neteller, PayPal, bank cards and EntroPay is 10$ (or 10€ / 10£);
The minimum withdrawal for a bank transfer of 888poker was determined in a size of 25$ (or 20€/20£).
If you request a lower amount, money will be returned to your account.
You can withdraw maximum up to 50 000$/£/€ a month. You can increase a limit by contacting the support service of the poker room. The limit is determined depending on the level of your identity verification. A common check is enough to withdraw up to 5 000$ per month.
FAQ
💲 What are the withdrawal limits at 888poker?
For a bank transfer, the minimum withdrawal is $25, and for other withdrawal methods, $10. The maximum can be withdrawn up to $50 000/£/€ per month. You can increase the limit by contacting the poker room support service.

⌚ What is the withdrawal time?
After confirmation, the payment is processed by the payment system in the following terms: Skrill, NETELLER, PayPal, iDebit 1-2 business days, EntroPay card 2-3 business days, Visa bank card up to 5 business days, international money transfer 4-7 business days, Maestro debit card up to 7 business days.

💳 What are the available cashout methods?
You can replenish your account and withdraw money by bank transfer, a bank card, use WebMoney, Skrill, NETTELLER e-wallets, etc.

🧑 Can I withdraw money to someone else's card?
No, you can withdraw funds from your 888poker account only to your bank card.

You gave this material a grade 5 from 5: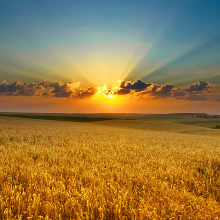 Cardmates journalist, news editor and translator since 2016. Specialization: poker news and review of events.