Yesterday's short game)

How R U? Yesterday I played very few games, probably as I wrote 2 or 3 games) however, in these MTT's I managed 2 deep run, and get into the money, well, in my opinion in only one) yep) in one) It was a $5.50 "Bounty Builder" tournament, and I started qualifying through satellites, but at first I wasn't very good at it) Since I have restrictions on buy-ins, I can't log in directly, and in the end I spent on satellites, probably as much as I would have spent on direct entry 😜

Okay) At the beginning of the MTT, as usual, my game was boring, I was not dealt well, up 2 a certain point I even had a very small stack before I started making knockouts, I waited for this moment for a long time 😐 There was one situation where I won a lot of chips, but I couldn't knock out my opponent, my stack was too small for that, but I played well with this hand, let's look at this game: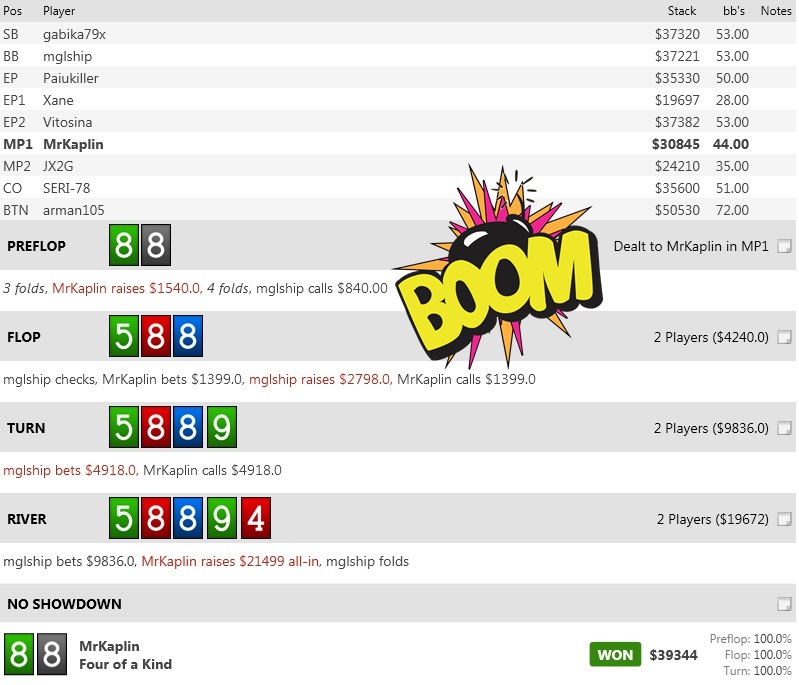 I gave my opponent the opportunity 2 bluff, which he willingly did) I got the most value out of this hand and even showed him the cards after his bet fold on the river) And after this hand, just started a long wait for the opportunity 2 make knockouts, but I waiting them and this happened, I was very lucky) And in these 3 hands, I increased the stack 7 times!!! And knocked out players for more than 6 bucks) Good run 😎 Look at this, it was certainly a bit rough: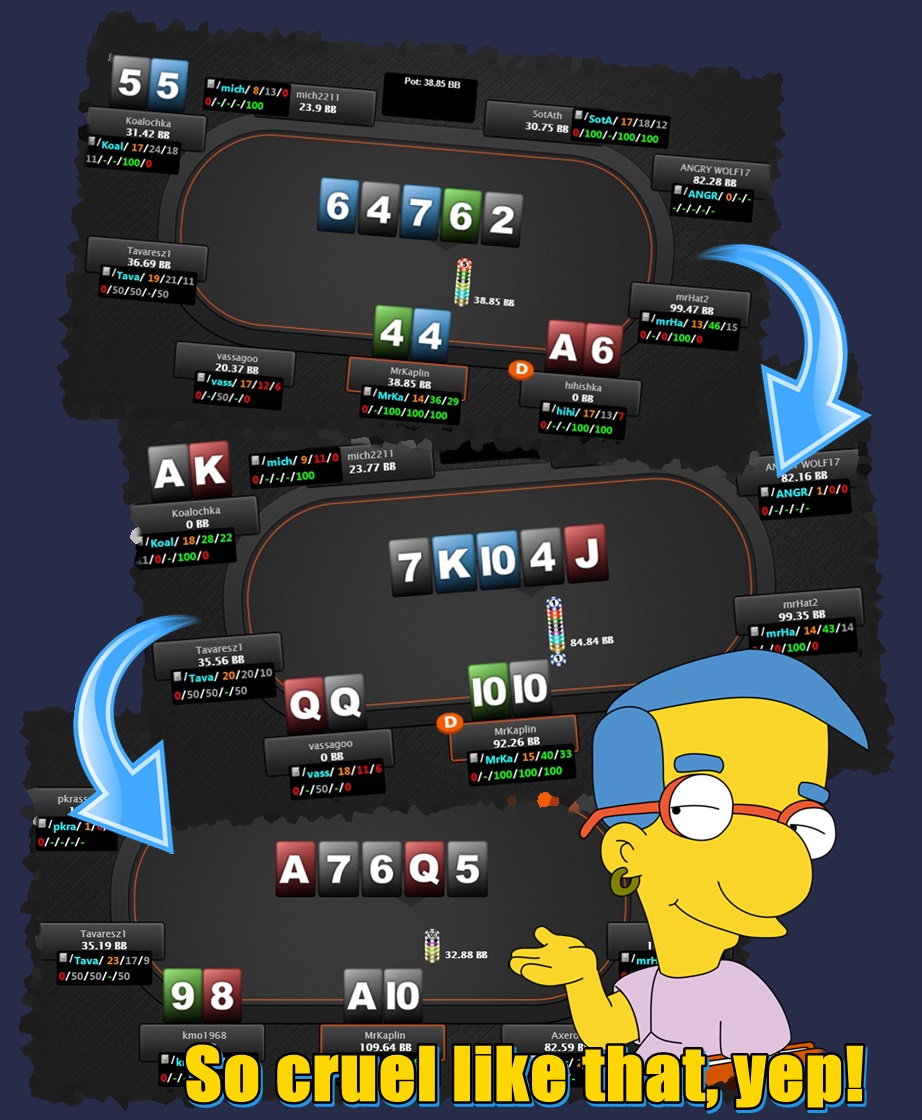 After that, I started 2 get good hands, as if this "lever of luck" had switched) I won a few more times with knockouts 😏 But not everything was so good, it wouldn't have been me if I had won this MTT at that moment) I started to fold too many hands, I probably should have played loose, but I didn't think this style of play was very good at the time) And apparently I missed an opportunity 2 increase my stack) But in some situations, I still managed 2 overcome my tight game, and won, I'll show U how: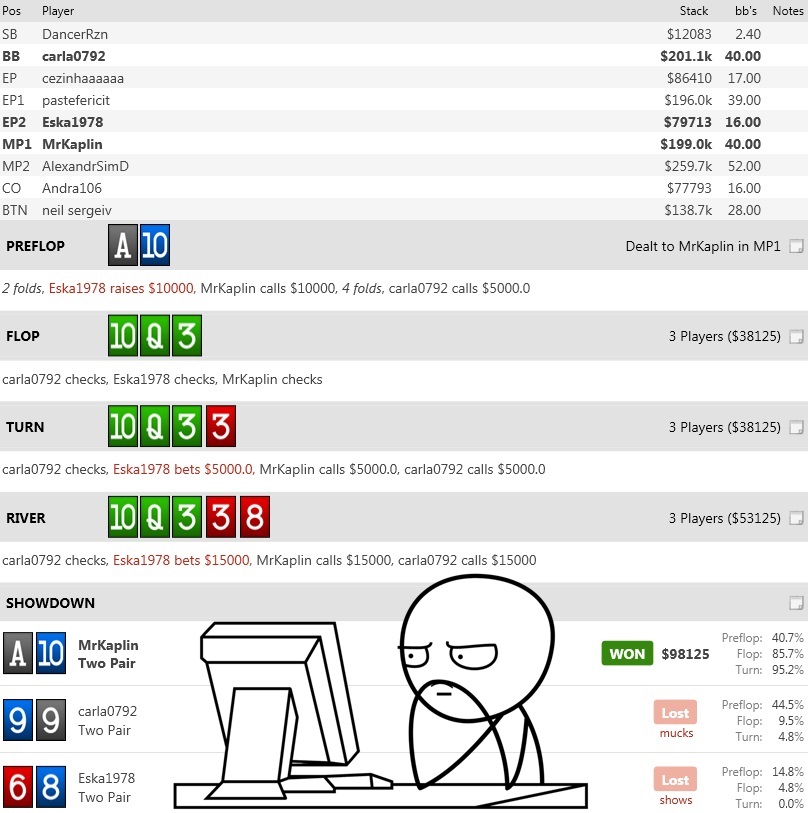 Yeah) I didn't believe the opponent on his bet on the river, I really had to think for a while, but I was able 2 master this call) Although, I would have to fold! And there were a lot of such situations, after those 3 hands, but I couldn't bring myself 2 play loose, there was also a moment to triple the stack and make a knockouts of more than 10 bucks, but I didn't must play with pocket 44 against pocket KK and AA, but there on the river came 4 😩 but apparently it wasn't meant to be) Then this lever most likely switched in the opposite direction, and I lost all-in with at against pocket KK and then with pocket 44 against 77... The result of the MTT is shown below: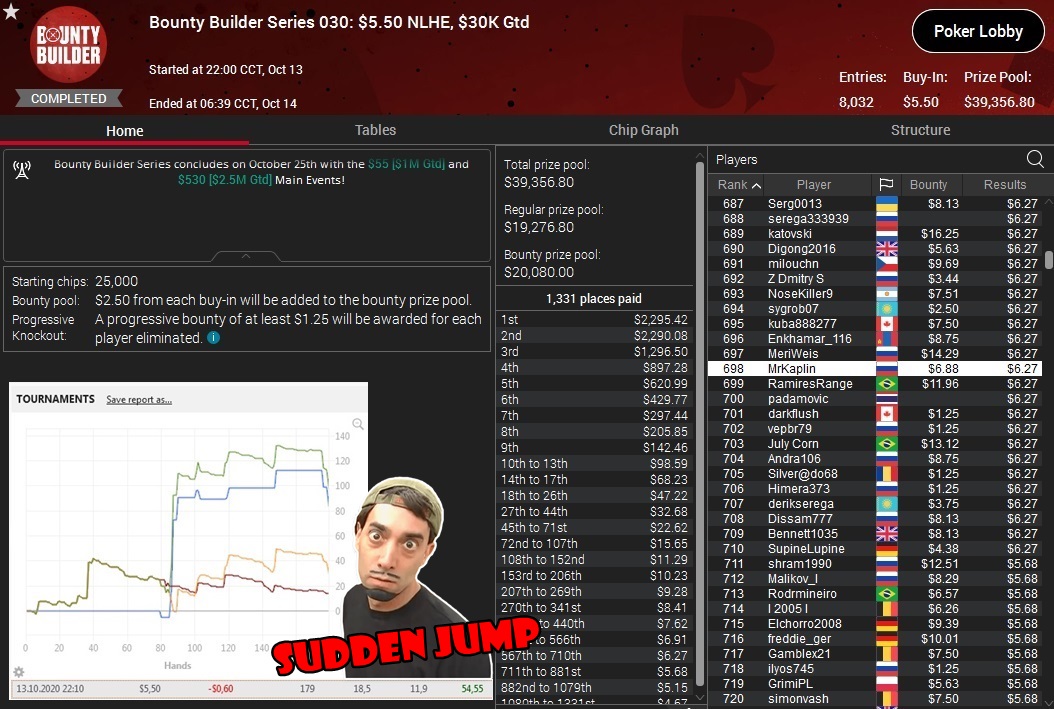 At the same time with this game, I very quickly passed through the satellite, on the "Bounty Builder" for $11) However, this MTT was with a turbo structure, and as I remember, in turbo MTT's I have problems with the game, and was it happened) I made just one mistake and lost most of my stack, and later I left the tournament with nothing... It may this game started too late and I was already sleepy, but that would sound silly on my part) So I left the tournament because I didn't play well 😏 heh)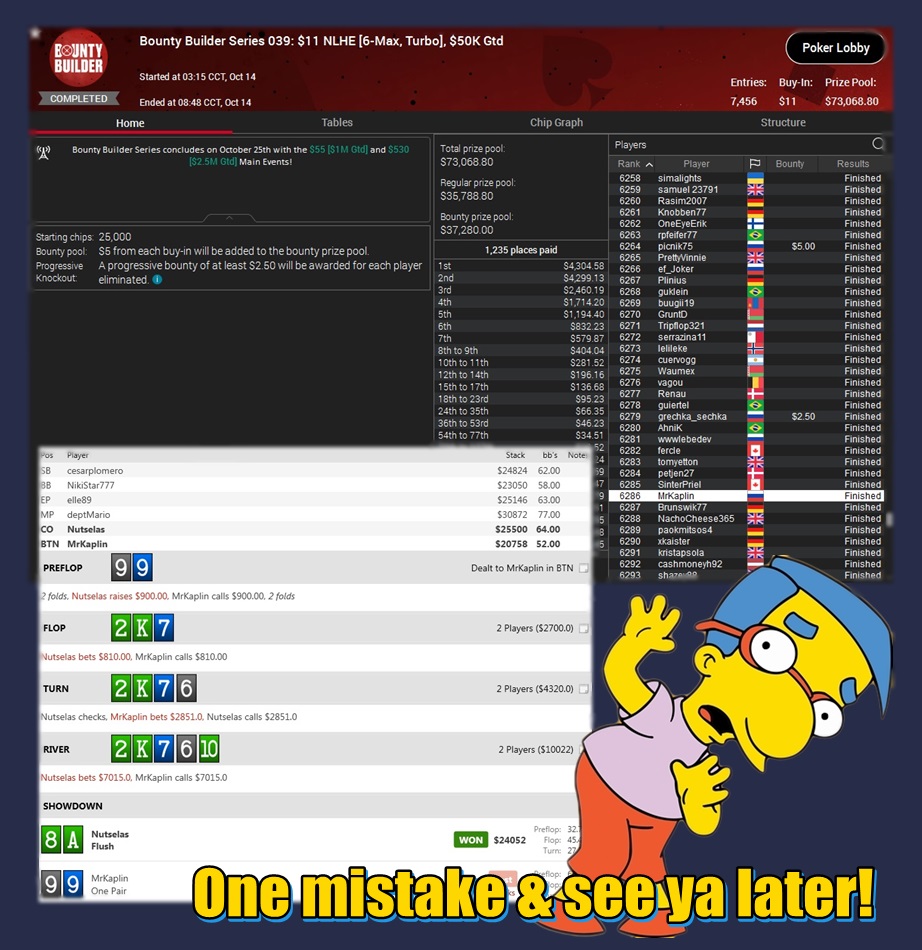 Today I will start playing cash games, and try 2 get into expensive "Bounty Builders", the post turned out 2 be big today, and I spent a little more time on it than usual, so I will finish) In the next post I will write about the first results on NL2 😎 Bye bye!

Overall rating of this post: