Vanessa Selbst's biography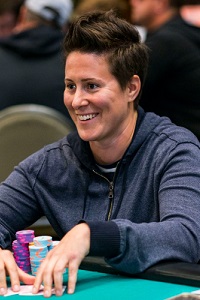 Vanessa Selbst
(39 years)
over $11 850 000
Offline prizes
exact amount is unknown
Online prizes
The best result:
$1 823 430 or €1 300 000 (1st place at the Main Event Partouche Poker Tour 2010 for $8 500 in Cannes)
Main achievements:
1st in Women's All Time Money List for 2019, 3 WSOP bracelets, top-100 poker players, 1st in WSOP female players for prize money
Can be found by nickname:
Vanessa Selbst is a talented poker player whose name leads money rating of the most successful female poker players. She started to play home games with friends, but soon the girl plunged into her passion and switched to the online world, conquering no-limit Hold'em and pot-limit Omaha.

For the first time Selbst hit a prize zone of live tournament at the WSOP 2006, having taken 7th place in the NLH Event for 2 000$. She got 101 285$, and it was a great start. Soon the girl began to show excellent results.
In 2008, Vanessa received her first WSOP gold bracelet, having won the PLO tournament for 1 500$.
2010 was an extremely successful year for the poker player. Firstly, she has earned the biggest win in her career, having become a champion of the Main Event Partouche Poker Tour in Cannes (+ 1 300 000€). Secondly, she has taken the 2nd place at Main Event of the North American Poker Tour in Uncasville and turned a buy-in of 5 000$ into 750 000$. But, more importantly, she has attracted attention of PokerStars and signed a contract with them in the same year. A year later (being the PokerStars Team Pro), Vanessa reiterated a victory at the NAPT Main Event and won another 450 000$.
Playing with a patch of the most famous poker room in the world, the girl won two more WSOP bracelets: in 2012 for the first place in 10 Game Six Handed for 2 500$ (+244 259$ of prize money) and in 2014 for winning the NLH Mixed Max tournament for 25 000$ (+871 148$).
The second seven-figure winning Selbst earned in January 2013. She increased her bankroll for 1 424 420$, having won a high roller tournament at the PCA. This result helped Vanessa to enshrine in the status of the most successful female poker player and allowed her to lead a top-lit of the most profitable offline tournament players among girls.
In 2015, the girl got another million for winning the Super High Roller Celebrity Shootout tournament for 100 000$.
In December 2017, Selbst announced the completion of her poker career and decided to prove herself in a new field. Currently Vanessa works as a trader in a hedge fund, and she occasionally plays poker (just for pleasure).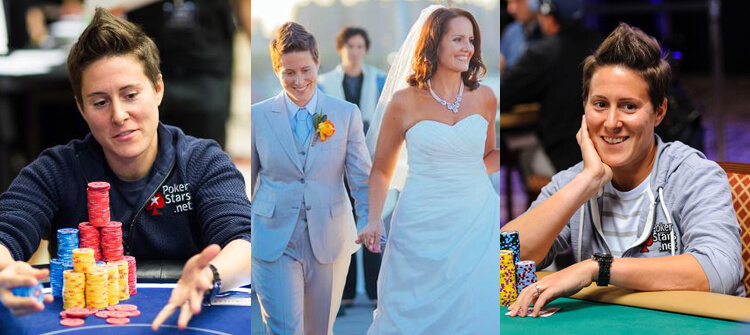 Interesting facts about Vanessa Selbst:
Vanessa was born in Brooklyn, New York, in a Jewish family.
She has studied a year at the Massachusetts Institute of Technology, and then the girl moved to the Yale University and received a degree in law.
While studying at the university "V.Selbst" was a head of the Yale Alliance "Queer-Straight Alliance".
She used to be a coach and an executive director of the poker training site "DeucesCracked".
From 2010 to 2017, she was a member of the PokerStars Team Pro.
Vanessa is the only female player who has 3 WSOP bracelets, and who has won the North American Poker Tour Main Event for two years in a row.
"V.Selbst" was the only woman who took the first place in the Global Poker Index rating.
The victory at the PCA High Roller not only brought Vanessa 1,4 million dollars, but also made her the most profitable woman in the history of the live tournament poker.
In 2010, Selbst started the Venture Justice Foundation that finances projects related to the struggle for racial and economic equality, as well as against police misconduct and excess of authority.
Vanessa Selbst is a girl of non-traditional orientation. In 2013, she legitimized relationship with her girlfriend, Miranda Forster. Currently they live in New York. In October 2018, Selbst and Foster became the mothers of a boy named Felix.

According to highstakesdb "V.Selbst" graph in expensive PokerStars cash games is as follows:
"V.Selbst" at PokerStars: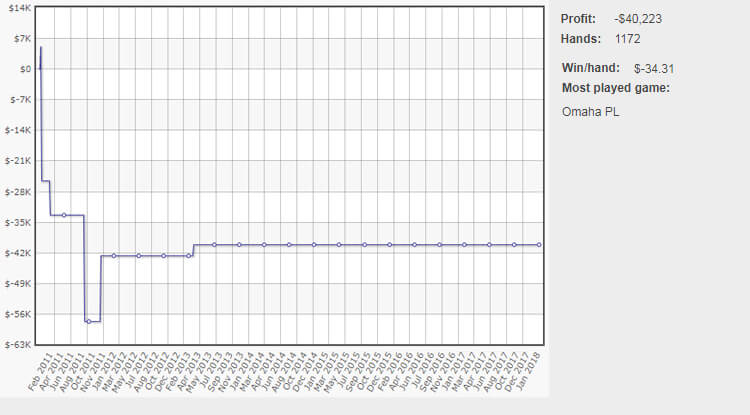 Vanessa Selbst on the social networks: