High Roller: The Stu Ungar Story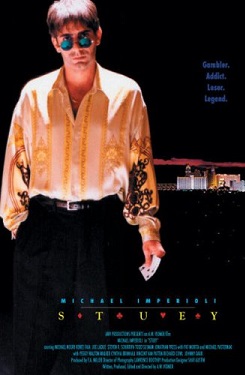 High Roller: The Stu Ungar Story
Cast:
Al Bernstein, Andrew N.S. Glazer, Michael Imperioli, Bryan Caplan, Michael Pasternak, Jonathan Press
If you want a real movie about poker – watch "High Roller: The Stu Ungar Story", because its story is based on the player's biography with a capital "P". Every pros have their own history in the world of poker, but there are only a few which are worth making a movie about – the legends of poker. Stu Ungar is one of these players, and his nickname is "The Kid."
When Stu was a child at the age of 14, he crashed the underground casinos of New York in the full blast. Despite his young age he was called as one of the best players. However when he was 20, he had to ran away from the local criminal lords to Las Vegas because of debts.
The capital of hazard welcomed poker player with open arms. He played cards skillfully, made good reads on his opponents and well calculated his chances by focusing on the players' actions at the table. It helped Ungar in 1980 to become the youngest world champion of World Series of Poker at that time (according to his words it was the first time when he played hold 'em) and to reinforce the status this status next year.
Stu Ungar is one of two poker players who were able to win Main Event three times in the entire history of WSOP. But given the fact that Johnny Moss got one of his three victories according to the results of voting, it can be said that Stu was the only true three-time WSOP Main Event champion.
According to the stories and rumors, the career of Stu reminded a roller coaster. He really achieved significant results, but in the intervals between the victories there were the periods when he lost very large sums and went down almost to the very bottom and every time he was able to get out of there and win again.
Ungar lived a rich, but not long life. He died in 1998 at the age of 45. Drugs were the reason of his death. Poker player died not from an overdose, but from a heart disease, which was caused by the prolonged usage of drugs.
Interesting facts about film:
At the different resources a biographical film about poker player has different titles. According to some sources, the film is called 'Player" or "Stuey", according to others - "Highroller" or "High Roller: The Ungar Story".
Watch movie trailer:
​