Alan Schoonmaker "Your Best Poker Friend"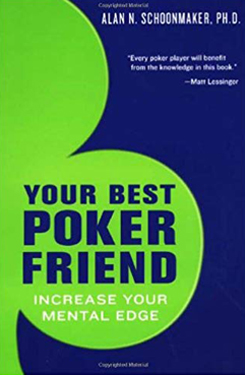 "Your Best Poker Friend: Increase Your Mental Edge and Maximize Your Profits"
Disciplines:
MTT, SNG, Cash, Spin&Go
Alan Schoonmaker explained to the readers in his book "Your Worst Poker Enemy" that many of their mistakes at the table are psychological rather than strategic ones. He tried to teach them how to cope with it. After it he published the book "Your Best Poker Friend" that is aimed to help players to get outstanding results which they want and deserve.
But if Schoonmaker claimed in the first book that you are the worst enemy for yourself, so in this edition he showed a flip side of the coin that considers you as the best friend for yourself.
The author tries to unleash your real potential, he helps you to analyze your goals, clearly understand what you want to achieve and how you can do this.
After reading the book you will understand the key points of a long-term game planning and development. You can clarify for yourself a full-scale picture concerning how to effectively study, track your results and situation in general, increase your advantage, correctly play No-Limit Hold'em, evaluate your assets and liabilities, plan your poker career.
Since the players are getting smarter and the game is more complicated, there is one advantage you can count on: to play with unleashing your full potential
Dr. Schoonmaker will help you to do it and you can maximize your enjoyment from the game process as well as your profit.
Read Schoonmaker's "Your Best Poker Friend" of Schoonmaker by purchasing the book on Amazon.
A little about the author:
Dr. Alan Schoonmaker is well-known psychologist who taught at the several universities and conducted the research activities. Besides that he regularly wrote a poker psychology column at Poker Digest. He has 5 authored and co-authored books about psychology (including poker psychology) and 3 monographs.